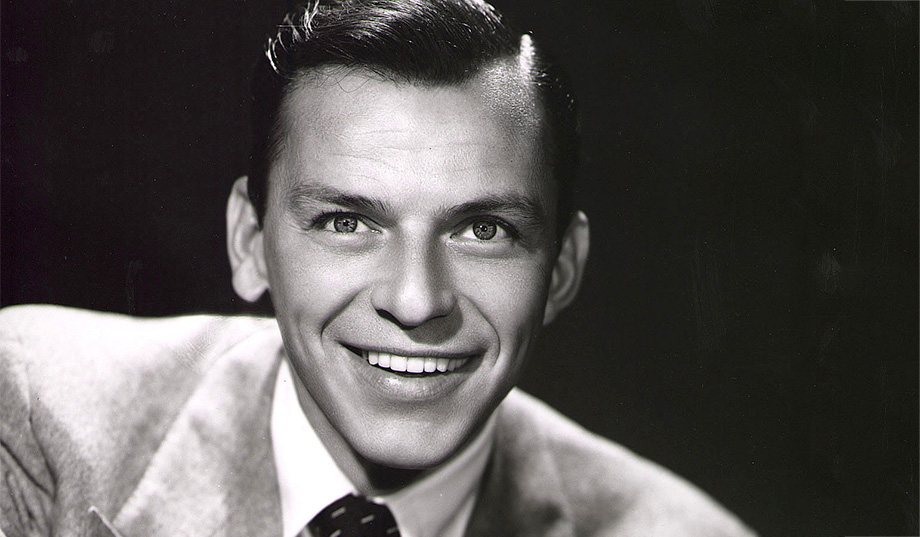 Saturday completes a century since Francis Albert Sinatra belted out his first note as a newborn, 13-and-a-half-pound baby in Hoboken, N.J. He grew up to become the finest male vocalist of the 20th Century, alongside his female counterpart and occasional partner in rhyme, Ella Fitzgerald.
But Frank was much more than just a crooner. He excelled as an actor, dancer, TV host, entrepreneur, record-company executive, and even music conductor. His timeless fashion sense defined style and elegance for gentlemen from the 1940s until today. He left enormous footprints on popular culture and was as original an American as this nation has produced.
After 100 years, a hundred superlatives barely could do Sinatra justice. Rather than wade through the many adjectives that define the man, the best way to appreciate Sinatra and his gigantic contribution is to savor his artistry and epic life story.
Here are several means to mark this momentous occasion and experience a little of what was — and is — Frank Sinatra.
• Start with the recordings. Sinatra released some 97 studio and live albums. Among these, my favorite is Sinatra at the Sands. This crisply engineered recording captures Sinatra in 1966 at the Sands Hotel in Las Vegas, of which he was a co-owner. (The posh Venetian Hotel now occupies this spot.) The Count Basie Orchestra backs Ol' Blue Eyes, under the guidance of musical director Quincy Delight Jones. Atop such tunes as "I've Got You under My Skin," "You Make Me Feel So Young," and "I'm Getting Married in the Morning," this album features Sinatra's hilarious, nearly 12-minute-long stand-up routine. It also is filled with his banter with an increasingly intoxicated audience. "How did all these people get in my room?" he asks, puzzled, as he walks on stage. His Madmen-era references to "booze," "dames," and "broads" are delightfully micro-aggressive.
Frank Sinatra and Sextet: Live in Paris is less raucous, but quite enjoyable. Sinatra and a much more intimate group of musicians deliver "Goody Goody," "At Long Last Love," "Moonlight in Vermont," and other beautiful selections from their June 1962 engagement in the City of Light.
At least 95 more albums bear Sinatra's name. So, dig in.
#share#
• Numerous authors have spilled barrels of ink in search of this man's essence. Bill Zehme's The Way You Wear Your Hat uses Sinatra's sleek wardrobe and personal presentation as binoculars through which to marvel at his life.
Pete Hamill's Why Sinatra Matters is a short book that finds the veteran New York journalist riding through Manhattan in the back of Sinatra's limousine. Hamill captures him recollecting his exploits in various spots around town, including P.J. Clarke's (established 1884), one of Sinatra's favorite haunts, at Third Avenue and East 55th Street.
"On those nights," Hamill writes, "I was in the company of an intelligent man, a reader of books, a lover of painting and classical music and sports, gallant with women, graceful with men."
Hamill further describes Sinatra:
'Sinatra with a cold is Picasso without paint, Ferrari without fuel.'
"The famous face remained an arrangement of knobs and planes that didn't assemble into any conventional version of masculine handsomeness but had an enormous vitality; it was a face that defeated painters and seduced photographers."
Gay Talese's 15,000-word Esquire essay "Frank Sinatra Has a Cold" is included in an eponymous Talese anthology and recently became a coffee table book. Talese humorously chronicles the toll that befalls Sinatra's vast entertainment empire when its leader gets sick in 1965.
"Sinatra with a cold is Picasso without paint, Ferrari without fuel," Talese writes. "It affects not only his own psyche but also seems to cause a kind of psychosomatic nasal drip within dozens of people who work for him, drink with him, love him, depend on him for their own welfare and stability."
• When he was not on stage or in recording studios, Sinatra spent much of his career in front of motion-picture cameras. He appeared in 57 films. In 1946, he won an Academy Award for a short-subject called The House I Live In. It finds him counseling a group of boys who are bullying one of their neighbors in an apparent act of anti-Semitism. "Use your good American heads," Sinatra tells the lads. "Don't let anyone make suckers out of you."
This film foreshadowed Sinatra's lifetime commitment to civil rights, the integration of the showbiz acts with which he worked, and his decades of support of Jewish causes and friendship with Israel.
After audience tastes changed, and his well-publicized marital woes badly sullied his image, Sinatra bounced back from his career doldrums by winning 1953's Academy Award for Best Supporting Actor in From Here to Eternity. Sinatra fought for and delivered on the role of Private Angelo Maggio in James Jones's tale of American GIs in Pearl Harbor in the prelude to December 7, 1941.
To see Sinatra's talents as a dancer evolve, watch Anchors Aweigh (1945). In this story of American sailors touring New York City before shipping out to war, Sinatra keeps up with his co-star Gene Kelly, although he seems to work at it. In 1949's Take Me Out to the Ball Game, Sinatra and Gene Kelly also sing and dance together, although Sinatra does not labor at all as he taps and swings, step for step, with Kelly — a hoofer whose skills were surpassed only by the inimitable Fred Astaire. This light and very colorful film is directed by musical-comedy legend Busby Berkeley. Dom DeLuise, in turn, satirized him as Buddy Bizarre in Blazing Saddles.
Sinatra dazzles as Major Bennett Marco in John Frankenheimer's intense 1962 political thriller The Manchurian Candidate. It concerns the nagging nightmares that Sinatra and other members of his Army unit have about their colleague, a well-spoken and attractive young politician who seemingly pops out of nowhere and sees his political ambitions advance, almost magically, without hindrance.
#share#
• Sinatra starred in numerous television programs, and many others showcase him.
A fantastic example of the former is Frank Sinatra: A Man and His Music + Ella + Jobim. This 1967 TV special finds Sinatra and long-time arranger and collaborator Nelson Riddle hosting Brazilian musician Antonio Carlos Jobim as well as the First Lady of Song, Ella Fitzgerald. Sinatra and Fitzgerald's phenomenal duet of "The Lady Is a Tramp" is as high class and uplifting as singing gets.
Earlier this year, HBO presented All or Nothing at All, a two-part, four hour documentary that traces Sinatra's summits and canyons. This exceptional film is available via HBO on Demand and through the miracle of DVD. It includes rare performance clips, snippets of newspaper stories, and eye-popping photographs that tell this man's tale.
The picture's organizing concept is a June 1971 "farewell" performance, after which Sinatra planned to disappear into retirement. (In fact, he reappeared in 1973 and performed until 1995.) Sinatra sang eleven songs that, he thought, symbolized him. Each tune serves as a sort of chapter heading, as we learn more and more about the Chairman of the Board.
My friend Dean Goodhill was a cameraman at that concert. He went on to a highly distinguished career as a Hollywood film editor, including an Academy Award nomination for editing 1993's The Fugitive.
"The night I photographed Frank at what was supposed to be his swan-song, quitting-business gala concert at the Music Center in Los Angeles, Spiro Agnew was in the audience," Goodhill remembers. "So, I had Secret Service guys in the camera nest with me. It was a vaguely surreal experience."
Goodhill's late friend, actor Yul Brynner, once took him to the showman's home. Sinatra cooked for Goodhill, Brynner, Burt Lancaster, some of Sinatra's old pals from New Jersey, and some attractive, charming models.
"Dinner was great, and I enjoyed the company," Goodhill says. "Frank showed me his train set, as I recall. He liked those old Lionel trains."
"As a musician, he was the greatest guy who ever lived, my idol; and a consummate pro of a sort that blows me away to this day," Goodhill says. "He's the kind of singer (a class by himself) who would walk into the studio, go over a few things with the conductor, poring over the score, and then just sing the song. No overdubs . . . Frank was so good. Such a perfectionist, but just so damn good he made it all seem easy, effortless. But it's not easy and not effortless. Still, he made it look that way. That's genius."
'Frank was so good. Such a perfectionist, but just so damn good he made it all seem easy, effortless.'
PBS's Live at Lincoln Center on December 18 will broadcast Sinatra: Voice for a Century, a tribute recorded at David Geffen Hall on December 3. I attended that showcase and was pleased with how Chris Botti, Sutton Foster, Kyle Dean Massey, Sting, a half dozen dancers, and other performers interpreted a selection of Sinatra's tunes from across his career. Alas, Bernadette Peters nearly derailed the entire affair with a slow-motion ballad that was soulful — in the sense of someone dying and going to hell. Fortunately, the supremely talented host, Seth McFarlane, sang, danced, and joked his way through the evening.
"Frank said of his early life," McFarlane explained, "'When I was nine or ten years old, I would sing with the pianola at my father's bar. One day I got a nickel for it, and I thought, you know what, this is the racket to be in.' This was back, I guess, when a nine-year-old in a bar wouldn't lead to multiple arrests."
• Sinatra: An American Icon is a fascinating, first-rate exhibit that began last summer at the Lincoln Center Library for the Performing Arts. It moved and now runs through February 15 at the Grammy Museum in Los Angeles. Allow about two hours to marvel at several of Sinatra's 13 Grammy Awards as well as film posters, original manuscripts of lyrics, stage layouts, costumes, photographs, his compelling abstract oil paintings, and other artifacts.
• Finally, go visit the man himself.
Soon after he passed away on May 14, 1998, the 82-year-old Sinatra was buried at the Desert Memorial Park in Cathedral City, Calif., not far from his home in Palm Springs. Sinatra's simple headstone is near those of his mother, Dolly, and his friend and favorite bar keep, Jilly Rizzo. Rather than flowers, leave a small bottle of Jack Daniel's. Frank Sinatra would have wanted it that way.