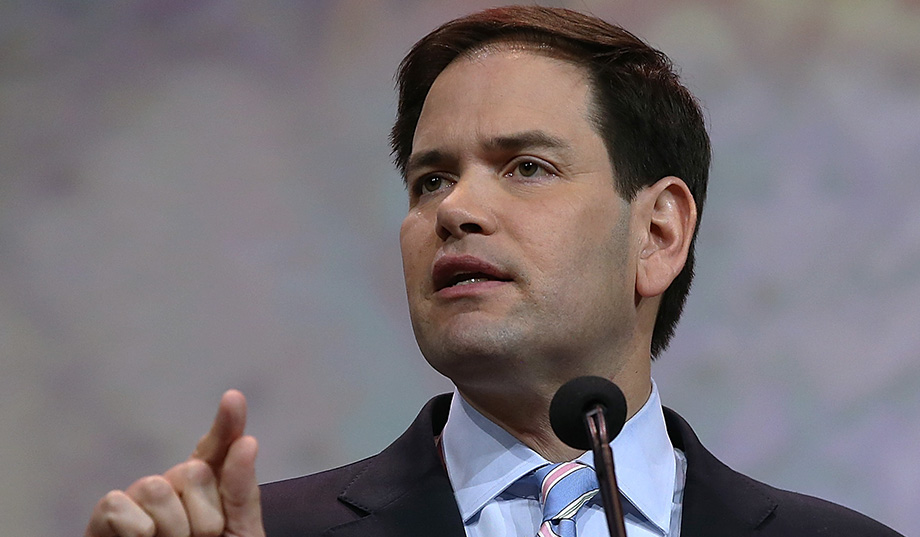 If current trends continue, Republican primary voters will give themselves a warm "stick it to the man" feeling by defying Mitch McConnell, the Bush family, and the greater GOP establishment and nominating Donald Trump for president. They have endured years of policy disappointments and ideological betrayals by Washington Republicans; it's hard to blame them.
There's just one problem: Once this fight-the-power euphoria has ebbed, Trump would face the Democratic nominee, most likely Hillary Clinton. Fairly or unfairly, she will pound the Manhattan real-estate mogul as a mean, insensitive, sexist, and possibly racist multi-billionaire "who doesn't care about people like you." Clinton, the Democrats, and their butlers and maids in the old-guard media will tar Trump as Mitt Romney with more money and less warmth.
Indeed, Clinton would smash Trump 50 percent to 40, according to a December 14 NBC/Wall Street Journal survey of 1,000 adults (margin of error: +/- 3.4 percent). A December 16–17 Fox News survey of 1,013 registered voters finds Clinton thumping Trump by 11 points – 49 percent to 38 (MOE: +/- 3.0 percent). A December 22 Quinnipiac University poll found that 50 percent of 1,140 registered voters surveyed would be "embarrassed to have Donald Trump as President." Only 35 percent said this of Hillary Clinton. (MOE: +/- 2.9 percent).
With his coattails drenched in Crisco, Trump most likely would see Republican senators, congressmen, state-level candidates, and even local contenders slip down the general-election ticket and slide to defeat.
Memo to GOP primary voters: Breathe deep the gathering doom.
Rather than engineer a Hillary Clinton landslide, Republican voters should nominate a stalwart, quick-witted conservative whose immigrant roots and modest means make him a far more elusive target for Clinton's slings and arrows.
In fact, Senator Marco Rubio (R., Fla.) is the only GOP contender who consistently defeats Hillary Clinton in head-to-head heats. In the NBC/WSJ survey, he beats Clinton 48 percent to 45. The Fox poll put the attractive, savvy, severely well-spoken Rubio at 45 percent and Clinton at 43. Senator Ted Cruz (R., Texas) loses to Clinton in the NBC/WSJ match-up, 43 percent to 48, while he ties her at 45 points in Fox's contest.
(As this article was being edited, a December 22–23 Rasmussen Survey emerged in which 37 percent of 1,000 likely voters said they would support Clinton for president, and 36 percent would back Trump. While this is a much better showing for Trump, he still comes out behind Clinton and far from 50 percent, with 22 percent of respondents behind other candidates, and 5 percent undecided – MOE: +/- 3 percent. Even in this survey, Trump remains in a frightfully precarious position.)
Rubio's humble roots and modest circumstances may be his most powerful defense against Clinton. As the son of a bartender and hotel maid, Rubio, who has lived check to check, speaks from an economic position that is much more typical than Clinton's. She and her husband, after all, declared $140 million in income between 2007 and 2014. These funds have come mainly from selling books and giving speeches, sometimes before organizations that then scored federal favors while Hillary was secretary of state.
Unlike Trump, Rubio is vaccinated against the class-warfare virus that Democrats routinely deploy to infect and kill Republican presidential nominees. In fact, it would be hilarious for Hillary to paint Rubio as a coal-hearted plutocrat. Her $25 million household income for 2014 puts her in the top 0.1 percent of tax filers.    
Equally comical is the fact that some on the right denounce Rubio as the GOP establishment's Plan B, now that Jeb Bush has fizzled. One Miami-based conservative activist dismisses Rubio as "white Republican Obama."
Rubio's humble roots and modest circumstances may be his most powerful defense against Clinton.
How absurd. Rubio is not Bob Dole with palm trees. And if Rubio is a "moderate," as Cruz claims, then John McCain is Ho Chi Minh.
How soon we forget: Marco Rubio was a tea-party pinup in 2010 and was endorsed by the devoutly anti-establishment Club for Growth. Far from developing Potomac fever and growing a  RINO horn, Rubio has maintained a very impressive voting record. The American Conservative Union gave Rubio a 96 rating (out of 100) for 2014 and 98 across his Senate career. Heritage Action handed Rubio a 94 last year and 91 lifetime. The equivalent Club for Growth numbers are 92 and 93.
Even better, these sparkling right-wing credentials do not prevent Rubio from working and playing well enough with others to enact necessary legislation.
• Rubio co-sponsored, with Senator Jeanne Shaheen (D., N.H.),  the Hezbollah International Financing Prevention Act of 2015. This new law limits the Iranian-backed terrorist group's access to global financial markets and punishes banks that serve this band of anti-American, anti-Israeli killers. These radical Islamist murderers denounced Rubio's law as "a new crime by American institutions against our people and nation."
• Rubio torpedoed Obama's planned bailout of his health-insurance cronies who lose money on the Obamacare exchanges. So far, this has saved taxpayers some $2.5 billion and prevented insurers from socializing their Obamacare losses. Consequently, mega-insurers UnitedHealthCare and Cigna have fallen out of love with Obamacare and may flee Obama's blessed exchanges as soon as 2017. Rubio's low-key amendment to the 2014 omnibus federal spending bill looks like the thumbtack that slowly will give Obamacare a flat tire.
Cruz "forced a shutdown over it," the Washington Post's Jennifer Rubin recalled. "Every GOP presidential candidate vows to repeal it. But only Sen. Marco Rubio (R-Fla.) can claim to have done something tangible to hobble, maybe permanently, Obamacare."
• In light of the Department of Veteran Affairs' appalling and deadly neglect of those who have worn America's uniform, Rubio sponsored, shepherded, and ultimately passed legislation to make it easier for the VA secretary to fire incompetent and corrupt bureaucrats whose sloth actually has killed sick veterans as they awaited medical care. Before Rubio's measure was signed into law, he had to overcome Bernie Sanders's objections on the Senate floor. The Vermont socialist tried in vain to sink Rubio's proposal and, thus, protect the job security of VA workers.
• Rubio and Democrats Robert Menendez of New Jersey and Bill Nelson of Florida were original sponsors of the Venezuela Defense of Human Rights and Civil Society Act of 2014. Enacted that December, this law condemns and tightens sanctions on Nicolás Maduro's Castroite tyranny.
Ted Cruz is also a Tea Party/Club for Growth–approved hero with sky-high conservative scores that should cheer those groups. (ACU: 100 for 2014, 100 lifetime; Heritage Action: 100 and 98; Club for Growth: 92 and 96.) Alas, Cruz's go-it-alone style has limited his effectiveness as a lawmaker who can pass legislation. Cruz's Senate website cites just one piece of legislation that he has guided into law: a 2014 statute that would bar entry visas to U.N. ambassadors who have committed espionage or terrorism against the United States or threaten U.S. national security.
Also telling: Among those who work closely with both of these men, three Republican senators have endorsed Rubio – Montana's Steve Daines, Colorado's Cory Gardner, and Idaho's James Risch. In contrast, none of Cruz's Senate colleagues recommends him for president.
Rubio has raised suspicions for initially co-sponsoring comprehensive immigration reform, nicknamed "amnesty." However, Rubio abandoned the bill once it metastasized into a 1,198-page monstrosity.
"We must begin by acknowledging that, considering our recent experience with massive pieces of legislation, achieving comprehensive reform of anything in a single bill is simply not realistic," Rubio wrote in his book American Dreams. Instead, Rubio now calls for a "sequential and piecemeal" approach "with a series of bills that build upon one another until ultimately we have put in place the kind of immigration system our nation needs."
Rubio lately has highlighted a Cruz-sponsored amendment that would have given illegal immigrants legal status although not placed them on a path to citizenship.
Cruz said at a May 2013 Senate Judiciary Committee hearing, "If the objective is to pass commonsense immigration reform that secures the borders, that improves legal immigration, and that allows those here illegally to come out of the shadows, then we should look for areas of bipartisan agreement and compromise to come together." He echoed this sentiment the next month when, on the Senate floor, he advocated "finding a middle ground that would fix the problem and also allow for those 11 million people who are here illegally a legal status with citizenship off the table. I believe that is the compromise that can pass."
While he opposes amnesty, Cruz clearly has favored making illegal aliens legal and introduced legislation to do just that. Between the respective, black-and-white poles of "Citizenship – Now!" and "Amnesty – Never!" Cruz occupies a cozy gray area.
On another key issue, Rubio's tax plan cuts personal-income-tax rates, although the top bracket should be lower than 35 percent. If elected, Rubio should cut rates as deeply as possible and abandon his proposal for costly per-child tax credits and other pro-family social engineering. Rubio should remember his plan's highly limited appeal to America's roughly 70 million childless adults. He also is intelligent enough to understand the supply-side fundamentals at play here. Presumably a President Rubio could be persuaded to push his plan even further. His corporate-tax cut (from 35 percent to 25) and his tax rates on capital gains, dividends, and death – 0 percent – are steps in the right direction.
Conversely, Rubio's support for sugar subsidies is inexcusable. Never mind his status as a senator from Florida. The sooner Rubio jettisons this destructive statist boondoggle, the better.
Rubio can and should make these modest improvements to his platform. He is a conservative leader on virtually everything else. Not insignificantly, he represents an uber-swing state with 29 Electoral College votes. Reliably Republican Texas almost certainly will deliver its 38 Electoral votes to the GOP nominee, whether or not his name is Ted Cruz.
Marco Rubio is the man to send Hillary back to Chappaqua and stick a fork in the Clintons – once and for all. That result should give furious Republicans an even stronger headrush than watching Donald Trump stampede through the GOP establishment's china shop – en route to a running of the Republican bulls, right into the electoral abattoir. 
— Deroy Murdock is a New York-based Fox News contributor and a media fellow with the Hoover Institution on War, Revolution, and Peace at Stanford University. He has been a featured speaker at numerous gatherings of the Club for Growth and the American Conservative Union.