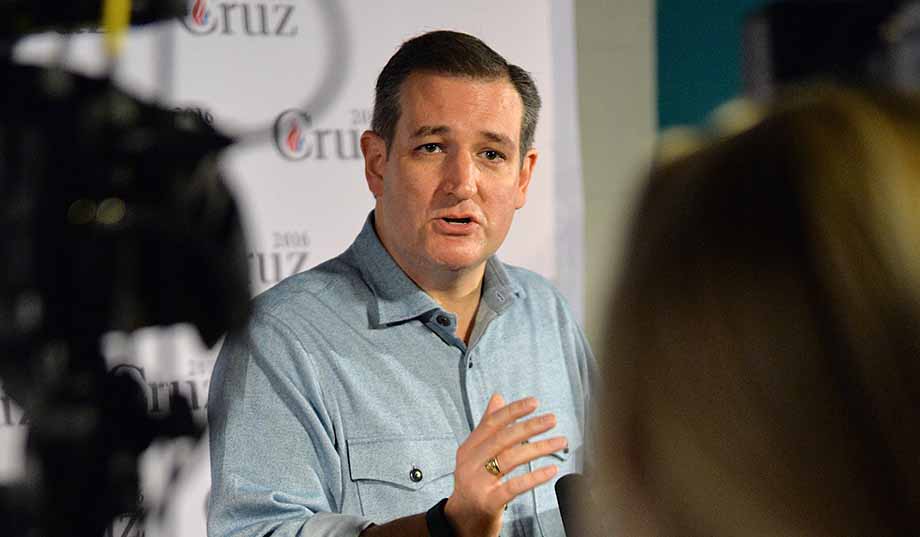 One thing that frustrated even the most ardent supporters of George W. Bush's administration was his refusal to hit back hard at over-the-top, abominable personal attacks against him and his family, including his daughters, by those in the media and in the culture at large.
Bush revered the office of the president and, unlike his successor, held it to a higher standard than did gutter snipes such as Sean Penn or the New York Times.
This is why Newt Gingrich drew cheers and praise during the 2012 election cycle when he hit back at the media for its open bias. Who can forget that CNN's John King opened a primary debate by asking Gingrich questions about his ex-wife (something to remember every time we're told Bill Clinton is off limits)?
This election cycle, the role of credible media tormentor has been notably filled not by Donald Trump but by Ted Cruz, and it's resonating more because Cruz has a clearer path to the nomination than Gingrich did in 2012.
RELATED: Ted Cruz Is Blowing the Doors Off in Iowa
What started out with Internet memes and social-media snickers at Cruz culminated last week in Ann Telnaes's cartoon at the Washington Post in which she depicted Cruz's daughters as trained, leashed monkeys. The Post withdrew the illustration but did not apologize. Even primary competitor Marco Rubio, a father of young daughters himself, took a break from his fight with Cruz over immigration to defend the Texas senator.
Telnaes, whose Twitter wallpaper features a Charlie Hebdo cartoon, played the victim and censorship cards when criticized by Cruz and his supporters. What Telneas and our other brave truth tellers in media somehow don't understand is that we on the right don't care about the attack on Cruz as much as we care about the double standard of the media. Telnaes has the courage to satirize Ted Cruz's children but not Mohammed. That's why she's not Charlie Hebdo. For my part, I wish the Washington Post had left the Cruz cartoon up.
Cruz's response to Telnaes may have caught some pundits off guard, but for those following him and his campaign, it was vintage Cruz.
RELATED: Cruz to Obama: 'Come Back and Insult Me to My Face'
He did not respond with bomb-throwing tweets or statements that generate page clicks or mentions on cable news, and the Post's attempts to anger Cruz enough so he'd hulk out into The Incredible Trump failed. He responded simply by defending his daughters, then by posting a cartoon of his own that portrayed the Washington Post and the New York Times as Hillary Clinton's leashed lapdogs. It's perfect red meat for his supporters, and the media fall into their own trap.
This has to be painfully frustrating for pundits and personalities who are attempting to goad Cruz into a fight that would prove he's not as culturally savvy as Buzzfeed and IJ.com are making him out to be.
This is becoming a pattern for Cruz. Whether he's halting the debate antics of an obnoxious moderator, responding to the incoherent Twitter rant of a pop star, or debating a Hollywood actress attempting to ambush him with cameras for her own show, Cruz is proving that he's a savvy professional with a deft ability to handle the media. For those who are eager to see just how far they can push conservative candidates — how far they can go in attempting to Palinize conservatives out of mainstream culture altogether — Cruz must come as an unpleasant shock.
#share#Cruz didn't just suddenly develop his media strategy when he decided to run for president. When he sat down for an interview on Seth Myers's late-night talk show this past March, he previewed how he would go about casually engaging hostile media without losing his cool. It was clear then that he is a principled debate tactician who has a cutting sense of humor. When Myers challenged Cruz on climate-change hysterics, Cruz effortlessly rattled off satellite data that show no warming over the course of the past 17 years. Myers joked that he trusts computers more than satellites, saying, "I have DirectTV and I'd rather watch on my computer than satellite." Cruz riposted, "Cable shows that it's not warming either."
Cruz has a way of relaxing his media opponents to the point where they feel free to attack him personally; then he simply stands back as his supporters see who his opponents have revealed themselves to be. This only enhances Cruz's reputation among his fans as the second coming of the great communicator and a cultural faith healer on the right. For those who are tired of Trump's indiscriminate antics in the primaries, Cruz's style offers a refreshing alternative, and it could carry him all the way to the nomination.
#related#A younger crop of GOP candidates such as Ted Cruz and Marco Rubio are now emerging, and they have a better understanding of how to handle today's media. In the face of political and media rivals who are decades older than them, attempts to otherize them out of mainstream culture (with attacks that somehow don't apply to Hillary Clinton or Barack Obama) will only get more personal and more vicious. Hence the leashed monkeys.
What Ted Cruz has figured out is that the way to counter these assaults is not to yell at the critics the way your grandfather or Bernie Sanders might yell at the TV. Nor are juvenile tantrums à la Donald Trump the best bet. Instead, adopt the demeanor of a happy warrior. And as of right now, Cruz has accomplished this more than anyone else in the race.
— Stephen L. Miller is a writer living in Brooklyn, N.Y. He publishes The Wilderness, which focuses on viral politics and social media.