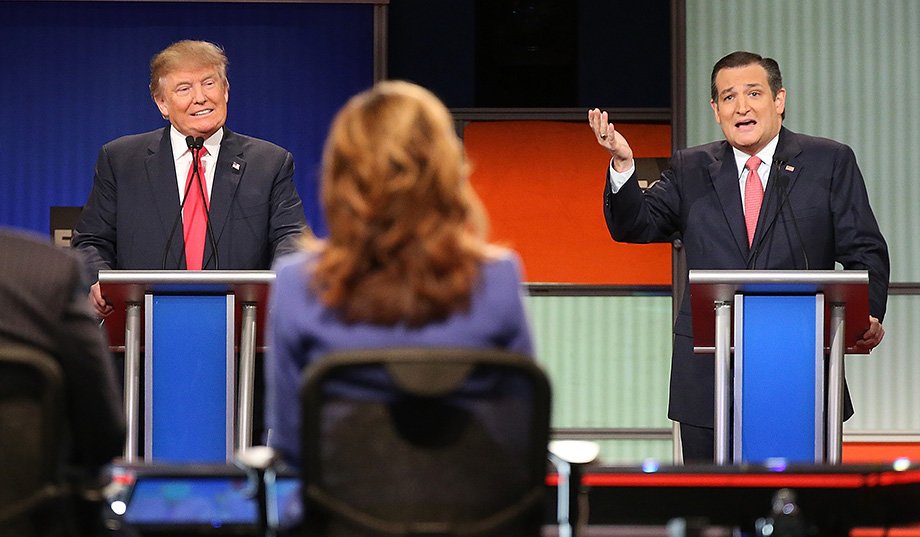 North Charleston, S.C. — The seven candidates on the main stage here Thursday evening attacked harder, pushed back more forcefully, and battled more fiercely than ever. Just 18 days from the Iowa caucuses, the aperture is narrowing, and the Republican primary is increasingly focused on four men: Donald Trump, Ted Cruz, Marco Rubio, and Chris Christie. The debate was shaped by the clashes among them.
Meanwhile, others seemed to recede from view. Jeb Bush and Ben Carson, who each once led the polls, were largely quiet, offering nothing to arrest their respective slides. John Kasich, who gave winding, detailed policy answers in the middle of a debate season that has been more about posture and attitude, appeared to be having a different conversation altogether.
The biggest news of the night is that the unspoken alliance that existed for so long between Cruz and Trump has officially crumbled. Their awkward détente began to fray last week, when Trump suggested the Canadian-born Cruz might be ineligible for the presidency. And, in an unusual role reversal, it was Cruz who went on the attack early in the evening and put it to bed for good.
When moderator Neil Cavuto asked Cruz whether he'd like to settle the issue of his presidential eligibility once and for all, Cruz delivered perhaps his strongest response of the debate season, chalking up Trump's attack to political desperation. He noted that Trump's lawyers had looked into the issue last September and concluded that Cruz was eligible.
"Since September, the Constitution hasn't changed, but the poll numbers have," Cruz said, to booming applause. Trump validated that theory a moment later, when pressed by the moderators on why he was now raising the issue against Cruz. "Because he's doing a little bit better," the real-estate mogul said with a shrug.
RELATED: Ted Cruz Is Growing in Stature; Donald Trump Is Getting More Plausible
Indeed, polls show the two running neck and neck in Iowa, a state where Cruz's campaign considers victory strategically vital and has invested accordingly. But if Cruz was the clear winner of the evening's first volley, he did not emerge from Thursday evening's contest unscathed.
The two front-runners clashed again over Cruz's recent attempt to raise questions about Trump's conservatism by referring cryptically to his "New York values." When asked to explain the remark, Cruz said, "Most people know exactly what New York values are," adding that "not a lot of conservatives come out of Manhattan."
Trump was visibly offended by the remark and delivered a devastating counterattack. Standing at an adjacent podium, he recalled the spirit of New Yorkers in the aftermath of the September 11 terrorist attacks as a point of national pride. Cruz himself was forced to applaud, and when Trump charged that Cruz's comments were "insulting," the Texas senator did not raise an objection. It was perhaps Trump's best debate moment, and Cruz's worst.
#share#Cruz staffers, among them his most senior aides, flooded the post-debate spin room, arguing that Republicans have a "two-man race" on their hands. And in that race, it was apparent that Cruz was not prepared to retreat. A spokeswoman for the senator, Alice Stewart, charged that Trump's invocation of the September 11 attacks "reeks of desperation."
"It's avoiding the issue," she said, "which is, his values aren't reflective of the people of Iowa."
Asked by National Review about the Cruz campaign's remark, Trump stuck to his guns. "It was very bad taste. When he attacks New York and he attacks New Yorkers — in light of what they did and the way they suffered — I thought it was very disgraceful. And so do a lot of other people."
RELATED: Ted Cruz, the Cool, Prepared, Bomb Squad Technician
While Trump and Cruz tussled at the top of the heap, those trailing in the polls were stuck offering their views on the clashes between the leading contenders. Only three candidates — Mike Huckabee, Rick Santorum, and Carly Fiorina — participated in the evening's undercard debate. Rand Paul, whose poll numbers did not qualify him for the main stage, declined to appear in Charleston.
In the post-debate spin room, Huckabee was asked whether Cruz's Canadian birth is a legitimate campaign issue. "I didn't think it was until I started seeing a lot of constitutional-law professors — credible constitutional-law professors, you know, not people who are working for a campaign or a candidate — bring into question what 'natural-born citizen' means," he said. "I can't answer the question. The only thing I can absolutely tell you is that I was for sure born in Hope, Ark., and we have already established that you can be born in Hope, Ark., and be president of the United States. That much we know."
The evening's spats mirrored the attacks that have flooded airwaves in Iowa and New Hampshire in recent weeks.
By and large, the evening's spats mirrored the attacks that have flooded airwaves in Iowa and New Hampshire in recent weeks, and the stump-speech jabs that have accompanied them. Rubio and Cruz have for weeks been locked in a war of words over their respective records on immigration, with each calling the other an unprincipled flip-flopper. On stage, when Rubio was asked about his 2013 support for the failed Gang of Eight bill and the threats posed by terrorist groups exploiting America's immigration system, he said the emergence of the Islamic State over the past 24 months has changed his view. "Radical Islam was not invented 24 months ago," Cruz shot back, before offering a familiar contrast between his immigration record and Rubio's.
Rubio responded with an attack that lasted several minutes, reciting a litany of issues on which he alleges Cruz has changed his views and accusing the fiery Texan of "political calculation." He finished by accusing Cruz of being weak on national security, saying he had joined with Rand Paul and Bernie Sanders in voting for a defense budget that slashes military spending. Cruz smirked and said, "I appreciate you dumping your oppo research file on the debate stage."
"It's your record," Rubio shot back.
#related#Another dynamic that has emerged in the race, an increasingly nasty battle between Christie and Rubio, also played out on stage. Asked about Christie's assertion that Rubio cannot "slime his way" to the White House, Rubio said that Christie supports Common Core and gun control, before blasting the New Jersey governor for supporting Supreme Court justice Sonia Sotomayor's confirmation. "Unfortunately," Rubio concluded, "Governor Christie has endorsed many of the ideas that Barack Obama supports."
Christie fired back, mocking Rubio's "indignation" in a previous debate when Bush rebuked him for his absence from the Senate. At the time, Rubio said that it appeared somebody had told Bush it was politically necessary to attack Rubio. "It appears that the same someone has been whispering in old Marco's ear too," Christie said to applause.
It's a tone we'd all better get used to. Just one debate remains, less than two weeks from now, before votes are cast in Iowa. The pace and intensity of the sniping will only increase from here on out.
— Eliana Johnson is Washington editor of National Review. Tim Alberta is chief political correspondent for National Review.