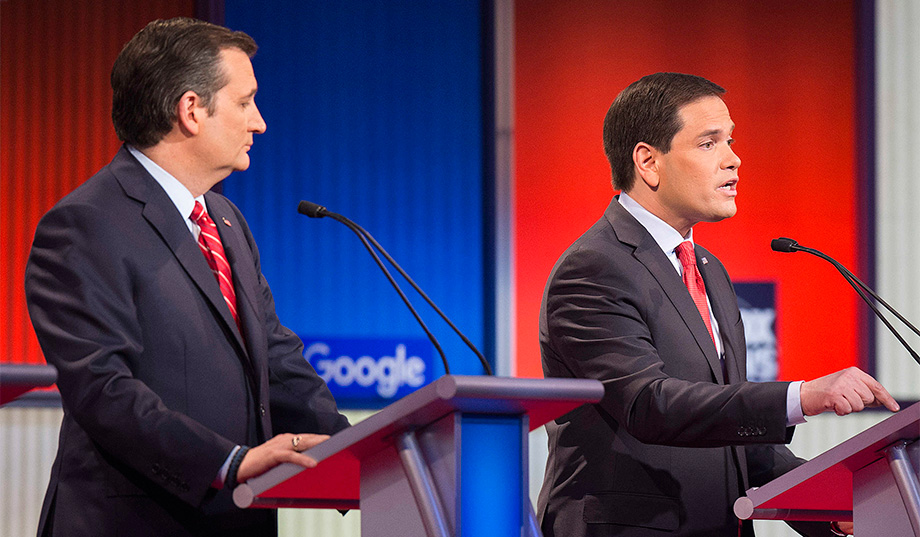 Des Moines, Iowa — Fox News's Megyn Kelly called him "the elephant not in the room." And yet, improbably, Donald Trump seemed somehow to emerge victorious from the last GOP presidential debate before Monday's Iowa caucuses.
The Republican front-runner, who, citing Kelly's alleged bias as a moderator, announced at the last minute that he would skip the debate to hold a dueling event nearby, left political onlookers confused and bemused once again. As seven of his Republican challengers duked it out for Fox's cameras, it was he who dominated Google and Twitter searches across the country. While his closest competitors in Iowa, Texas senator Ted Cruz and Florida senator Marco Rubio, endured painful moments at the hands of their fellow candidates, Kelly, and her colleagues, Trump, through his absence, floated above it all.
A stone's throw away from the Iowa Events Center, where the rest of the leading candidates spent two hours beating one another up, Trump was joined at his own event, a fundraiser for veterans, by the two previous winners of the Iowa caucuses, former Pennsylvania senator Rick Santorum and former Arkansas governor Mike Huckabee. Their presence alongside the brash real-estate mogul, who is locked in a dead heat with Cruz four days from the caucuses, was a visible testament to their desire to deny the Texas senator a victory here, where his campaign has devoted so much time and energy, and where a loss will be considered an enormous setback.
On the debate stage, the candidates and moderators struggled, awkwardly at times, to adjust to a temporarily Trump-less world. "Let me say, I'm a maniac, and everyone on this stage is stupid, fat, and ugly, and Ben, you're a terrible surgeon," Cruz said in his opening remarks, looking toward rival Ben Carson, the retired pediatric neurosurgeon. "Now that we've gotten the Donald Trump portion of the debate out of the way . . . " It was perhaps the highlight of the evening for the former Princeton debate champion. Another attempt to razz Trump — "If you guys ask one more mean question, I may have to leave the stage," Cruz told the debate moderators, unprompted — landed clumsily. 
The candidates and moderators struggled, awkwardly at times, to adjust to a temporarily Trump-less world.
The event was somewhat sleepy and covered little new ground, in part because the moderators dwelt more heavily on politics than on policy. At one point they asked, in consecutive questions, why Jeb Bush was attacking electable candidates, why Rubio was polling so poorly in Florida, and whether Chris Christie could win a general election with the Bridgegate scandal hanging over his head.
But Trump's absence from the stage created more space for the candidates to distinguish themselves from one another. Less focused on pummeling the front-runner, they trained their sights on new targets, with help from the moderators. In an unprecedented move, Kelly and Co. showed video montages of Cruz and Rubio outlining views on immigration that they have long since abandoned, which had the effect of brief attack ads to which the candidates were forced to respond.
#share#Their rivals were more than happy to pile on. Kentucky senator Rand Paul, returning to the main debate stage after his absence last time, made the most of the opportunity, rolling his eyes at Cruz's repeated claims that he was the only true conservative in the race. "He is the king of saying 'Oh, you're for amnesty. Everybody is for amnesty except for Ted Cruz,'" Paul said, his expression oozing contempt. Cruz's posturing, he added, creates an "authenticity problem."
Rubio then joined the chorus, tearing into the fiery Texan as a craven political opportunist who has argued "that he's the most conservative guy and everybody else is a RINO." In reality, Rubio charged, Cruz has been "willing to say or do anything in order to get votes." He noted, for good measure, that before Cruz wanted to "trump Trump on immigration," he worked in the George W. Bush administration and helped devise Bush's dovish stances on the issue.
Rubio, whose numbers have been moving up in recent polls despite a barrage of attack ads from the super PAC supporting Jeb Bush, didn't emerge unscathed. Bush, who has struggled for months to deliver a standout debate performance, landed a clean blow against his fellow Floridian, noting that Rubio had asked for his support on the Gang of Eight legislation he co-sponsored and helped to push through the Senate, and then "cut and run because it wasn't popular among conservatives, I guess."
"You used to support a path to citizenship," Rubio retorted. "So did you. So did you, Marco," Bush shot back, bringing the exchange to a close.
The debate moderators, in their exchanges with the candidates, injected some additional drama. Cruz suffered from a lengthy and awkward exchange with co-moderator Chris Wallace, who had cut him off after he tried to shoehorn in an additional response, against debate rules. "I know you like to argue about rules, but we're going to conduct the debate," Wallace said, playing the schoolteacher rapping the class know-it-all's knuckles.
Moments later, Megyn Kelly did the same to Ohio governor John Kasich, who tried to execute the same feat. "I'll get back to you, I promise," Kelly said, dispatching him with a verbal wave of the hand.
#related#One of the night's best performances belonged to Paul, who returned to the main stage after skipping the South Carolina debate two weeks ago due to his demotion to the undercard event. Paul, perhaps heartened by a noisy group of libertarian supporters in the audience, had a number of strong answers. When a YouTube questioner asked about the relationship between African Americans and law enforcement, Paul replied that he is fighting for criminal-justice reform and has visited Ferguson, something no one else on stage could say.
It was also perhaps Jeb Bush's most confident performance to date. He repeatedly answered questions about the GOP's tone toward minorities by speaking of an inclusive and aspirational country. He even had a kind word for his tormentor: "I miss Donald Trump, he was a little Teddy Bear to me."
Three miles away, at Drake University, Trump was making his own fun. "Isn't that better than this debate that's going on?" he asked the crowd. Asked whether skipping the debate would redound to his benefit, he said, "Who the hell knows? Nobody knows!"
The Republican front-runner has told many whoppers in his months on the campaign trail, but three days out from the Iowa caucuses, he spoke the truth.
— Eliana Johnson is Washington editor of National Review. Tim Alberta is chief political correspondent for National Review.