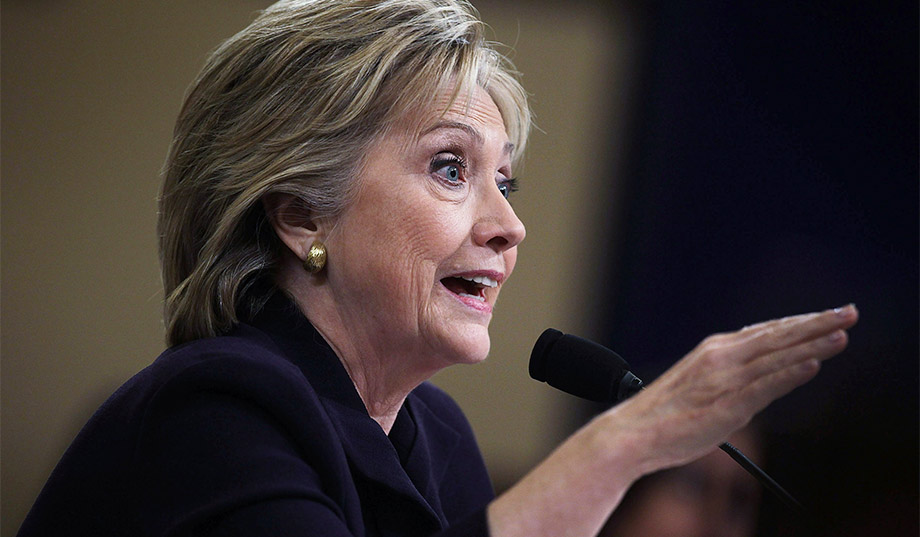 When Hillary Clinton's e-mail scandal erupted last March, fair-minded people might have given her the benefit of the doubt. Distracted and perhaps overeager, the spanking-new secretary of state plowed into her duties and had her staff divert e-mails to her home-based computer server. This would be more convenient, she claimed, and would let her avoid the hassle of schlepping multiple handheld devices. Besides, "there is no classified material" on her server, she said, soothing journalists who covered this matter. "I did not receive nor send anything that was classified," she reassured the media last July.
Things are now so much worse than they first appeared.
A top Clinton aide rebuffed a senior State Department official who tried to give Clinton standard computing gear. As the Daily Caller's Chuck Ross has reported, State's executive secretary, Stephen D. Mull, wrote Clinton's chief of staff, Cheryl Mills, on August 30, 2011.
"We are working to provide the Secretary per her request a Department issued Blackberry to replace her personal unit which is malfunctioning," Mull explained. He thought it was on the fritz, "possibly because of [sic] her personal email server is down."
Deputy chief of staff Huma Abedin dismissively replied: "Let's discuss the state blackberry, doesn't make a whole lot of sense."
If a bumbling Clinton had let a smattering of classified e-mails land on her unsecured server, one might overlook an occasional slip-up or two. However, the State Department so far reports that Clinton's private server held at least 1,340 e-mails that contain classified data. The final tranche of Clinton's e-mails should arrive January 29, most likely featuring even more e-mails brimming with state secrets.
If Clinton were a lifelong academic in her first big federal job (visualize a Jeane Kirkpatrick of the Left), she might deserve a little slack. But Clinton spent eight years as first lady and eight more as a U.S. senator. Even more inconveniently for Clinton, she served six years on the Senate Armed Services Committee.
Even if Clinton had not spent a half-dozen years handling secret documents on America's military plans and capabilities, she surely knew that classified materials are a secretary of state's stock in trade. Regardless, Clinton claimed that her server never harbored classified e-mails.
Inconceivable.
When the secretary of state swaps e-mails with the president of the United States and the chiefs of the Pentagon, CIA, and NSA, they presumably discuss priorities more sensitive than Downton Abbey. Clinton first worked on Capitol Hill in 1970. She is a Yale lawyer. So she damn well knows that a "born classified" document is secret "when originated." Markings or no markings, she understands that the confidential views of foreign leaders, reports from ambassadors, and updates on arms-control talks are all state secrets.
Clinton's flimsy claim never to have handled e-mails labeled classified imploded recently when an e-mail sent June 17, 2011, became public. That morning, Clinton's aide Jacob Sullivan informed her that a document could not reach her via a secure fax. No sweat! Clinton replied, " . . . turn into nonpaper w no identifying heading and send nonsecure."
So, Clinton knew about these classified markings and, even worse, instructed her staffer to cover them up and forward her that document via a fax machine vulnerable to spies. Clinton's "gross negligence" may have violated the federal Espionage Act, 18 U.S. Code § 793.
It would be bad enough if the 1,340 aforementioned classified e-mails involved only the travel plans of U.S. ambassadors. This can be life-or-death information, as al-Qaeda's franchisees demonstrated in Benghazi.
Even worse, I. Charles McCullough III, inspector general of the intelligence community, confirmed that Clinton's server included not just two previously known top-secret e-mails but also "several dozen emails containing classified information determined by the IC element to be at the CONFIDENTIAL, SECRET and TOP SECRET/SAP information" levels. McCullough wrote the chairmen of the Senate Intelligence and Foreign Relations committees on January 14, in response to their questions.
(Please see the letter here.)
TOP SECRET/SAP classification goes well beyond the merely top secret and might include the names of American moles in foreign governments and other information whose disclosure could get people killed. This level of stealth is so intense, McCullough himself had to earn an even higher security clearance in order to inspect these SAP materials. "Several dozen" such e-mails occupied Clinton's server as it ricocheted from Chappaqua, N.Y., to New Jersey to Colorado, unencrypted and wide open to hacking by Anonymous, Russia, Iran, or the terrifyingly tech-savvy folks at ISIS.
Hillary Clinton has devolved in ten months from a fumbling former chief diplomat to a previously clear and present danger to U.S. national security.