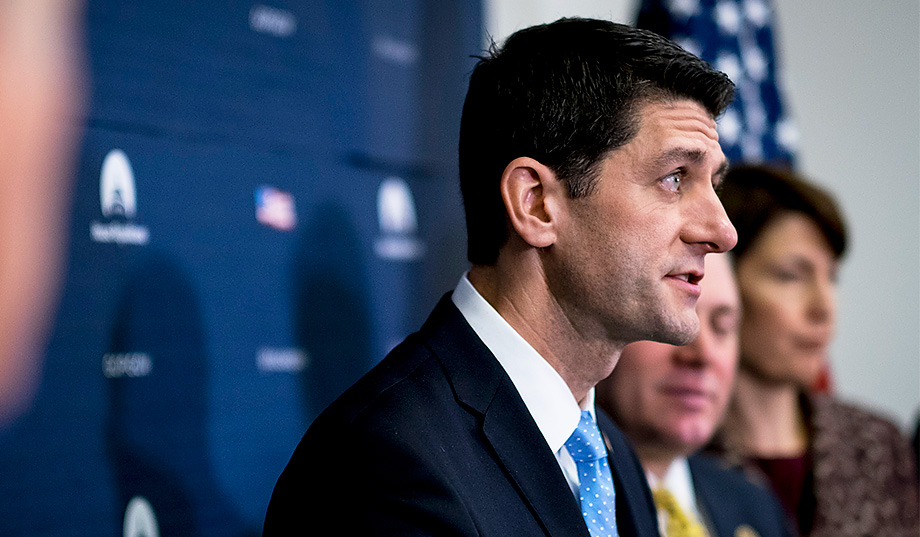 The Republican Congress gathered this week in Baltimore to begin developing Speaker Paul Ryan's conservative agenda, but the presidential race — and the prospect that Donald Trump or Ted Cruz might become the party's standard bearer  — was on everyone's mind.
Ryan's agenda is as much about moving the congressional GOP from an opposition party to what he likes to call a "proposition party" as about fashioning a bulwark against a potentially divisive nominee. Conversations among members before now have largely lumped Trump and Cruz together. But in Baltimore, that changed: Members began privately debating the merits of each, attempting to determine which of the two would be more amenable to their forthcoming agenda.
The developing feeling among House Republicans? Donald Trump is preferable to Ted Cruz.
"If you look at Trump's actual policies, they're pretty thin. There's not a lot of meat there," says one Republican member in Ryan's inner circle, who requested anonymity to speak frankly about the two front-runners as leadership has carefully avoided doing all week.  If Trump were to get the nomination, he would "be looking to answer the question: 'Where's the beef?' And we will have that for him," says the member.
RELATED: Ryan Hopes for Big Reforms, but GOP Nominee May Have Other Ideas
The member says he believes that, when it comes down to it, "almost all of the candidates would subscribe to" the conservative agenda he and the rest of leadership are hoping to advance.
Except, that is, for Cruz.
"Look at the Senate. He hasn't been a team player. He's always been his own person with his own aspirations and his own vision, only concerned with where he wants to go. And, you know, for us, we want to work closely with the president. And with Cruz, there's a question of whether that could happen."
A preference for Trump over Cruz is by no means universal within the conference. Cruz has earned endorsements from a number of House Freedom Caucus members, most recently Representatives Alex Mooney and Paul Gosar. Nevertheless, at the Elected Leadership Council retreat in Annapolis last week, conference leaders were confronted with an uncomfortable reality: polling from the National Republican Congressional Committee signaling that Cruz could prove a bigger drag on Republicans down ballot than his rivals. According to Politico, Dave Sackett of the Tarrance Group, who presented the poll, cited the Texas senator's "starkly ideological positions" to explain the results.
RELATED: Q&A: Paul Ryan on Congress's Role in the Presidential Race
"Most pollsters are saying that Cruz may create even more trouble than Trump, because Trump has some crossover appeal to working-class voters who may not traditionally vote Republican," says one ELC member privy to the presentation. "With Ted Cruz . . . it's hard to see where his appeal lies outside of classic primary voters," who, it should be noted, are a diverse group in their own right. "We just have to hope our agenda and our policies can get ahead of that. It's definitely on our minds right now."
#share#The framework for that agenda was put to paper this week. Speaking to reporters at the retreat's conclusion on Friday morning, Ryan said the conference's top five priorities are national security, tax reform, health-care reform, welfare reform, and "restoring the Constitution" by rebuilding the separation of powers. He promised that House Republicans "will have a complete agenda by the time we have a nominee."
The agenda is designed to serve as more than just a hedge against the increasingly real, and, to a growing number of members, worrisome prospect of a Cruz nomination. It is also aimed at preempting fissures within the conference itself. A large part of the Baltimore retreat was devoted to ensuring both chambers' commitment to passing twelve appropriations bills through regular order, something that hasn't been accomplished in nearly 20 years. It's become one of the most popular rallying cries for the new speaker: Many House conservatives were incensed following the passage of a massive omnibus bill before Christmas, which came about in large part because of John Boehner's unwillingness to discharge individual appropriations bills from committee for a full floor vote. Ryan has pledged that, moving forward, that kind of jam won't happen again.
RELATED: Ryan Aims for Party Unity in Bid to Avoid 2012 Repeat
But as Majority Leader Kevin McCarthy reiterated in a press conference on Thursday afternoon, the total commitment for passage of one appropriations bill through regular order comes out to roughly 11.5 hours — about a week's worth of legislative time. Multiply that by twelve appropriations bills, add in the contracted calendar of a presidential election year, and the chances that a sweeping reform package of any sort makes it to the floor this year are exceedingly slim.
That could pose a problem for the House's most conservative members. House Freedom Caucus chairman Jim Jordan recently told a small roundtable of reporters that conservatives, in spite of this cramped timeframe, are committed to securing votes on the big-ticket items at the top of Ryan's agenda.
"We've been pretty clear. We must prefer actually putting specifics out there, putting legislation out there, and actually voting on it in the House," Jordan said.
"From a time perspective, I understand we're in an election year, I understand we're in a time crunch. I understand the appropriations process and wanting to do all the bills. But look, you wanna get something done, you get it done. That's the way life is."
RELATED: Ryan's Policy Vision
Jordan went on to mention budget reconciliation — the tool which allows the House to bypass a Senate filibuster, most recently used to send a bill repealing Obamacare to the president's desk — as a means of passing welfare reform in 2016. It's the same method that allowed the last major piece of welfare legislation to sail through Newt Gingrich's House and onto Bill Clinton's desk in 1996, and it's something Jordan's fellow Freedom Caucus members could get behind.
In Baltimore, one such member, Dave Brat, said that if reconciliation proved a dead end, the House could "definitely" attach welfare reform to an appropriations bill.
"I'm not sure I see that happening," says Republican Study Committee chairman Bill Flores. "Economic opportunity is such a huge issue, you need to have specific authorizing legislation. That would be very difficult to do in appropriations."
Flores agrees that reconciliation is a potential way of passing welfare reform this year. But he also hopes that members will be reasonable about how much progress can actually be made on Ryan's legislative priorities between now and 2017.
"My hope is that members won't try to demand votes when they're unfeasible," Flores says. "In a perfect world, we'd have all of these items onto the floor immediately. But that's not likely. Most of us are going to be very reasonable about creating a to-do list and preparing for a president who can make it happen."
#related#In chatter among members and pen-and-pad sessions with leadership, the Baltimore retreat occasionally hinted at potential discord — pockets of restive conservatives and concerns about a nominee who doesn't see eye to eye with Congress — that could make unifying behind Ryan's agenda difficult. But the Republican conference emerged from this week in a positive mood, according to interviews with a half-dozen members.
"Good feeling, good unity, and great substantive policy ideas," Alabama representative Bradley Byrne says.
"It's true that this whole election has made things uncertain for us," says GOP policy chairman Luke Messer. "But I think what we saw this week was a further belief that Paul Ryan is someone capable of handling that."
As evidence, he points to the moments that kicked off and ended the conference.
"We saw standing ovations for Ryan in his major remarks this week," Messer says, chuckling. "If it were Boehner, I'm not sure we would have gotten the same."
— Elaina Plott is a William F. Buckley Fellow in Political Journalism at the National Review Institute.