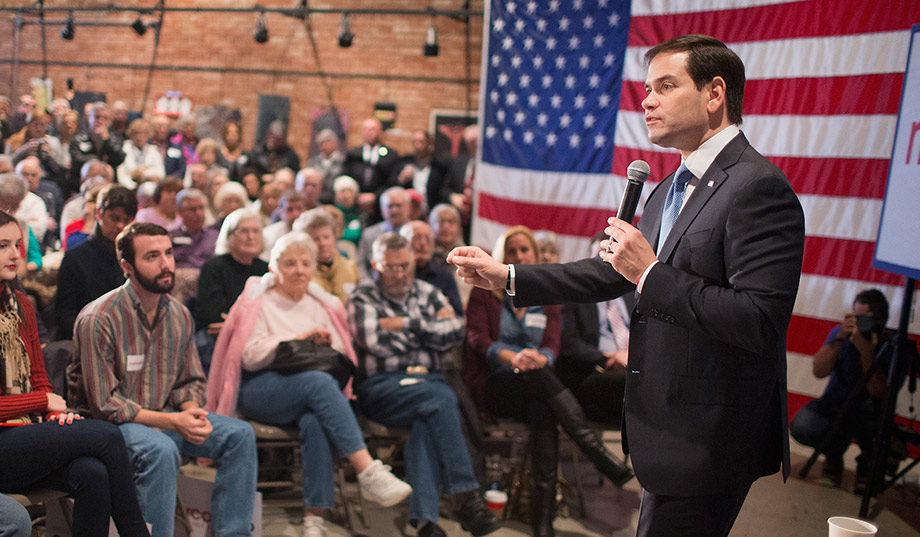 As Republican officials in Iowa and New Hampshire prepare to host the first two elections of this year's presidential campaign, they're working feverishly behind the scenes to ensure it's not their final turn at the front of the line.
Republican National Committee members from around the country have long plotted to depose the two small, demographically homogenous states that traditionally sit atop the nominating calendar. Those efforts seemed to receive a boost in September when RNC chairman Reince Priebus said that the first four states to vote — Iowa, New Hampshire, South Carolina, and Nevada — won't be considered "sacred cows" after 2016, warning, "I don't think anyone should get too comfortable."
It's a foregone conclusion inside the RNC that Nevada will lose the No. 4 spot barring miraculous turnout in its February 23 caucuses. The Silver State, which has been plagued by poor showings in recent cycles — the state party was embarrassed when fewer than 33,000 people showed up to caucus in 2012 — will probably be replaced by either Arizona or Colorado, which GOP leaders say have stable party infrastructures to go with their similarly diverse populations.
The first three states, meanwhile, are on knife's edge. Party officials overwhelmingly believe that Priebus, if he had unilateral power, would nix Iowa — owing to its Evangelical-heavy electorate and byzantine caucus system — in favor of leading the calendar with New Hampshire and South Carolina. But Republicans in those three states long ago banded together, and continue to believe that a united front is the best shield against attempts on their favored positions.
Such a threat has loomed for many years, and was amplified earlier this month at the RNC's winter meeting in Charleston, S.C.
RELATED: The 2016 Presidential Race Heats Up
There, RNC Rules Committee members were expecting to consider a resolution to strip the four "carve-out" states — so named because the primary season is built around them — of their protected status. Texas GOP chairman Tom Mechler had first introduced the resolution at the RNC's summer meeting in Cleveland last August, before agreeing to postpone the matter until Charleston. In the intervening months, however, Iowa GOP officials enlisted Representative Steve King — a fierce guardian of the caucuses — to help sideline Mechler. Knowing that King was likely to endorse Texas senator Ted Cruz, and that Cruz was banking his White House bid on winning their state, Iowa leaders lobbied King to have Cruz pressure Mechler to drop the resolution. The plan worked: During a swing through northwest Iowa in early January, the week before the RNC's winter meeting, Cruz told Iowa GOP officials that their problem had been taken care of.
But the drama didn't end there.
After Mechler voluntarily withdrew the resolution in Charleston, RNC members spotted him chatting quietly with a neighbor, Utah national committeewoman Enid Mickelsen. Roughly an hour later, Mickelsen re-introduced the resolution as her own, arguing that it was necessary to hold the early states' "feet to the fire" in 2016 after they made a number of mistakes in 2012, including the now-infamous, premature declaration that Mitt Romney had won Iowa instead of Rick Santorum.
"I believe being a carve-out state is a privilege, not a right, and that privilege needs to be re-earned every election cycle," says Mickelsen, a former congresswoman, when reached by phone. "They need to conduct the caucus or primary elections . . . in such a way that people have confidence in the process."
RELATED: Republican Voters Need to Remember What Elections Are For
Her actions didn't go over well with Steve Duprey, the New Hampshire committeeman, who stood and delivered a stem-winder on the dangers of putting a big state like Texas at the front of the calendar. He warned that voters would surrender their personal vetting of future presidents, and said grassroots campaigns would be suffocated by two or three wealthy candidates capable of blanketing the airwaves. "It would be Jeb Bush and Donald Trump — maybe Ted Cruz, too — and that would be it," Duprey tells NR.
In Charleston, Duprey asked that a vote on Mickelsen's resolution be taken immediately so the RNC could put the issue to bed, but his request was voted down. Mickelsen then successfully postponed discussion of the resolution until the Convention Rules Committee meets this summer — allowing members to evaluate the early states' performance before deciding their fate, and setting up what could be an epic showdown in Cleveland.
#share#The Convention Rules Committee — made up of 112 members, one man and one woman from each of the 50 states and 6 territories — will ultimately be tasked with deciding the 2020 primary calendar. But the decision will be heavily influenced by the party's nominee, who can stack the committee with loyal members and is allowed to hand-pick its chairman. (Priebus will make the formal appointment once the nominee has informed the RNC of his or her choice.)
The power of that chairmanship in protecting the early states was demonstrated in 2012. According to sources present at the Convention Rules Committee's meeting in Tampa that year, GOP lawyer and committee member Ben Ginsberg introduced a resolution to eliminate the carve-out states' protected status. Former New Hampshire governor John Sununu, who'd been chosen by Romney to lead the committee, quickly replied, "Over my dead body," before Priebus sprang into the room to help broker a deal that kept them at the front of the calendar through the 2016 cycle.
RELATED: The Establishment vs. the Conservatives
This time around, early-state officials are cautiously optimistic that Mickelsen's resolution will be defeated, because each of the GOP candidates has gone on record to support the status quo. Even Trump and Cruz, the two potential nominees with anti-establishment tendencies, have voiced support for the carve-out states. Cruz's national co-chair is King, a fact that comforts even Iowans who don't like either of them. And Trump, while something of a wild card, has repeatedly expressed affection for Iowa. Sources say Jeff Kaufmann, the Iowa GOP chair, recently called Trump to promise his support if the real-estate mogul becomes the nominee — so long as Trump agreed to back Iowa in the rules committee. (Kaufmann declined to comment for this story.)
#related#But early-state advocates aren't taking any chances ahead of the convention. Though the 112 members who will decide the 2020 calendar have yet to be formally selected — they are chosen from their respective delegate pools, by fellow delegates, often under the influence of the nominee's team — the committee's ranks are traditionally dominated by RNC members and party veterans. Knowing that, officials in Iowa, New Hampshire, and South Carolina have already begun building a list of potential committee members and lobbying for their support.
Iowa GOP officials have also invited RNC colleagues from around the country to visit on February 1 and observe the caucuses up close. Kaufmann and his team feel confident that they are better prepared and organized than they were four years ago, and they want Republicans from other states to see what they've been promising will be a smooth and professional caucus process.
It had better be. Whether they accept the invitation or not, Republican officials nationwide will be watching on February 1 — and looking for any reason to deal Iowa a deadly blow this summer in Cleveland.
— Tim Alberta is the chief political correspondent for National Review.