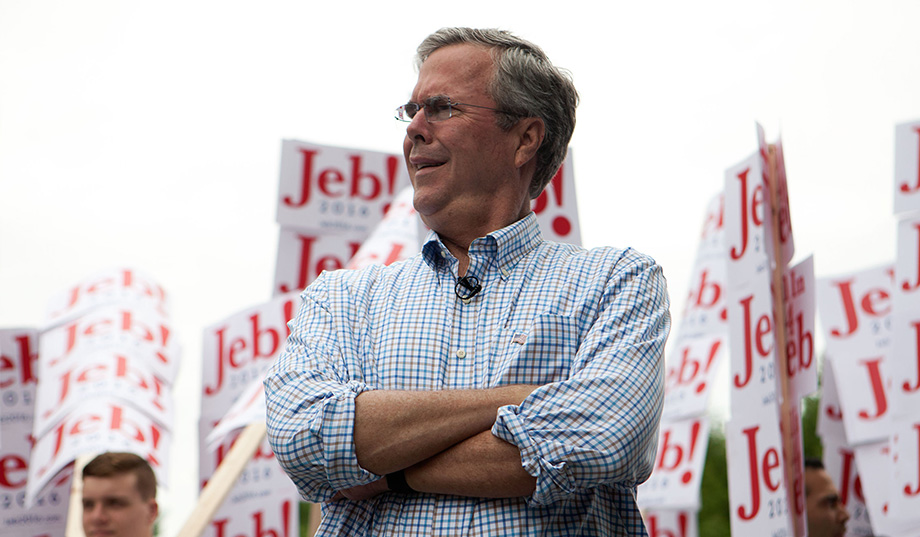 The early campaign season hasn't exactly gone according to plan for Jeb Bush. His slide in the polls is undeniable — from front-runner to also-ran in six months — which may have more to do with the country's desire for a fresh start from Bushes and Clintons than it does with Jeb himself. The former Florida governor may soon find himself in the same position as two other highly regarded governors, Wisconsin's Scott Walker and Texas's Rick Perry: out of the race.
But what's equally startling is that Bush's Super PAC, Right to Rise, has spent a whopping $50 million on ad buys in the early primary states. The money may have been better spent; Bush sits at just 3 percent in national polls. R2R's messaging has also been somewhat head-scratching, attacking Senator Marco Rubio's footwear among other things.
Bush's donors have to be wondering where all that money went, and what exactly they are getting in return for their cash. But instead of hiring another high-priced Washington consultant, here are a few ideas – offered free of charge — on what Bush could have spent his $50 million on.
Buy 25,000,000 Powerball Tickets
Hillary Clinton has said that with the winnings from the record $1.5 billion Powerball jackpot, she wouldn't feed the hungry, or rebuild schools, or build the border wall. No, Hillary said she would "fund her campaign" — now that's a classic Clintonian answer! Jeb, no novice at the investment game, would likely find a better use for the Powerball jackpot than simply blowing it all on his campaign. But maybe he could reimburse some of Right To Rise's donors.
Replace Harrison Ford in Star Wars: The Force Awakens
If you remember, there was a big social-media dust up about how much Harrison Ford made for reprising the role of Han Solo: $20 million to be exact, much more than the other cast members. Ford made no secret of his desire to be killed off in the original trilogy and expressed hesitancy about reprising the iconic part. Right to Rise could have negotiated some kind of buy-out deal with Ford and Disney and slipped Jeb right into the role. Who wouldn't want to see Jeb piloting the Millennium Falcon?
Buy the D.C. United Soccer Team
Major League Soccer's D.C. United soccer team was estimated at a $50 million value when it was purchased in 2012. Everyone in D.C. loves their soccer and this would have been a great way for Jeb to expand his own branding and logo into other arenas, figuratively and literally.
Mecha-Jeb
Beginning in 2001, $50 million worth of research has been poured into futuristic super-soldier technology resulting in Lockheed Martin's HULC exoskeleton and the sleeker Raytheon XOS 2, a sort of Iron Man suit for use in everything from the military to construction and engineering — similar to what was seen in the Tom Cruise sci-fi film Edge of Tomorrow. A weaponized mecha-suit would instantly give Jeb a needed upgrade, defending him from Donald Trump's "Low Energy" attacks and giving him a fighting chance against Hillary Clinton (who is rumored to already possess an armored exoskeleton of her own).
Jeb!: The Video Game
Video games are no longer kids' play — and neither is their cost of production. But the payoff can be huge: A platform next-gen game can gross in the hundreds of millions of dollars, as was the case with Grand Theft Auto 5, which went on to earn more than some Hollywood blockbusters. Fifty million greenbacks can produce a worthy role-playing experience. And Jeb! could even turn into a franchise should the game become a hit and carry him to the White House. Bonus points: A popular video game would put Jeb in good standing with the online Gamergate crowd that has seemed to gravitate toward Donald Trump in recent months. Republicans are always talking about going after the youth vote!