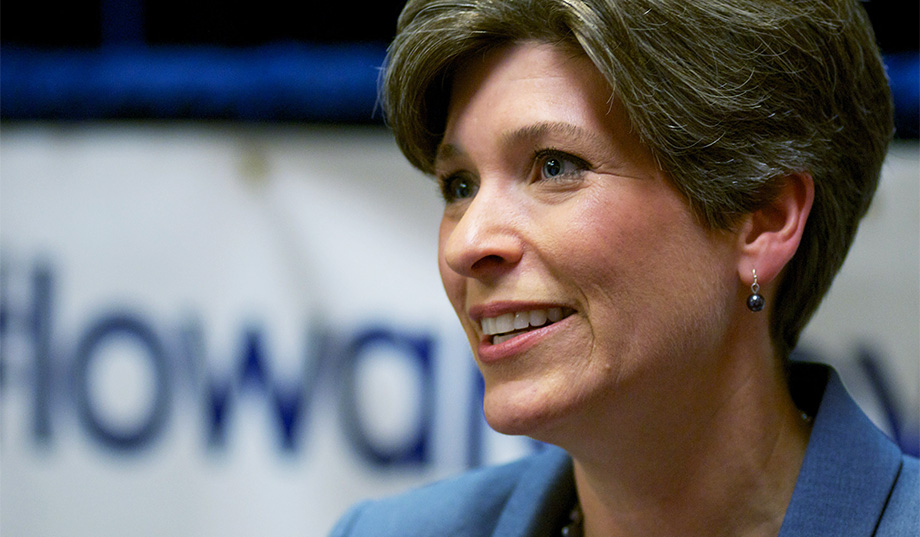 Dubuque, Iowa — "Let's not talk 2016," Senator Joni Ernst tells the group of 30 veterans assembled here at the Veterans Freedom Center.  
With just nine days remaining until the Iowa caucuses, it's hard not to. But Ernst, who has vowed to remain neutral in the Republican primary, is trying her best. The popular freshman senator could help tip the scales as Iowa hurtles toward a face-off between Ted Cruz and Donald Trump. Iowa Republicans who know Ernst suspect that her heart lies with Rubio, currently sitting in a distant third behind the front-runners. Her support certainly wouldn't hurt him as he attempts to seize the establishment mantle heading into New Hampshire.
Ernst and Rubio are friends. Though several other presidential contenders raised money for her, Rubio was the only 2016 presidential hopeful to endorse her during her five-way Senate primary, and he campaigned for her several times over the course of 2014. What's more, a number of people working on Rubio's campaign, including several who have been among his core campaign team for some time, helped Ernst get elected in 2014: Todd Harris, Rubio's media consultant, was also Ernst's media consultant, helping to create the hog-castration ad that put Ernst on the map; Alex Conant, Rubio's communications director, spent the final months of the 2014 race living in Iowa and working for Ernst, as did his wife, Caitlin Conant, who at the time was not with Rubio, but joined his campaign at the start of this year. Additionally, Jahan Wilcox, now on Rubio's rapid response team, worked on Ernst's campaign after the primary, and Ernst's former state director, Cameron Sutton, endorsed Rubio earlier this month.
To be sure, there is overlap between Ernst's former staff and other campaigns. For instance, David Polyansky, a consultant for Ernst, worked for Scott Walker and later jumped to Ted Cruz's campaign; David Kochel, who was a senior advisor for Ernst, is now with Jeb Bush. 
On Sunday, the Rubio campaign announced that Ernst would join Rubio at a rally in Des Moines on Monday. Though at least one other campaign is also working to schedule an event with her in final days before the caucuses, Ernst was adamant on Saturday that while she would appear with candidates, she would not put her thumb on the scale.
"I won't endorse," Ernst told reporters after her event here, repeating the assertion she has made for months. "I will welcome candidates. I am happy to go to events with candidates. Both Senator [Chuck] Grassley and I have discussed that, and if somebody asks us and we can fit it into our schedule, we're going to welcome them to Iowa."
#share#Ernst follows in a tradition of Iowa Republicans staying out of presidential primaries. Governor Terry Branstad and Senator Grassley have each endorsed only one time in their more than three decades in public office.
But in recent days, Grassley and Branstad have shifted course. Branstad took a public broadside at Ted Cruz, saying he hoped the Texas senator lost the Iowa caucuses because of his stance on ethanol. Grassley later echoed Branstad's criticism of Cruz's ethanol position, and on Saturday, he introduced Donald Trump — Cruz's main rival for the top spot in the caucuses — at a rally in Pella. Grassley's appearance with Trump, during which he declared he wanted to "make America great again," was widely interpreted as a signal that he, too, would prefer a nominee other than Cruz.
Ernst says she is asked "all the time" to throw her weight behind a candidate. Fellow Senator Cory Gardner, in Iowa last week to stump for Rubio, tells National Review that "we're all working hard on other members" when asked if there is pressure on Ernst to endorse.
#related#But Ernst has to worry about her own political prospects. Grassley and Branstad have little to concern them on that front — Branstad is the longest-serving governor in U.S. history, while Grassley, in more than three decades in the Senate, has never won an election with less than 64 percent of the vote. The same cannot be said of Ernst. She will probably face a tough race in 2020, as Democrats work hard to reclaim a seat that had been in their hands for three decades until she won it last cycle.
At that point, Iowa Republicans say, she'll need all the friends she can get. And she'll be well served by not having angered anyone with a primary endorsement. 
At the Veterans Freedom Center, Ernst and Representative Rod Blum deployed a wry two-person routine to dodge the issue.
"I'm voting for Joni," Blum told the crowd. "I'm voting for Rod," Ernst replied.
— Alexis Levinson is the senior political reporter for National Review.
EDITOR'S NOTE: This piece has been updated since its initial publication.