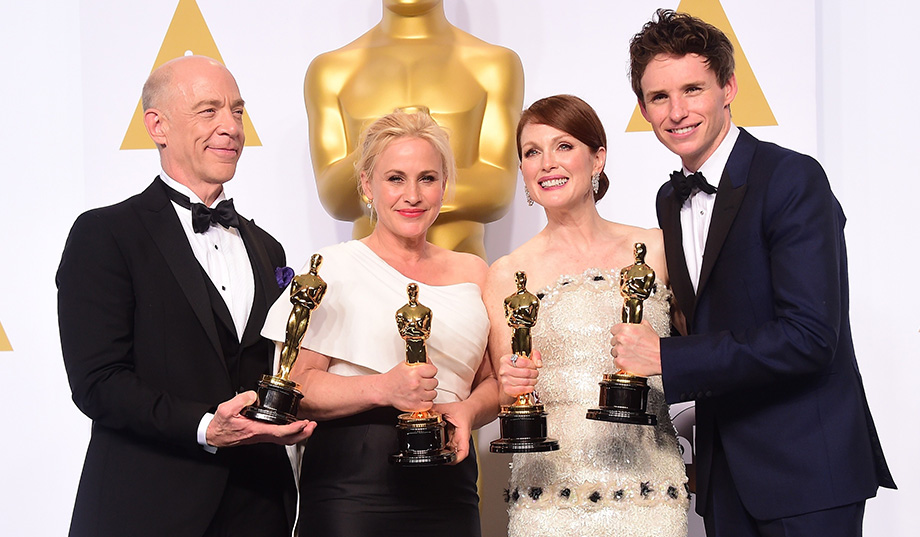 Once again, a pillar of cultural liberalism finds itself embroiled in controversy, and, once again, cultural conservatives are being asked to make atonement.
The 88th Academy Awards ceremony — scheduled for February 28 — is under attack for the lack of diversity among this year's nominees. As our moral betters in Hollywood prepare to walk the red carpet and allow us to celebrate them, their hopes for a glamorous, self-congratulatory Oscars have been dashed by claims of exclusion and racism — none of the major acting categories feature a nominated performance by a person of color — and the advent of a social-justice warrior hashtag campaign: #OscarsSoWhite.
The imbroglio has led to threats and boycotts from some of the industry's biggest names including Spike Lee, Michael Moore, and Will Smith and his wife, Jada.
"The nominations reflect the Academy. The Academy reflects the industry and then the industry reflects America," Smith, a two-time Oscar nominee, told ABC news late last week. "There is a regressive slide towards separatism, towards racial and religious disharmony, and that's not the Hollywood that I want to leave behind."
But whether or not Smith is correct in his diagnosis of Hollywood's slide towards "racial and religious disharmony," one thing is certain: Hollywood's sins are the fault of the progressive Left; no conservatives had a hand in any of it.
Smith's declaration that Hollywood is now a "regressive" industry is interesting given the roles he's appeared in over the course of his career. There was a stretch — from roughly the mid '90s to the middle of the last decade — when Will Smith was the most bankable movie star in the world. The Men in Black franchise was based on a comic book featuring two white secret agents who hunt aliens. His film I Am Legend, based on the 1954 novel, went through several development incarnations with white actors attached. Smith starred in the adaptation of Isaac Asimov's I, Robot, as well as 1999's Wild Wild West, a big-screen version of the television show that saw Smith step into the role originally played by white actor Robert Conrad. And the former Fresh Prince star is set to appear in DC Comics's forthcoming Suicide Squad as the villain Deadshot, who was created and illustrated as a white character.
RELATED: The New Segregationism: The Oscar Nominations Have Brought a Corrosive Racial Politics to the Fore
Judging by box offices receipts, American audiences have been just fine with the idea of Smith taking the roles of fictional characters played by white actors in the past, which sounds like progress not "regression" to me.
Smith wasn't alone in his diagnosis, though. In an interview with the Associated Press at the Sundance Film Festival, Danny DeVito declared that because a private, invite-only club of industry professionals in Los Angeles chose their nominees without picking any minority actors, the entire country — not just his colleagues — is racist. "We are living in a country that discriminates and has certain racist tendencies," he said. "So sometimes it manifests itself in something like this, and it's illuminated."
Lena Dunham, the creator of HBO's Girls and a Hillary Clinton backer, opined that "it's hard to be a person who is not a white male in the film industry" — an interesting thing for Dunham to say considering she writes, produces, and stars in a show featuring white, privileged Brooklyn hipsters.
SLIDESHOW: Academy Award Nominations
Hollywood heavyweight George Clooney chimed in, claiming that Hollywood seemed to be more racially divisive than it was during the George W. Bush years. "If you think back ten years ago, the Academy was doing a better job," Clooney wrote. "Think about how many more African Americans were nominated."
Numbers wise, there may be something to his theory. In 2002, Halle Berry and Denzel Washington took home lead-actor honors, and Queen Latifah received a nomination for her role in Best Picture winner Chicago. That same year, Will Smith was nominated for his physically transforming role as Muhammad Ali. Just two years later, Jaime Foxx won the Best Actor statue for his portrayal of Ray Charles. In 2006, Crash, a film about white characters coming to terms with their racial biases, won the Best Picture award, and former American Idol contestant Jennifer Hudson took home the Best Supporting Actress trophy. Danny Boyle's Slumdog Millionaire, a mainstream take on a Bollywood flick, swept the award show in 2009, and Will Smith was nominated for his role in The Pursuit of Happyness.
But, to the consternation of many on the left, there has been a tapering off from the Academy in recognizing and awarding African Americans for their performances in recent years, the exception being 2013's 12 Years a Slave, which took home Oscars for Best Picture, Best Supporting Actress, and Best Screenplay.
#share#So what's really going on here? And should we care?
Is it true that — in the words of the Boston Globe's Ty Burr — "Oscar's race problem is everyone's problem"?
The film industry acts increasingly as though it is providing us a privilege by deigning to let us observe them accept golden statues and thank a bunch of people we don't know and won't ever hear about again for the rest of our lives. Perhaps there is a race problem within the confines of Hollywood. But what are we, as cultural conservatives, a demographic with an overwhelmingly minority foothold in that industry, supposed to do about it? We are being told that an industry rife with Democratic donors and culturally liberal narratives also happens to be overrun with sexism and racism — and somehow it's this country's conservatives who are responsible? In fact, as Sonny Bunch noted in an excellent break down in the Washington Free Beacon, the ultra-liberal George Clooney himself has shunned cast-mates of color as both a performer and a director.
Average Americans aren't exactly high on what's become of this phony costume ball for millionaires.
This might come as a shock to social-justice activists at the Oscars, but average Americans aren't exactly high on what's become of this phony costume ball for millionaires. Ratings have been on a steady decline and the argument could be made that the last film with mass appeal to take home Best Picture honors was Gladiator – 15 years ago. "White people" in fly-over country — who the social-justice warriors blame for Hollywood's race problem — hated The Artist just as much as #OscarsSoWhite activists did.
There has, however, been a bit of industry pushback against the #OscarsSoWhite media campaign — started by April Reign, a sometime guest of the Obama White House and the managing editor of the website BroadwayBlack.com — that spawned this entire mess.
Actress Penelope Ann Miller told the Hollywood Reporter, "I don't want to be lumped into a category of being a racist because I'm certainly not and because I support and benefit from the talent of black people in this business." Interestingly, Miller also suggested criticism over the lack of minority nominations should be directed at the studio system: "There were an incredible number of films in 2015 that were primarily about white people. Talk to the studios about changing that, not the Academy."
RELATED: Concussion vs. the Hijacking of the Civil-Rights Movement
Boyz in the Hood director John Singleton was more circumspect, telling Variety, "there's only so many [nomination] slots, though" — a problem Academy president Cheryl Boone Isaacs (an African American) has addressed by signaling the Academy may expand the number of actor nominations (making the show even longer and more unwatchable). "There are a couple of movies that may have [warranted attention] but . . . it's all subjective. It's almost like the lottery," Singleton added.
But don't expect anyone on the left to be pleased by a suggestion from outside the progressive milieu.
When Fox News contributor and former Clueless star Stacey Dash proposed doing away with the BET Awards as a way of forcing Hollywood to come to terms with its lack of inclusiveness, she was excoriated online by social-activist leaders including Black Lives Matter's DeRay Mckesson. Dash, who is black, is apparently not allowed to take the conversation anywhere near the political and cultural right.
RELATED: Conspiracy-a-Rama: A Return to the Paranoid Style in African-American Politics
If this discussion about the biases of institutions they control is one that progressives only want to have within their own rank and file, they are certainly welcome to it. While it certainly concerns us on the right when the accusatory finger of racism, sexism, and classism is pointed our way, we'd be perfectly happy to see the Oscar ceremony fold completely, saving us from the entire ordeal.
Hollywood is welcome to examine its own perceived racist and sexist biases.
Unfortunately, that's not going to happen. Come February, expect host Chris Rock — he has signaled he will rewrite some material for his monologue referencing the controversy — to make plenty of jokes at the expense of the blustery campaign antics of Donald Trump and the rest of the Republican field while downplaying the allegations of racism and sexism aimed at the people seated right in front of him. And we can probably expect another finger-wagging cameo from the president or the first lady — not wanting to miss out in their final year on the nation's premier pop-culture stage.
Hollywood is welcome to examine its own perceived racist and sexist biases — sins that apparently run rampant in an industry that was promoting and voting for Hope and Change just seven years ago.
But kindly leave us out of it.