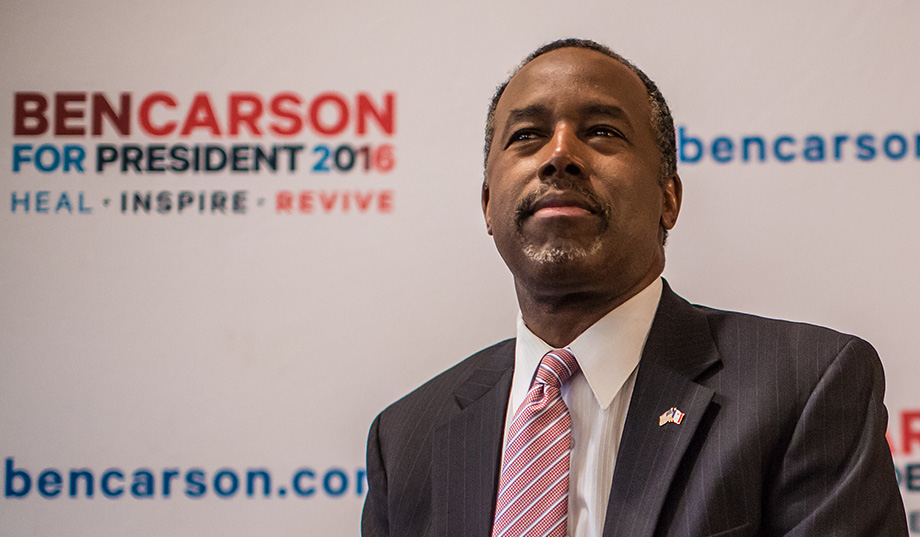 What separates the good doctor from late-stage Jim Gilmore right now?
The case for Ben Carson in 2016 contended that his inexperience in government and campaigning were immaterial because his strength of character and good judgment overshadowed those flaws. As Carson insists upon continuing in the face of a Republican electorate that has taken a pass on him, that character and good judgment aren't quite so clear anymore.
In early autumn, Carson was a legitimate near-front-runner or co-front-runner with Donald Trump. But after the Paris and San Bernardino terror attacks, the vast majority of the Republican electorate concluded the doctor was a good man but the wrong pick for a wartime commander-in-chief. Carson never recovered, but he defiantly continues in the face of all evidence, believing that at any minute now, primary voters will reconsider.
Iowa, a state he once led in the polls, was Carson's best state so far. He finished fourth, with 9.3 percent, and earned three delegates in that contest. Carson and his fans contend that if Ted Cruz's campaign hadn't misconstrued a CNN report about Carson's laundry trip as news of an imminent campaign suspension, he would have performed much better. (That Carson's final percentage was right around his share in most of the last polls of Iowa suggests there wasn't a rumor-driven late collapse in Carson support.)
New Hampshire was never going to be a great fit for Carson's style, but he was a true afterthought in the results: an eighth-place finish, with 2.3 percent of the vote, behind Chris Christie and Carly Fiorina, who found their sixth and seventh place finishes disappointing enough to suspend their campaigns.
RELATED: Kasich and Carson Must Go
Then it was on to South Carolina, where Carson predicted "significant improvement." He finished sixth . . . out of six major candidates, with 7.2 percent. Jeb Bush finished fourth and promptly suspended his campaign. Nonetheless, on primary night, Carson declared: "There are news people here who think I'm going to make a concession speech. This is a just-the-beginning speech."
Tuesday, Carson finished fourth in Nevada — but a distant fourth, with 4.8 percent of the vote and one delegate. Put another way, if he had quadrupled his number of supporters who caucused in Nevada, he would still be about 1,500 votes behind Ted Cruz.
This morning, Ben Carson is still collecting donations. Why? Where is he going?
This morning, Ben Carson is still collecting donations. Why? Where is he going? What is he going to do in this coming week that will produce a different result than last week, and the week before that, and the week before that? What separates Ben Carson from late-stage Jim Gilmore right now?
He has won no counties in any state so far. His former campaign manager has predicted that Trump will win the nomination. Carson's close friend and business manager, Armstrong Williams, wrote Sunday at the Washington Times, "even though his supporters are asking him to stay in the race, he will have to face the harsh reality sooner rather than later."
Carson's robocalls feature actor Kirk Cameron, of Growing Pains, which went off the air in 1992. During the debates, he spends half of his allotted time complaining that he isn't called on often enough. In perhaps the clearest indicator of how far he is from relevance in the primary race, no other candidate is bothering to criticize him anymore.
#share#Carson's road ahead looks grim. He's at 5 percent in Ohio, 4 percent in Texas, 8 percent in Georgia, 2 percent in Massachusetts, 3 percent in Vermont, 10 percent in North Carolina, 9 percent in Michigan, 6 percent in Illinois, 6 percent in West Virginia, and 6 percent in New Mexico.
Throughout this election cycle, we have seen Republican presidential candidates out on the trail, droning trite, unmemorable campaign speeches and bland debate performances, defiantly predicting their poll numbers are about to jump, proclaiming that they feel great energy and momentum on the trail and insisting that the only poll that matters is the one on Election Day. And then when the primary results disappoint, they insist they really meant that the only poll that matters is the next one on Election Day.
RELATED: Ben Carson Is Too Nice for Wartime
These trailing candidates keep plugging away, week after week, in deep denial that the GOP electorate could be underwhelmed with their qualities. Far too many campaigns' unspoken strategic plans have included " . . . and then a miracle happens, and we become the front-runner."
Far too often at gatherings on the trail this year, everyone in the room knew the candidate wasn't going to win except the candidate. It's like we've all been involuntarily recruited into some large-scale group-therapy session, play-acting a world in which George Pataki or Mike Huckabee or Lindsey Graham are on the verge of becoming the next president of the United States.
#related#Even if you don't think that Carson splits any anti-Trump coalition and helps ensure a Trump nomination, at what point does Carson's utter refusal to acknowledge the overwhelming odds stop being gritty determination and start being psychological denial? At what point does asking good-hearted supporters for donations to support the longest of long-shots become unseemly? At what point does blind optimism seem blind to the facts, and at what point does citing the fable of the "tortoise and the hare" seem like a stubborn refusal to acknowledge that maybe he just isn't that good at the primary job of a candidate, which is convincing people to vote for him?
If Carson really has that good judgment that his supporters insist, what kind of judgment are we seeing right now in his stubborn refusal to acknowledge there is no remaining path to victory?
— Jim Geraghty is the senior political correspondent of National Review Online.