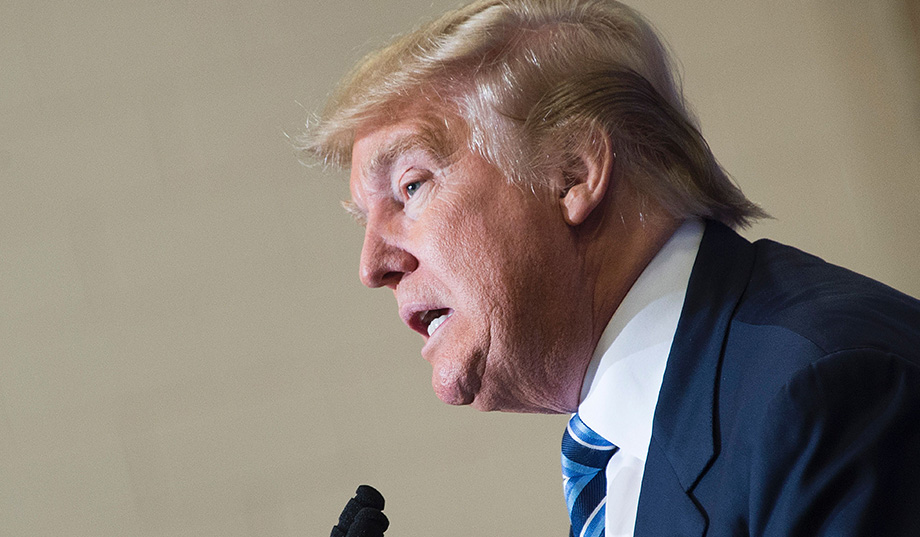 Tim O'Brien did not set out to write a conclusive assessment of Donald Trump's wealth. But it was those three pages in a 275-page book that occasioned what is, even in the annals of frivolous Trump lawsuits, a special display of petty, thin-skinned litigiousness.
In October 2005, O'Brien, then a business reporter for the New York Times, published a book about Donald Trump, TrumpNation: The Art of Being the Donald. The book was not a hatchet job. Not only did O'Brien interview friends and employees and business associates and political rivals and much of the rest of the Who's Who of the World of Donald, he also chatted with the man himself — repeatedly. They met for formal interviews in Trump's various homes and offices. Trump drove O'Brien around in his Ferrari and in his Mercedes. They watched Pulp Fiction together on Trump's gold-laden private jet. It all went into the book, from which emerges a portrait of a complex, fickle, charming, self-obsessed, cinematic American original.
Of course, no book about Trump can avoid the quasi-impenetrable question of his wealth. In 2004, O'Brien had co-authored a piece for the Times detailing Trump's financial woes — he had recently filed for the third of what would be four Chapter 11 bankruptcies — and quoted anonymous sources who reported that Trump's wealth was not nearly what he claimed; in fact, it was in the hundreds of millions, they said. (Contemporaneous reports in the Washington Post and Time magazine suggested the same.) Trump, meanwhile, notoriously unreliable in his own estimates, offered figures ranging from $1.7 billion to $9.5 billion. In TrumpNation, O'Brien cited those numbers, alongside "three people with direct knowledge of Donald's finances" who estimated his wealth was "somewhere between $150 million and $250 million." Trump denied it, in his usual colorful fashion: "You can go ahead and speak to guys who have four-hundred-pound wives at home who are jealous of me, but the guys who really know me know I'm a great builder."
RELATED: Trump, Lies, and Bankruptcy
Despite his having included all of this information, including Trump's denial, Trump accused O'Brien of cherry-picking his information to hurt Trump's reputation. He sued him for $5 billion in damages.
Those who think Trump is a "winner" ought to take a close look at Donald Trump v. Timothy L. O'Brien. Because Trump didn't just lose the case. He was humiliated.
At the time TrumpNation hit shelves, Warner Books, its publisher, was headquartered in New York City, not far from the Donald's palatial quarters at Trump Tower. But Trump didn't sue in New York City, where judges versed in financial matters abound. He sued in Camden, N.J. — in family court. This move kept a prima facie laughable suit from being thrown out — but began the case down the path of discovery. "Because he came after me on his reputation being damaged," O'Brien tells me over the phone, recounting the timeline, "the questions about his net worth, that opened us up to getting his tax returns, his bank records, etc., etc."
For the next three years, Trump dragged his feet. "The case dragged on for as long as it did because he wouldn't comply with discovery requests," says O'Brien. "He wouldn't turn over the tax returns, then the tax returns came in almost so completely redacted as to be useless."
If Trump thought O'Brien and Warner Books would roll over under the pressure of the Trump legal machine, he was wrong.
And it wasn't the first time the Trump enterprise had been less than helpful. Trump's lawyers said that O'Brien knew better than to include the low estimates in TrumpNation, because he had had access to a 2004 statement of financial condition prepared for Trump by Weiser LLP, certified public accountants. However, as the accountants themselves noted in the document, they had "not audited or reviewed" the statement and so "do not express an opinion or any other form of assurance on it"; they added that it was not "prepared in conformity with generally accepted accounting principles."
Trump's team also cited O'Brien's "unprecedented access" to, for example, Allen Weisselberg, the Trump Organization's chief financial officer, whom O'Brien interviewed in April 2005. Weisselberg claimed that Trump was worth $6 billion, but, O'Brien wrote then, "the list of assets Weisselberg quoted, all of which were valued in very inflated and optimistic terms and some of which Donald didn't own, totaled only about $5 billion." Weisselberg assured O'Brien that he would explain the missing billion; he never did.
Meanwhile, if Trump thought O'Brien and Warner Books would roll over under the pressure of the Trump legal machine, he was wrong. Not only did they not roll over, they hired Mary Jo White, then of Debevoise & Plimpton LLP, to represent them. Now the head of the Securities and Exchange Commission, White was well known as one of the most formidable white-collar lawyers in the country.
RELATED: Donald Trump — Thin-Skinned Tyrant
Depositions followed, among them those of Arthur Sulzberger Jr., publisher of the New York Times, and Bill Keller, then the paper's executive editor. Since the Times had excerpted the contested portion of O'Brien's book three days before the book came out, it could plausibly have been party to the suit. It was no mistake that Trump had left them out.
It was during the depositions that O'Brien learned that Trump had put plants in the audience during at least one public reading of his book in Manhattan. Recorders in hand, the plants had tried to provoke O'Brien into admitting that he had written the book to slime Trump. They were unsuccessful.
#share#And, of course, Trump himself was deposed, leading to the following exchange, a crystallization of the Trump ethos:
Q: Now, Mr. Trump, have you always been completely truthful in your public statements about your net worth of properties?
A: I try.

Q: Have you ever not been truthful?

A: My net worth fluctuates, and it goes up and down with markets and with attitudes and with feelings, even my own feelings, but I try.

Q: Let me just understand that a little bit. Let's talk about net worth for a second. You said that the net worth goes up and down based upon your own feelings?

A: Yes, even my own feelings, as to where the world is, where the world is going, and that can change rapidly from day to day. Then you have a September 11th, and you don't feel so good about yourself and you don't feel so good about the world and you don't feel so good about New York City. Then you have a year later, and the city is as hot as a pistol. Even months after that it was a different feeling.

So yeah, even my own feelings affect my value to myself.

Q: When you publicly state what you're worth, what do you base that number on?

A: I would say it's my general attitude at the time that the question may be asked. And as I say, it varies.
He also claimed that land in Westchester County, N.Y., had doubled in value over the course of a year. "Do you have any basis for that view other than your own opinion?" he was asked. His response: "I don't believe so, no."
Says O'Brien: "My lawyers stripped the bark off of him."
And the judges stripped what was left. A footnote in the superior court's ruling relates: "Trump contends that O'Brien acknowledged that his name was a valuable asset, calling it 'bigger than Coke and Pepsi.' That statement is incorrect. The claim was reported in a BusinessWeek article as emanating from Trump himself."
RELATED: The Destroyer Cometh
In 2009, New Jersey superior-court judge Michele M. Fox dismissed the case. Two years later, Trump having appealed, a three-judge panel affirmed her decision. It was an unequivocal victory not just for O'Brien but for his sources, who remained (and remain) anonymous: "They had known him for years and had intimate knowledge of his business dealings, and I think they were very concerned about him retaliating against them," O'Brien says, thinking back. "And the fact that he had retaliated against me was proof."
#related#​Five years on, with Trump continuing to threaten frivolous lawsuits — now against his Republican primary opponent Ted Cruz — the O'Brien case seems as good a portrait of the GOP frontrunner as any.
"I think there is a very strong element of a bully in him," says O'Brien, now executive editor of Bloomberg View and Bloomberg Gadfly. "That's just been present throughout his whole career." So O'Brien says he was prepared for Trump to come after him. And in addition to the lawsuit, Trump has taken to Twitter to call O'Brien "dopey" and a "loser," "really, really dishonest," a "really stupid talking head," and a "dumb guy with no clue!"
But, O'Brien adds, Trump prefers to be a "bully at a distance," attacking targets from out of frame, charming them in person. O'Brien's had that experience firsthand, as he recounted in TrumpNation:
On the Today show one morning [Trump] told Katie Couric that he thought I was "a total whack job." Not long after that he invited me to fly with him on his jet to see a ballroom renovation at his Palm Beach estate.

On another occasion, after a colleague and I wrote a story about his looming casino bankruptcy, he called to remind me that I'd tried to "extort" an autographed copy of one of his books, How to Get Rich, from him for my mother. When I told him that was unlikely since my mom had been dead for about a decade, Donald didn't miss a beat. He immediately began speaking glowingly of his private golf course in Westchester, New York, and suggested that we play a round there together sometime soon.
So it goes. A decade later, O'Brien says: "This will sound weird, but there are parts of him that I really like. There are parts of him, when you're with him, that can be very human, very open." Still, "he's essentially a name-caller and a bully and a sort of P. T. Barnum of the modern era. . . . People who are really comfortable with who they are and what they're worth don't need to strong-arm people."
In reality, though, Trump's portrayal of himself as a Leviathan, a vanquisher of foes — a "winner" — is as fake as WrestleMania. "I was happy to go to court with him over this one. I felt confident, very confident, about the quality of the work," says O'Brien. "I don't begrudge him coming after me as strongly as he wanted. He did, and he lost, and there it is."
– Ian Tuttle is a National Review Institute Buckley Fellow in Political Journalism.