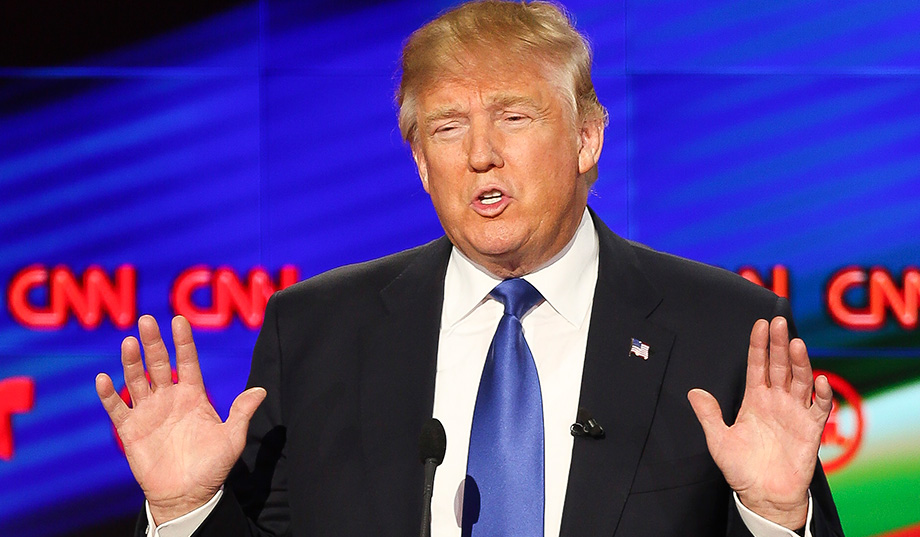 In the 1980s, setting to work to erect his eponymous tower on Manhattan's Fifth Avenue, Donald Trump hired undocumented Polish workers instead of Americans to avoid having to pay local, unionized, American workers their contracted wages and benefits. Last night, on national television, the immigration hawk who has scolded companies for importing foreigners to undercut American labor shamelessly admitted to doing the very same thing.
The facts of the case are beyond dispute. In the early 1980s, Trump was emerging onto the New York City real-estate scene and decided to construct the first of his many monuments to himself: Trump Tower, for a while the tallest all-glass structure in Manhattan and still the centerpiece of the Trump empire. With typical humility, Trump called it "The Most Important Project in the World."
On the site at the time was the main branch of department store Bonwit Teller & Co. Before Trump Tower could go up, the Bonwit Teller building had to come down. Apparently, that job was too important to entrust to American workers. According to a class-action lawsuit filed by a member of House Wreckers Local 95, Trump and his contractor, Kaszycki & Sons, began the project in January with undocumented workers, most of whom had recently arrived from Poland. They worked "off the books," the U.S. District Court for the Southern District of New York wrote in its 1991 opinion:
No records were kept, no Social Security or other taxes were withheld, and they were not paid in accordance with wage laws. They were told they would be paid $4.00 or in some cases $5.00 an hour for working 12-hour shifts seven days a week. In fact they were paid irregularly and incompletely, sometimes with Kaszycki's personal checks which were returned by the bank for insufficient funds.
In March 1980, a handful of members of House Wreckers Local 95 joined the project, and the Polish workers were informed that they would no longer be needed. But they were kept on the job — somewhere between 180 and 250 undocumented workers, in total — for several more months, left off of employment records kept by Kaszycki & Sons and Trump administrators so both companies could avoid having to pay required pension and welfare benefits to the union.
In Manhattan federal court, Trump testified that he found out that undocumented workers were employed on the site only after the demolition was completed. He demurred about even having visited the site.
RELATED: Donald Trump Thinks American Workers Aren't Good Enough for the Trump Organization
The latter claim was proven false. "Testimony established that Donald Trump visited the 57th Street site and observed Kaszycki's Polish workers, noting that they were 'good hard workers,'" the court wrote. "Workers also observed Trump visiting the job site of the Bonwit Teller demolition job."
And Trump assuredly knew the workers he observed while on-site were undocumented:
The Polish workers were obvious not only in numbers but also in appearance. In contrast to the union workers the non-union, Polish workers were distinguished by the fact that most of them did not wear hard hats. In addition the Polish workers staged several very visible work stoppages because they were not being paid their wages.
#share#In fact, Daniel J. Sullivan, a labor consultant and FBI informant who had advised Trump on the demolition, testified that Trump told him about undocumented workers at the site in a phone call in the summer of 1980. Meanwhile, Thomas Macari, a vice president of Trump-Equitable and its manager in charge of the demolition of the Bonwit Teller building, "was involved in every aspect of the demolition job," the court determined. "He knew the Polish workers were working 'off the books,' that they were doing demolition work, that they were non-union, that they were paid substandard wages with no overtime pay, and that they were paid irregularly if at all." Even more damning, the court found "that Macari knew that contributions were being sought and made on only union member's wages." That is, the Trump executive in charge of supervising the job helped scam American union workers out of their contracted benefits.
RELATED: Think Trump Will Be Tough on Immigration? Consider His Company's Use of Guest Workers
On top of all of this, someone at the Trump organization tried to bully the undocumented workers out of even their piddling wages. John Szabo, an immigration lawyer representing some of those workers who sued for unpaid wages, testified that a "John Barron" of the Trump organization had called him in 1980 and threatened a $100 million lawsuit if Szabo did not drop the undocumented workers' claims. Trump admitted that he and another of his executives sometimes used "John Barron" as an alias in business dealings. The other executive, later reports suggested, was Macari, who had interacted extensively with Szabo over the course of the demolition.
#related#Trump spent 16 years litigating the case. In 1991, the court ruled against him, finding that he and Kaszycki & Sons had "knowingly participated" in a scheme to get out of paying the union what it was owed. (Trump won a partial victory on appeal, when part of the decision was overturned and the rest referred for "further proceedings." In 1999, the case was finally settled and sealed.)
What does Donald Trump think of all this? Responding to Marco Rubio's criticism about the Trump Tower workers during Thursday night's debate, the front-runner dismissed it as "something from 30 years ago" that "worked out very well. Everybody was happy."
Who was happy? Not the undocumented workers, who were being shorted their wages and forced to sleep on site. Not the American workers, who likewise were being defrauded. The only person who came away satisfied was Donald Trump.
Trump has made a campaign of scolding profiteers who abuse and violate our immigration law to undermine American workers. But he has made a career of doing exactly what he now claims to abhor. If he makes it to the White House, he will have trampled over the workers he claims to represent along the way.
— Ian Tuttle is a William F. Buckley Fellow in Political Journalism at the National Review Institute.