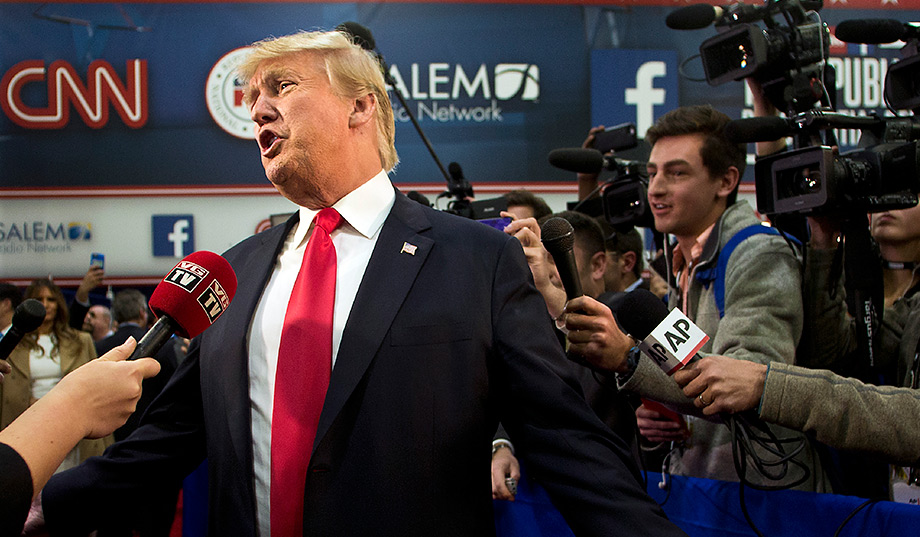 'Trump blocked out the sun for seven months."
That was a correct assessment by a Jeb Bush staffer following Bush's recent exit from the presidential race.
Trump emerged onto the political stage in a heady mix of anger and celebrity that attracted many new participants to our political process. The chief beneficiaries, other than him, have been the people who cover the race. And the commentariat's fight to keep those new eyeballs and clicks best explains Trump's sustained dominance of the GOP field.
Trump entered a crowded race with a well-known but highly negative image. A Monmouth University Poll at the time showed his net favorability rating among Republicans at negative 35 percent (20 percent favorable, 55 percent unfavorable).
Conventional wisdom was that Jeb Bush, Marco Rubio, and Scott Walker would spend the pre-primary season as the front-runners. Most polls had them at 15 percent or below, but prediction markets gave them each about a one-in-four chance of winning the nomination. These markets gave Trump no chance, because they assumed the 2016 race would follow patterns set by previous cycles.
RELATED: Stop Defending Trump's Poisonous 'Middle-Finger Politics'
By the time Trump announced his candidacy on June 16, 2015, a large, angry, anti-establishment bloc of voters was still waiting for its candidate. His familiar brand and populist appeal quickly fulfilled that unmet need. Almost overnight, two built-in coalitions plugged into his campaign: The self-described deal maker consolidated his deal-maker fans with the politically discontent.
The commentariat's fight to keep those new eyeballs and clicks best explains Trump's sustained dominance of the GOP field.
Following his launch, media reactions focused on his descriptions of "stupid" politicians, his labeling of Mexican immigrants as "rapists," and the escalator entrance by which he announced his presidential bid. Few journalists challenged the assertions in his speech that we have 20 percent unemployment or a GDP of zero; nor did pundits call attention to the fact that he offered no solutions to the problems he decried.
Before Trump, voters were mildly engaged. In the spring of 2015, Pew found that fewer Republicans (61 percent) had given thought to the presidential race than at similar points in 2012 (68 percent) and 2008 (64 percent). By September, after Trump entered the race, this figure had jumped to 81 percent.
Throughout that summer, the daily "Trump show" poured into American homes. Drama, conflict, power, and wealth: It had it all. The reality-TV host was now a contestant. People loved it, ratings soared, and advertisers flocked.
RELATED: Trump, Lies, and Bankruptcy
In early August, Trump brought his act to the button-down Sunday-morning shows. Each program saw ratings pop by double digits. After a third quarter of nearly wall-to-wall Trump coverage, Fox News went from being the top-rated cable-news network to the top overall cable channel for the first time in its history. It set a record at the August debate, with 24 million viewers. Its flagship programs pulled audiences that matched the highest levels of the 2012 fall general election.
As a frequent consumer of television news programs himself, Trump would often watch and keep track of favorable reporters and on-air pundits. He would reward them with a public "thank you" tweet and, by doing so, send that person scores of new followers.
The steady upswell of eyeballs and clicks would only deepen the common bond between the media-savvy candidate and candidate-following media.
#share#New data from the University of Pennsylvania's Institute for the Study of Citizens and Politics quantifies the historically disproportionate amount of attention Trump received from cables news. In the Summer of Trump, he averaged about three-quarters of the cable-news coverage devoted to the presidential campaign. And to no surprise, his standing in the polls quickly improved.
By July, a Suffolk University poll found that Trump's favorability rating among conservatives had crawled up to 33 percent. But among Fox News viewers, it spiked to 47 percent and would eventually climb to 52 percent in October and 57 percent in December. Meanwhile, Jeb Bush had fallen into negative territory and others had stagnated.
In 2016, to the delight of political journalists covering him, Trump made process and personal stories his central messages.
Historically, the summer before a primary season, presidential candidates are busy boosting their national profile before the long slog of the state-by-state battles in a primary season. Much of the 2016 field had started as relative unknowns compared with candidates in previous years. But Trump, with 97 percent familiarity, was almost fully known to the public when he announced; Carson (39 percent), Cruz (65 percent), Kasich (35 percent), Rubio (60 percent), and Walker (46 percent) were not.
So while Trump reaped the benefits of three-quarters of the TV coverage, the 16 other candidates were forced to fight over one-quarter of the media's attention.
RELATED: The Coming Anti-Trump Onslaught
Further reinforcing Trump's free media advantage was the content of the coverage.
Over the past two presidential cycles, Pew found that the campaign process drew significantly more attention than candidates' records or policy proposals. Pew Research Center's report "How the Media Covered the 2012 Primary Campaign" noted: "From November 2011 to April 15, 2012, the coverage devoted to the strategic elements of the GOP primary fight (horse race, tactics, strategy, money, and advertising) outnumbered the combined attention to all foreign and domestic policy issues by about 6:1."
In the summer before the 2012 GOP primary, a number of candidates would rise and fall. Bachman, Perry, Cain, Gingrich, and Romney all had their day in the sun. Once campaign coverage focused on each new front-runner, personal and process stories knocked most of them back into the shadows.
#related#But in 2016, to the delight of political journalists covering him, Trump made process and personal stories his central messages. Instead of four-point plans and records of achievement, he filled speeches with polling data and attacks on his opponents' appearance or energy level.
Trump saved cable news and social media a whole season of having to manufacture controversy to woo viewers. Instead, he simply hand-delivered one ruckus after another, on almost a daily basis. In doing so, he absorbed a historically disproportionate amount of media attention, preventing other candidates from ever getting public consideration.
In Season One of the political reality show, Trump blocked the sun. Stay tuned for Season Two.
— Adrian Gray is a Republican Strategist. You can follow him on twitter at @adrian_gray.