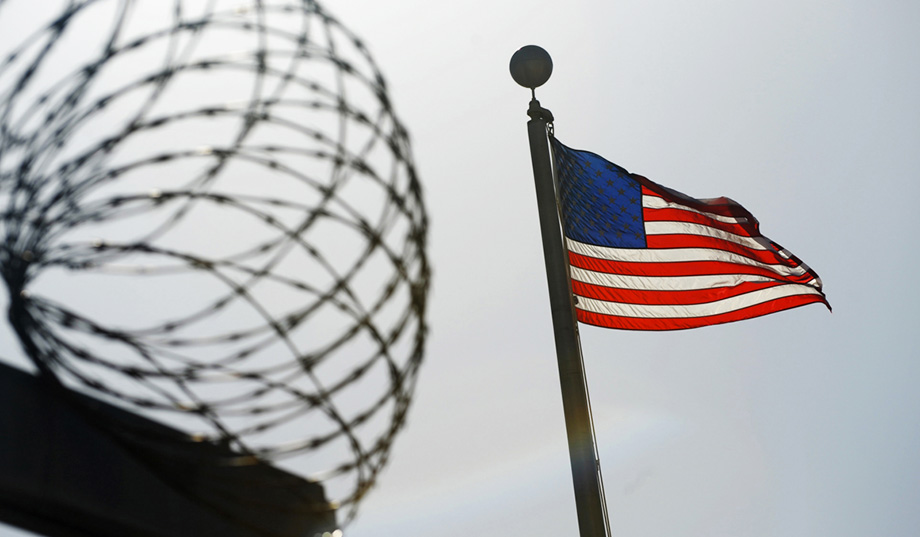 The Guantanamo Bay detention camps have been attacked by many, including our own president, as contrary to American values, as not "who we are" and "recruitment tools for ISIS."
Those of us who have been there have observed the terrorists in court at Camp Justice. We have witnessed the great lengths to which our judiciary goes to provide due process to the likes of Khalid Sheikh Mohammed (KSM), the red-bearded, evil, boastful mastermind of the 9/l1 attacks that murdered 2,976 individuals and shattered countless lives. Gitmo is a symbol of American goodness and greatness.
Please, Mr. President: I am honored to be part of a small group of 9/11 family members chosen to observe the pretrial proceedings. Objections to this facility and these proceedings, in my opinion, are unfounded. Gitmo represents the very best of America.
Eight of us arrived at Andrews Air Force Base, on the morning of Saturday, February 13, hopeful but apprehensive about our trip to Guantanamo to face the murderers of our family members. Aside from the deaths of our loved ones, we all brought something in common: the pursuit of justice.
After a most rewarding week, we parted perfectly unified, with the utmost respect for the prosecutors, for our fantastic military, for American justice, and for one another. We took home with us hope, a steelier resolve for justice than ever, spiritual connections, and a renewed sense of pride in America.
Those are the American values that I was raised with but that have been lost on this president.
This is a president who has authorized hundreds of deadly drone strikes resulting in thousands of deaths. Unlike the rights afforded at Gitmo, none of those killed was provided any due process nor were they allowed a seat before a just Military Commission.
This is a president whose trusted attorney general for six years, Eric Holder, engineered the politically driven 1999 Clinton clemencies for the convicted terrorists of the FALN. This Puerto Rican terror group murdered my father, Frank Connor, in the 1975 Fraunces Tavern bombing (which was among over 115 bombings and five murders they perpetrated). Is releasing unrepentant terrorists now "who we are"?
This president pushes the normalization of relations with terror-supporting Cuba (even planning a state visit) without demanding the return of convicted fugitive FALN bomb-maker William Morales or BLA cop killer Joanne Chesimard, who have received safe harbor for decades in Cuba.
#share#So whose values does this president represent and whose values does he condemn?
The proceedings at Gitmo provide boastful, unrepentant terrorists with more due-process rights than most Americans could imagine. From the very best defense attorneys, to endless legal motions and access to potentially classified information, and prayer mats in court (on which they pray, five times a day), these proud terrorists are being allowed to drag the process on indefinitely, disrupting the lives of the prosecution, the military, the media, 9/11 families, and even their own defense teams year after year. As a member of the prosecution team said last week, "We want the trial done during the lives of the living."
EDITORIAL: Ignore Obama's Grandstanding and Keep Gitmo Open
KSM's mitigation attorney, Scharlette Holdman (who has represented the Unabomber and the Boston Marathon bomber, Dzhokhar Tsarnaev) stood in the gallery at the back of the courtroom next to the youngest members of our 9/11 family, bowed, saluted, and traded friendly hand gestures with the terror leader.
Despite our president's rhetoric, we as a nation have bent over backwards for the rights of these terrorists.
When Holdman audibly referred to KSM as her "buddy" and the killer made eye contact, tauntingly smiling at the kids whose fathers he had murdered, we had enough. Our family stood together and saw to her removal, along with the translator KSM was trying to add to his defense team.
We witnessed pure evil in the courtroom that morning — the same evil the good people of our armed forces serving in Guantanamo Bay have dedicated their lives to bring to justice. Despite our president's rhetoric, we as a nation have bent over backwards for the rights of these terrorists.
The United States did not ask for this fight. Our family members were viciously and brutally murdered on 9/11 by a ruthless enemy with no country or borders. In the past, such fighters would have been hanged. Today, Obama simply drones some of them with no due process. But Guantanamo Bay does neither. It houses these terrorist combatants as they are brought to justice.
That's the very essence of who we are.
We all should be proud of the magnificent work being done at Gitmo and of the great Americans dedicating their lives to bringing justice for our loved ones.
Mr. President, the great people at Gitmo epitomize our American values.
The camps must remain open.