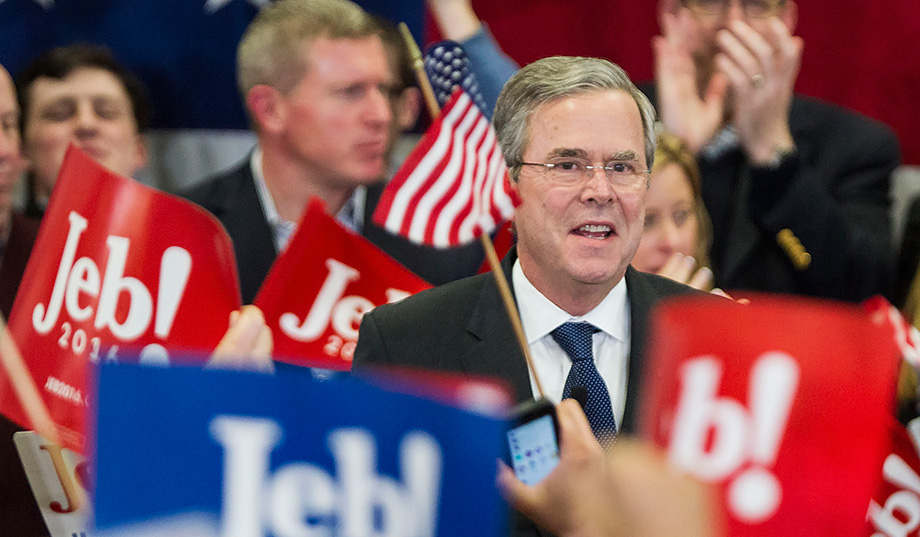 Manchester, N.H. — They weren't sure whether to expect a burial or a resurrection. In the end, it was neither.
Jeb Bush's team can breathe a sigh of relief. His campaign is on firmer footing now after a tight fourth-place finish here. There is no question he'll be moving on to compete in South Carolina, a state where his organization is strong and his family's network is well established. And as a bonus, Bush defeated former protégé Marco Rubio, something his team felt was essential to resetting perceptions of who is best positioned to consolidate the support of center-right voters.
That's the good news.
The not-so-good news is that Bush failed to achieve what his team hoped possible when the day begun: an unexpected, come-from-behind, second-place finish. Nor did Bush accomplish his goal of owning what his lieutenants had labeled the "governors' lane." Both of those honors went to John Kasich, the night's big winner, who bested Bush and Chris Christie to finish second. The Ohio governor won 16 percent of the vote to Bush's 11 and Christie's 8.
On the whole, however, Bush has reason to be satisfied with Tuesday's outcome. After a dreadful showing in Iowa last Monday in which he won less than 3 percent of the vote, his back was against the wall heading into New Hampshire. A poor showing here would have put the Bush campaign on life support. And with Rubio soaring after his stronger-than-expected third-place Iowa finish, there was reason to believe Bush might get buried in the pack yet again.
Then the Florida senator's terribly timed stumble in Saturday's debate provided an opening, and overhauled expectations for the entire field. Bush's team knew it was unlikely he would surge all the way to second place, even with late polls showing movement in his direction. But with Rubio suddenly facing questions about his preparation for the presidency, and Kasich and Christie lacking real infrastructure to compete in South Carolina, Nevada, and beyond, Bush's team saw an opportunity to trumpet success and momentum Tuesday night regardless of the results.
They did exactly that. With fewer than 50 percent of precincts reporting, and the tally showing Bush behind Donald Trump, Kasich, and Ted Cruz — but leading Rubio by roughly 1,000 votes — Lindsey Graham took the stage here inside Manchester Community College and declared to a modest crowd at Bush's election night headquarters: "Bush is back because of New Hampshire! South Carolina, here we come!"
Bush himself took the stage moments later, claiming a new lease on life after being left for dead last week. "The pundits had it all figured out last Monday night when the Iowa caucuses were complete. They said that the race was now a three-person race between two freshmen senators and a reality TV star," Bush said. "And while the reality TV star is still doing well, it looks like you all have reset the race!"
#share#Of course, the race isn't really reset — as demonstrated by the fact that every cable network cut away from Bush's speech to cover Trump's, which began only a few minutes later. Bush is still a decided underdog, with high unfavorable ratings and a diminished bank account after spending heavily down the stretch here. (New Hampshire can hardly be considered an organic triumph for Bush: He and his super PAC poured tens of millions of dollars into the state, blanketing the airwaves with ads in recent months. Cruz, by contrast, spent less than $1 million, and still finished in third, slightly ahead of Bush.)
Trump and Cruz, who finished with 35 percent and 12 percent respectively, are the obvious co-frontrunners as the race moves to South Carolina. Both have polled well there. Both are a natural fit for the state's conservative electorate, which is especially dominant in the Upstate region. And both can bank on dependable turnout from their supporters — Trump because of his celebrity appeal, Cruz because of a ground game that proved its authenticity in Iowa.
It all adds up to the appearance that Bush is suddenly at least viable again — something his team isn't taking for granted.
But there's no question Bush will now get better media coverage and more consideration in South Carolina, particularly in the state's Lowcountry areas, where wealthier, better educated, more moderate Republicans reside. Bush's rivals have long warned that his organizational strength in the state has gone unappreciated due to the national narrative of his campaign's decline. And that was before Graham, the state's senior senator, endorsed Bush and brought his own deep network into the mix.
It all adds up to the appearance that Bush is suddenly at least viable again — something his team isn't taking for granted. There are still fundamental weaknesses, starting with his last name, that threaten to suppress any meaningful surge behind Bush's campaign. But his allies believe the worst is behind them; that after a summer of fading poll numbers and rusty campaigning, and a fall of wobbly debate performances, the candidate has finally, in recent weeks, found his footing.
"I've been with him since October, and he's come a long way," New Hampshire's Senate president, Chuck Morse, says at Bush's election-night rally. "Back in October he was very technical in nature. He's brought out his true character since then. And we've seen the results."
Rick Baker, the former mayor of St. Petersburg, Fla., has known Bush for 25 years, and says the rust is finally coming off. "What you're seeing now is what we saw from Jeb as governor. Just the tremendous amount of talent he has," Baker says at the event here. "And it's becoming more and more apparent as the race goes on."
#related#His supporters aren't just blowing smoke. It's been evident in recent weeks to everyone around Bush — reporters, staffers, voters — that the former governor has hit his stride. After coming across for much of the campaign as awkward and insecure, Bush has lately seemed confident and comfortable in his own skin. He's cracked jokes, posed for SnapChat videos, and cooed at babies — all without appearing forced. He told a rotary luncheon in Nashua on Monday that campaigning in New Hampshire has made him "a better candidate," an assessment that is impossible to dispute.
None of this might have mattered had Rubio not tumbled so terrifically in the eleventh hour of the campaign here. But he did. And Bush now sees a chance to regain his viability by exploiting the establishment's doubts — about Rubio's readiness for the White House, and about Kasich's organizational capacity to win the nomination.
It's not a win, or even a second-place finish. But it's good enough for a ticket to South Carolina.
— Tim Alberta is the chief political correspondent for National Review.