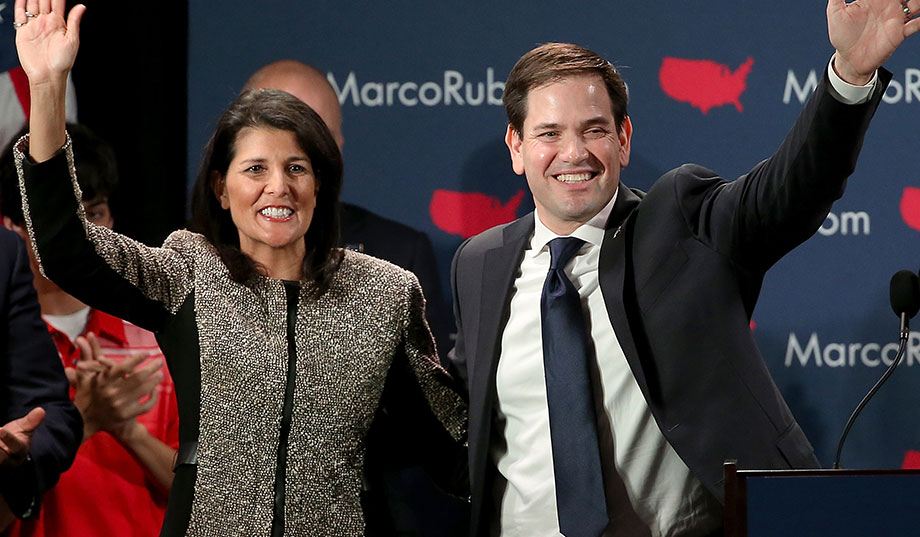 Columbia, S.C. — Nikki Haley made her decision over dinner. Three dinners, to be exact. They were casual, held at the South Carolina governor's mansion, in the family quarters rather than in the formal dining room. Having long decided that she would wait until after the New Hampshire primary to make her decision, the South Carolina governor was genuinely undecided.
Chris Christie, who had dropped out, is a friend, as is Jeb Bush. She was also seriously considering Ted Cruz and Marco Rubio. So she invited Cruz, Bush, and Rubio to dinner. Ted and Heidi Cruz dined with Haley and her husband, Mike, as well as a few close aides on Wednesday, February 10; with Jeb Bush on Thursday, February 11; and with Marco and Jeanette Rubio on Monday, February 15.
Haley decided on Tuesday, just five days before the primary here in the Palmetto State, that Rubio would get her vote, and they appeared together on stage for the first time at a rally in Chapin, S.C. the following evening. Rubio had limped out of the New Hampshire primary with a fifth-place finish having promised his supporters that he would never disappoint them again; Haley's endorsement was the sort of boost he needed.
Rubio took the stage tonight to declare second place a victory. And in many ways, it was. He bested Ted Cruz, who arrived in South Carolina last week firmly in the second-place position Rubio seized from him by just over a percentage point, and he forced Jeb Bush out of the race. After Bush announced the suspension of his campaign, a development that clearly benefits Rubio moving forward, the Florida senator told the crowd, "After tonight, this has become a three-person race, and we will win the nomination."
With a second-place finish in South Carolina, Rubio has demonstrated resilience, the ability to withstand both an onslaught of negative advertisements as well as his own self-inflicted wounds. Haley's endorsement certainly helped him rebound.
"There's an argument to be made that it would've been in her best interests just to stay neutral. But she's just not a sit-on-her-hands type of person," says Tim Pearson, a Haley adviser. "As [Haley deputy chief of staff] Rob Godfrey says, 'If there's a fight going on in her front yard, she's not gonna watch it from the porch.' And so once she figured out who she was gonna vote for, I think she felt an obligation to do something about it."
That Haley would get behind Rubio was by no means a foregone conclusion. Before his arrival in South Carolina last week, the two knew each other, but not well. They'd "run into each other and spent a little bit of time together," Pearson says, and they "respected each other then, and are great friends now."
But it was Jeb Bush to whom Haley had the closest relationship. In October of 2010, when Haley first began to think she could clinch a close gubernatorial race over state senator Vincent Sheheen, she called Jeb Bush to ask: "What do I do if I win?"
The former Florida governor, then working in the private sector, dispatched his former chief of staff, Sally Bradshaw, who had managed both of his winning gubernatorial campaign, to help Haley prepare a transition.
"She really, really likes Jeb," says Pearson. "Their relationship goes back years."
#share#Haley and Rubio, both 44, and both second-generation Americans with teenage children, bonded over their biographical similarities. Rubio is the son of Cuban immigrants who worked as a maid and a bartender when he was growing up. Haley, South Carolina's first female governor, is the daughter of Sikh immigrants who came to the U.S. from Punjab, India. As a young girl, she worked in her mother's clothing shop. They connected, according to a Haley ally, over "where they come from, their parents, and what they hope to leave to their children."
Additionally, Haley's husband, Mike, a captain in the Army National Guard, had deployed to Helmand province in Afghanistan, and Rubio, who has devoted a conservable amount of time to his service on the Senate Foreign Relations Committee, conversed with him knowledgeably about that.
It was their common experiences, however, that seemed to resonate most deeply. "I wanted to somebody that was gonna go and show my parents that the best decision they ever made for their children was coming to America," Haley told the crowd at a Rubio rally on Wednesday. Her rhetoric, too, is sometimes eerily similar to Rubio's. On stage Saturday evening, Haley announced the beginning of a "new conservative movement that's gonna change the country for the better." Rubio, who followed her, said the country is "now ready for a new generation of conservatives to guide us into the 21st century."
"The Haley endorsement, coming on the heels of Trey Gowdy and Tim Scott's endorsements, I think that was very powerful, that's very powerful symbolism for Republicans here in South Carolina, and I think that's what Rubio represents," says Greenville-area pastor Al Phillips, a Rubio supporter. Gowdy, 51, is the state's popular, two-term Republican congressman, Scott its 50-year-old African-American junior senator, appointed by Haley to fill the spot vacated by former South Carolina senator Jim DeMint.
#related#Not to be overlooked in South Carolina's results are the Rubio campaign's furious denunciations of the Cruz campaign's alleged dirty tricks, both in public and behind the scenes. As Rubio and Haley talked on the stump about uniting the Republican party and expanding its reach into new corners, an all-out-war was breaking out between the Rubio and the Cruz camps. It culminated on Saturday with Rubio's team blaming the Cruz campaign for robocalls that falsely claimed Rubio was dropping out of the race. They furnished no proof that Cruz was in fact behind the calls, but the claims, which had been circulating all week — Rubio adviser Todd Harris decried a "culture of dishonesty that goes from top to bottom in the Cruz campaign" — took their toll. According to CBS News, while 41 percent of voters said Trump was running the most unfair campaign, a third said Cruz was guilty of the sin.
"These campaigns have money for polling. How come Marco Rubio, Jeb Bush, Trey Gowdy, started calling him a liar?" says Hogan Gidley, a former adviser to Mike Huckabee who is not supporting any candidate now. "Because that was working. They're obviously seeing these numbers come back and realizing we can call him a liar and it sticks . . .  I think that hurt [Cruz] quite a bit."
At her first joint appearance with Rubio, Haley introduced him as the next president of the United States. "Let's go to the polls on Saturday and move them down the way," she said. On Saturday, the people of South Carolina did just that.