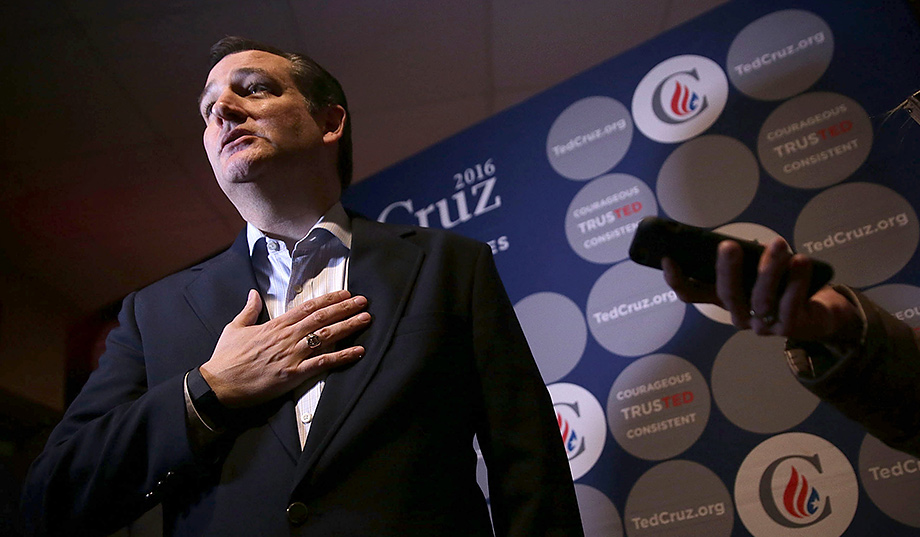 Simpsonville, S.C. — At around 8:40 a.m. on Monday, the volunteers emerge from their rooms, line up against the walls, and put their hands on each other's shoulders to form a chain that runs the length of the hallway. Handmade signs line the walls. One reads: "Conservatives, Christians, and GRASSROOTS MATTER!"
This is Value Place, an extended-stay hotel just off Interstate 385 in Simpsonville, S.C. Until the Palmetto State's primary concludes Saturday night, it is also Camp Cruz, home to those who have flocked here to volunteer their time for Ted Cruz's presidential campaign. Right now, they're packed three to a room. I ask if roommates knew each other beforehand.
"No, but they do now, very well," says Mark Hayes, a retired chief financial officer who's running the show here along with his wife, Nancy, a veteran of 19 Republican campaigns who also works for Joe the Plumber of "spread the wealth around" fame.
At Iowa's Camp Cruz, dozens of volunteers packed an old college dorm in the months leading up to the caucus, at times cramming extra mattresses into rooms already housing two people. When I stayed over on the eve of the caucus, five grown men vacated a room for me.
In South Carolina, Cruz's team is scaling up the data-driven ground operation that propelled it to victory in Iowa. The campaign's Iowa state director, Bryan English, is on the ground here coordinating with key surrogates, and a second Camp Cruz location at a Quality Inn & Suites in Greenville opened its doors on Monday.
South Carolina presents a critical test for Cruz, whose campaign will rise or fall on the extent of his success in uniting the GOP's evangelical and tea-party factions, both strongly represented here and across the rest of the South. After Georgia secretary of state Brian Kemp led a successful effort to convince Georgia, Tennessee, Oklahoma, Alabama, Arkansas, and Cruz's native Texas to band together and hold their nominating contests on the same day — Super Tuesday, March 1 — Cruz saw an opportunity to amass delegates and momentum early in the nominating process. He has made no secret that he believes his path to the nomination runs through the South, and he has gone so far as to call it his "firewall."
RELATED: Thoughts from My Week in New Hampshire with Ted Cruz
South Carolina, which votes Saturday, will give a good indication of just how sturdy that firewall is. The state is demographically similar to its southern neighbors, with both a large evangelical population (evangelicals constituted nearly two thirds of Republican primary voters in 2012) and a strong tea-party presence. A loss here would be a warning sign that the campaign has overestimated its ability to identify and persuade the voters it needs to carry the South.
Recognizing the state's importance, Cruz's top volunteers have relocated from Iowa to South Carolina. Chief among them is Ken Brolin, Camp Cruz's irrepressibly cheerful 64-year-old counselor-in-chief. Brolin served as a top grassroots organizer for Herman Cain and then Newt Gingrich in 2012. He is also a veteran of the fast-food industry, a former owner of an Applebee's franchise who oversaw the Philadelphia region for Burger King when Cain took off for Godfather's Pizza in the mid-1980s. Later in his career, he bought and ran a children's-sports–photography business.
"It's so special to have so many friends from the media," Brolin tells the volunteers back at Value Place, acknowledging my presence as he begins the group's morning prayer. "We love the First Amendment." Joe Bennett, Brolin's deputy, stands on a chair to congratulate the group for notching 10,000 phone calls the previous day. "Give yourselves a hand — 10,000 calls, a record for a Sunday, beating Iowa," he says. "We'll do over 20,000 today, and that's not even talking about the door knocking."
South Carolina presents a critical test for Cruz, whose campaign will rise or fall on the extent of his success in uniting the GOP's evangelical and tea-party factions.
The Camp Cruz phenomenon was inspired, ironically, by Jimmy Carter's Peanut Brigade, a band of supporters who barnstormed the country on Carter's behalf. Cruz fundraiser Paul Porter, a Florida real-estate investor, proposed the idea to campaign manager Jeff Roe on his first visit to Cruz's Houston campaign headquarters last September. The idea, he says, is to take volunteers and "recruit them, lodge them, and organize them." (There are other similarities between the Cruz and Carter efforts: Like Carter, Cruz outworks his rivals on the campaign trail, and he faces massive resistance within his own party from what has come to be known as the "ABC" movement — Anybody But Cruz. In 1976, an effort with the same name was led by liberal Democrats looking to stop Carter.)
In the past, candidates who have run a campaign with explicitly religious themes, and who have cobbled together narrow coalitions — Rick Santorum in 2012, Mike Huckabee in 2008 — have never proved widely successful. Both men won the Iowa caucus and a host of Southern states, but they didn't fare well in South Carolina. The Palmetto State will provide a more reliable predictor of whether Cruz's candidacy has the potential to be widely successful, and to make history in the process.
Cruz has the money and the infrastructure Santorum and Huckabee did not, and his campaign is amplifying the tactics that produced victory in Iowa here in South Carolina. As the dual Camp Cruz locations suggest, it remains a ground-focused operation that emphasizes person-to-person contact. "This campaign I believe is gonna be decided by the grassroots," Cruz told reporters on Monday. "It's gonna be decided friend to friend, neighbor to neighbor, pastor to pastor, South Carolinian to South Carolinian."
RELATED: Ted Cruz's Risky Bet on the Conservative Base
But Iowa, as a low-turnout caucus state whose voters are pre-conditioned to organizing through their religious institutions, was ideally suited to Cruz's candidacy. He amassed 28 percent of the vote there. Will he fare as well in South Carolina?
Campaign manager Jeff Roe says he's had staffers on the ground in South Carolina — many more than he had in Iowa — for ten months. He expects over 700,000 voters to cast ballots in Saturday's primary, as compared to the 186,000 who voted in Iowa, and he says the campaign has prepared for the increase in scale by ramping up its presence on television. While Cruz's team spent just $2.5 million in Iowa, a fraction of what rivals Jeb Bush and Marco Rubio shelled out there, they've already spent $2.4 million in South Carolina. That's still a fraction of what Cruz's rivals are spending in the state, but his team is not yet done buying ad time here. The money has gone into attacks against both front-runner Donald Trump and Rubio, who is running third behind Trump and Cruz in most polls. The Florida senator is clearly in Cruz's rear-view mirror. "Any time one attacks two and two attacks one, there's always a chance that everybody gets sick of it and goes to number three," says a Cruz adviser.
#share#Cruz is also tweaking his message, focusing more heavily on social issues, stressing in particular the damage a fifth liberal justice could do if appointed to fill the late Antonin Scalia's vacancy on the Supreme Court. "We are one justice away from a radical five-justice liberal majority that would mandate unlimited abortion on demand including partial birth with government funding and no restrictions whatsoever," Cruz told reporters on Monday, ahead of a rally with the conservative talk-radio host Glenn Beck. "We are one justice away from a radical five-justice liberal majority that would undermine the religious liberty of Americans all over this country."
RELATED: Ted Cruz's Long Road to Iowa Victory
The tenor of Cruz's remarks reflects a fundamental assumption — and a gamble — on the part of his campaign, which is that conservatives in South Carolina and the rest of the South are, broadly speaking, more conservative than those in purple Iowa. "I think on balance the entire region, the South is much more conservative than they are in Iowa," says a top Cruz adviser. "The bar is higher to call them tea partiers because everybody is to the right, so that's what I think the data points miss."
The data points he's referring to include a host of surveys that suggest that the South may be less friendly terrain than Cruz and his team imagine. It's not enough for voters to be evangelical; the results in Iowa suggest Cruz needs them to describe themselves as "very conservative," too, in order to win their vote. It was Rubio who won Hawkeye State evangelicals who said they were "somewhat conservative" or "moderate."
The New York Times notes that in Iowa, 49 percent of evangelical voters said they were "very conservative" while just 8 percent said they were "moderate." In Alabama, by contrast, while a larger portion of 2012 GOP primary voters — 80 percent — were evangelical, a far smaller portion — 33 percent — called themselves "very conservative."
RELATED: The Battle for the Soul of the Right
On its face, that suggests many Southern states will be friendly terrain for a more moderate candidate such as Trump or Rubio. But the Cruz team dismisses that view. They say that self-identification in all of these surveys is skewed — that, in essence, a self-identified moderate in the South is the ideological equivalent of a raging right-winger in the Midwest or the Northeast. "In South Carolina, even the Democrats are just confused conservatives," Roe says.
There is evidence to substantiate that view. In 2008, with no money or campaign organization, Mike Huckabee won Alabama, Arkansas, Georgia, and Tennessee, all of which vote in the Super Tuesday SEC primary two weeks from now. Some of the data from that year's exit polls demonstrates why: In Alabama, 43 percent of Republican primary voters said they attended church more than once a week, and Huckabee won 54 percent of them; in Georgia, where Huckabee narrowly defeated McCain, he won a majority of the 24 percent of voters who said abortion should always be illegal, and a plurality of those who said it should be mostly illegal.
If the polling is accurate, it suggests that Cruz's effort to bring together very conservative voters and evangelicals is meeting with some resistance. 
The 2008 exit polling data also demonstrate that Huckabee failed to broaden his coalition beyond evangelicals and that, numerous as they are in the South, they weren't numerous enough to win him the nomination. In Oklahoma, 72 percent of voters were evangelicals, but Huckabee lost to McCain by eight points. He won voters who said they attended church more than once a week, but lost those who said they attended only once a week. He won voters who said abortion should be illegal in all circumstances, but lost voters who said it should be illegal only in most circumstances. And he won voters who said they were very conservative, but lost those who said they were somewhat conservative and those who said they were moderate, which together made up a larger portion of the electorate.
Of course, Cruz's goal is to unite evangelicals and tea partiers. Can he do it? The latest Public Policy Polling survey out of South Carolina suggests there is the potential for Cruz to get as hemmed in as Huckabee and Santorum before him. His favorability rating is underwater with voters of all ideological stripes except the 40 percent who identify themselves as very conservative. He remains decently popular among evangelical voters, above water by seven points, at 48–41. But even Trump, at 50–44, has a higher favorability rating among them. And Rubio, looming in third place statewide, smokes them both, earning an impressive 60–30 favorability split in that critical demographic. If the polling is accurate, it suggests that Cruz's effort to bring together very conservative voters and evangelicals is meeting with some resistance: The two-thirds of the electorate here that defines itself as evangelicals is divided.
#related#That division increases the likelihood of a tight race between Cruz, Trump, and Rubio for conservative evangelicals, at least in South Carolina. And Kemp, the Georgia secretary of state, predicts a similarly hard-fought three-way contest in Georgia. "I know that, even looking at Cruz now, he's certainly bought into the idea of the SEC primary, but, you know, there's gonna be a pretty interesting fight for the delegates down here in the South from those three folks," he says.
Back at Camp Cruz, though, they are looking far beyond that, out to Cruz's victory in the general election. "When we're tired tonight at seven o'clock and we're starting another event and people, they've been knocking doors all day and now they're gonna make phone calls, remind us of how we're gonna feel on the night of November 8 when Senator Cruz comes out and says, 'I just heard from the other side, 'Congratulations,'" Brolin tells the pack. "We were here in state number three when that happened. We can look in the mirror and say, 'We were part of it.'"
— Eliana Johnson is the Washington editor of National Review.