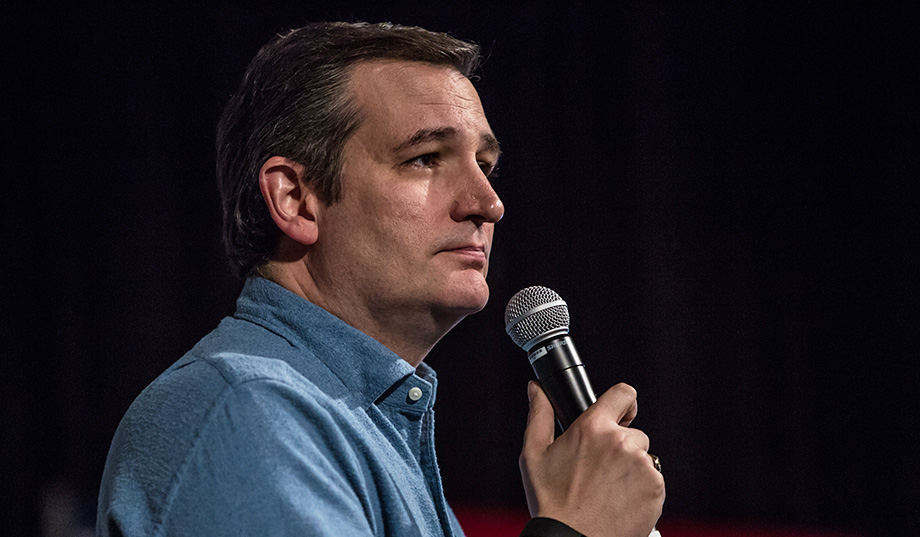 Tuesday marks a crossroads for Ted Cruz's presidential ambitions, one at which his 2016 campaign will be either bolstered or buried — and whatever the outcome, it's a moment entirely of his own making.
On August 7, the day after a sprawling 17-person Republican field debated for the first time in Cleveland, most of the candidates decamped to familiar territory on the campaign trail. Some went to Iowa, others to New Hampshire.
But Cruz went to South Carolina. He held a rally there in the afternoon, and then hopped on a bus heading South to make two stops in Georgia that evening. He spent the entire next day there, appearing in three different cities. On Sunday he zigzagged across Alabama, again hitting three cities and holding three different events. He did the same in Tennessee on Monday, Mississippi on Tuesday, Arkansas on Wednesday, and Oklahoma on Thursday.
This was an exercise in "narrative setting," as Cruz's lieutenants like to say. They had long ago circled March 1 as the most important day on the primary calendar, and hoped to impress on the political class two interconnected realities: That the southern states voting that day would play an outsize role in selecting the GOP nominee, and that Cruz was uniquely positioned to win them.
Since launching his White House bid, Cruz had spoken boldly of merging the party's Evangelical and tea-party contingents into a grassroots, anti-establishment movement behind his candidacy. Iowa was an obvious place to test this strategy's feasibility; the problem, as of early August, was that at least five other candidates were staking their campaigns to the Hawkeye State. Moreover, winning there would mean nothing without a serious organization in the states voting on Super Tuesday and beyond, as Mike Huckabee and Rick Santorum learned the hard way in 2008 and 2012.
Since launching his White House bid, Cruz had spoken boldly of merging the party's Evangelical and tea-party contingents into a grassroots, anti-establishment movement.
It so happened that the 2016 nominating calendar had been drastically reshuffled since 2012. A host of southern states, including Cruz's native Texas, had banded together and moved their primaries up to March 1 to maximize the region's influence. These southern states, many of which had gone ignored in past primary cycles, were now part of a crucial "SEC primary" — named after the powerhouse college-football conference — and their religious, ultra-conservative electorates seemed ripe picking for Cruz's campaign. Eager to prove his strength in what his campaign called "Cruz Country," and to establish an expectation that he would remain viable even without a win before March 1, the Texas senator embarked on a seven-day, seven-state bus tour through the South.
The good news: The campaign's "narrative setting" worked. Hordes of media trailed Cruz that week, analyzing the intersection of his campaign's operational theory and a southern-dominated Super Tuesday. Cruz was all too happy to play along, boasting to reporters on his bus of his ideological and religious compatibility with the region's voters. It wasn't a one-off trip, either. Cruz returned time and again, including later that month, where during an hour-long ride from Tuscaloosa to Birmingham he argued that he was the only candidate paying attention to the South. "We went from South Carolina to Georgia to Alabama to Tennessee to Mississippi to Arkansas to Oklahoma," he told me. "We had over 19,000 people come out on that bus tour. It was standing-room-only everywhere we went."
The bad news: The campaign's "narrative setting" worked too well. Cruz's conspicuous travel schedule was meant to establish his viability as a national candidate capable of competing beyond the first four states, and as a force to be reckoned with in the South. But it had the effect — aided by early exits from regional-friendly candidates such as Rick Perry and Bobby Jindal, not to mention Huckabee's struggles throughout — of overinflating expectations for Cruz on Super Tuesday, to the point where a poor showing would shatter his candidacy. Cruz himself, the week he launched his August bus tour, told conservative donors in California that the SEC primary would be his "firewall." And just days before Iowa's caucuses, one Cruz official, speaking on condition of anonymity to discuss strategy, said: "We've never said we needed to win Iowa. We've said we need to perform well in the first four states. I've always said we're going to win March 1st. Just because, well, we are. Not because I want us to, but because we almost can't help but win March 1st."
In fact, Cruz did win Iowa, which was desperately needed no matter what his advisers told the press. And his campaign seemed more viable than ever after a strong third-place showing in New Hampshire, a state whose ideological makeup is hardly conducive to Cruz's brand of conservatism.
RELATED: Ted Cruz's Long Road to Iowa Victory
But then came South Carolina. All of the pressure there should have been on Marco Rubio, who was reeling after a disastrous fifth-place finish in New Hampshire. Instead it was Cruz who needed to prove himself, thanks to his boasts of a monopoly on the March 1 states that South Carolina so closely resembles.
Cruz, of course, fell short in that February 20 primary. Trump beat him by ten points, and Rubio narrowly overtook him for second. Most damaging of all, Cruz lost the Evangelical vote to Trump by six points, according to exit polls, and topped Rubio with that group by only five points. Cruz's Iowa victory less than three weeks earlier suddenly seemed inconsequential. As the South Carolina results came in, pundits piled on with some variation of the same question: If Cruz had managed only a third-place finish in a southern state where 72 percent of Republican voters identified as born-again Christians, how could he hope to win on Super Tuesday?
"It does definitely put a dent into the manufactured reputation that Cruz is coalescing all conservatives," Hogan Gidley, a South Carolina–based strategist and veteran of the Huckabee campaign, told NRO of his home state's result. "I think we can put an end to that myth." 
#share#The same questions and concerns were being shared 3,000 miles away, inside a resort overlooking the San Diego Bay, at a meeting of the Council for National Policy. That group, which serves as an umbrella organization for conservative activists from around the country, had largely been supportive of Cruz's candidacy, though a vocal minority of its members backed Rubio. The South Carolina result sent shock waves through the gathering. Some of Cruz's key supporters, watching the returns together, confided their concerns to one another — and, as the weekend wore on, to neutral attendees.
Things suddenly looked shaky. Trump, whom Cruz supporters openly fear and despise, emerged from South Carolina as the clear frontrunner for the nomination. Meanwhile, Cruz was bleeding Evangelical support to Rubio, who appealed to a far broader swath of the electorate, according to exit polls. These twin dynamics so unsettled some Cruz supporters that they held a private call preparing for a scenario they couldn't have imagined just three weeks earlier: Defecting from Cruz if he collapsed on March 1, and throwing their support to Rubio in a last-ditch effort to defeat Trump.
RELATED: Conservative Leaders Hedge on Support for Cruz
The biggest concern was Texas. All of the March 1 states allocate their delegates proportionally, meaning Cruz could stay competitive in the delegate race even if Trump finishes first in most places. But Cruz's allies feared he could not survive the optics of losing his home state — something his team readily acknowledged amid the mounting nerves as South Carolina's returns came in. "I think we have to win Texas, absolutely," Cruz's then–communications director Rick Tyler said on CNN.
In the face of all this anxiety, it's easy to forget that Cruz is exactly where he wanted to be: heading into Super Tuesday as one of a few remaining viable candidates, with the strongest field operation in a majority of the day's eleven states. For all the talk that March 1 could mark the end of Cruz's campaign — and it certainly could — it's also true that no date on the calendar is likelier to restore momentum to his candidacy.
In the face of all this anxiety, it's easy to forget that Cruz is exactly where he wanted to be: heading into Super Tuesday as one of a few remaining viable candidates.
Cruz has his work cut out for him, however, after a week spent battling the perception that his campaign is in decline. More bad news came Sunday night, when Jeff Sessions, the Alabama senator and immigration hardliner whom Cruz often cites as a close ally, unexpectedly endorsed Trump during a rally in Madison. It's a significant blow to Cruz, who has invested significant time and resources in the state while tirelessly courting Sessions's endorsement, only to fall short of selling the senator on his campaign's viability.
With many of Tuesday's states expected to split delegates evenly between the top three candidates, Cruz's primary focus is Texas, easily the night's biggest delegate prize. Any candidate topping the 20 percent threshold statewide will receive a proportional share of the 44 at-large delegates, while 108 additional delegates will be awarded to the winners (and potential runners-up, if they top 20 percent) in each of the state's 36 congressional districts. Cruz's team is confident he will break those thresholds, both statewide and in all of the state's congressional districts, making it mathematically improbable for Trump to either win more popular votes or to walk away from the state with more delegates.
RELATED: Ted Cruz Has Two Big Problems
Either scenario could be framed as a loss. Cruz's team recognizes as much and has dismissed polls showing Trump closing on them in the Lone Star State. Yet they've been forced into a defensive position: Cruz will spend the entirety of Monday campaigning across his home state, precious time that could have been spent elsewhere had Texas truly been in the bag. It's not ideal, but it's the safe play: Cruz's campaign could go on life support without multiple wins on Tuesday, but it would be dead without carrying Texas.
The urgency was apparent during Thursday's debate in Cruz's hometown of Houston, where he teamed with Rubio to finally execute a start-to-finish assault on Trump. Cruz carried that over into a weekend spent barnstorming across the Bible Belt, pleading with voters — in notably dire tones — to bring their friends and families to the polls Tuesday in opposition to Trump. "Say, 'This is my future, this is my kids, this is my grandkids, this is my country, damn it! My country!'" Cruz shouted in Georgia Saturday night. "Stand up and fight for it together!"
#related#The moment spoke for itself. Cruz's entire campaign has been building to March 1, and now, in the face of a make-or-break moment, he's doing nothing to lower expectations. "Super Tuesday is the most important day of this entire primary election," he told Face the Nation on Sunday.
Cruz has the home-field advantage in Texas. And he has built superior ground operations in Alabama, Arkansas, Georgia, Oklahoma, and Tennessee. On the heels of Cruz's victory in Iowa, the SEC primary seemed a safe bet to accelerate his momentum and make him the delegate frontrunner. Now, he needs the South just to keep his campaign alive — and to validate his all-in approach to Super Tuesday.
— Tim Alberta is the chief political correspondent for National Review.