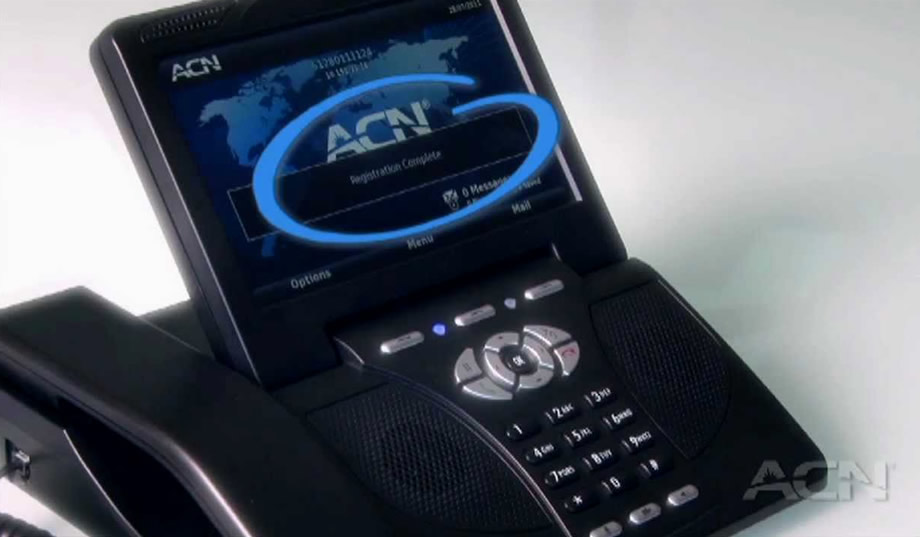 In an interview with the Wall Street Journal last August on the subject of his relationship with ACN, formerly the "American Communications Network," Donald Trump was unequivocal: "I do not know the company. I know nothing about the company other than the people who run the company," he said. "I'm not familiar with what they do or how they go about doing that."
That was a surprising statement, given that, from 2006 until he announced his presidential bid in 2015, Trump was easily ACN's most famous unofficial spokesman. For nearly a decade, Trump appeared in promotional videos touting ACN's "revolutionary products," he devoted an episode of NBC's The Celebrity Apprentice to ACN's "revolutionary" videophone, and he earned millions of dollars giving speeches at ACN events as recently as early 2015. Introducing ACN executives Greg Provenzano and Mike Cupisz on The Celebrity Apprentice in 2011, Trump said: "They run a company called ACN, which I know very well."
Why, then, after a nine-year relationship, is Donald Trump so eager to dissociate himself from ACN?
Founded in 1993 in Michigan (it moved to North Carolina in 2008), ACN is a telecommunications company that relies on multi-level marketing: An ACN sales agent — or "Independent Business Owner" — receives a commission for selling an ACN product to a new customer and recruits that customer as a new sales agent, thereby securing commissions for that person's sales, and so on "downline." As the company advertised in a promotional video, "The key to ACN's remarkable business opportunity is the power of residual income. Rather than receiving a onetime commission for acquiring a new customer, you receive a percentage of your customer's monthly bills for as long as they continue to use the services."
But a fine line separates multi-level marketing operations from pyramid schemes, as Donald Trump well knows. From 2009 to 2011, Trump himself ran a multi-level marketing enterprise — The Trump NetworkTM — using more than 20,000 recruiters to sell dubious nutritional supplements. The Trump Network has long been accused of being a pyramid scheme.
A fine line separates multi-level marketing operations from pyramid schemes.
Likewise ACN. And while ACN has enjoyed far more success than the Trump Network ever achieved — by the time Trump endorsed it in 2006, ACN had been featured in prominent business journals and had extended operations overseas — it also has raised the suspicions of regulators in three countries. In Canada and Australia, courts eventually ruled that ACN was not running a pyramid scheme. But in the United States, the situation has been more complicated.
In August 2010, Montana Securities and Insurance Commissioner Monica Lindeen issued a cease-and-desist order against ACN, on the grounds that it appeared to be operating a pyramid scheme. According to the Journal, the order alleged that "312 Montana participants in 2009 paid about $235,000 in various fees to ACN, but received less than $17,000 in compensation. According to the filing, of that $17,000, less than $900 was related to direct sales of telecom services to nonparticipants." Lindeen eventually determined that the actions that prompted the investigation were the fault of independent ACN representatives, not the company's business model, and ACN agreed to supply additional training to its representatives.
But while ACN disputed Lindeen's numbers, there is reason to believe they might have been indicative. In Canada, where ACN is required to submit income figures for its sales agents, the average "active" marketer made $500 in 2010. Keep in mind: Then as now it cost $499 to become an "Independent Business Owner," and participants are encouraged to spend $39.99 a month on the "Your Business Assistant," an optional package of tools, but one that ACN president Provenzano says "every single person out there who is serious about winning needs." In addition, ACN Training Events cost upwards of $149 to $189, not including food, travel, and hotel expenses. Finally, ACN representatives must renew their IBO status annually — an additional $149. It is little wonder that, as ACN attorney Bob Stephans told Los Angeles's FOX affiliate, "The majority probably do not make a profit."
Montana is not the only place where ACN has faced legal action. In North Carolina, ACN and its affiliate, Xoom Energy (ACN also is involved in the energy sector), are embroiled in a class-action lawsuit alleging, among other things, a violation of the North Carolina Unfair and Deceptive Trade Practices Act. According to the suit, filed by plaintiff Oladipupo Adesina, ACN and Xoom knowingly made a "false and misleading" sales pitch, promising savings for Adesina if he switched to Xoom. When he did, Xoom raised his rate to more than 30 percent what the local utility company was charging during the same period.
The lawsuit includes the text of almost three dozen online complaints alleging similar acts of fraud against ACN and/or Xoom. And an investigation by New York City's ABC affiliate found similar stories locally. Former ACN salesman Robert Spitzer told ABC-7 that he was unintentionally "robbing people," adding, "I pitch to them that they can save money, but it's the exact opposite." ABC-7 also went undercover in an ACN recruitment meeting and "asked two salesmen the company's boasted as its most successful to explain how they do it." The footage showed the salesmen promising savings, which an ACN representative later said should not have happened.
The FOX investigation above was equally damning:
Trump's sentiments were not universally shared. According to the Wall Street Journal, citing regulatory filings, even before the episode was broadcast ACN "had slashed orders for the phone from its supplier, which laid off 70 percent of its staff just before the show aired and later filed to liquidate in federal bankruptcy court," details that Trump did not disclose to viewers.
#related#He also did not mention his lucrative speaking appearances. It's not clear how much Trump was earning at the time from appearances at ACN events, but financial disclosures submitted to the Federal Election Commission last year show that, between May 2014 and July 2015, Trump pocketed $1.35 million from ANC for three speeches — $450,000 per appearance.
As for the videophone, Trump explained to the Journal that it was a good product, but that "technology's rapid pace had killed it by the time the show aired five months after filming."
The explanation is ironic. In the late 2000s, in another promotional video for ACN, Trump announced proudly: "The two things I've mastered over the years are understanding the importance of timing in business, and the ability to recognize great opportunities and also great people."
Well. Even Homer nods.