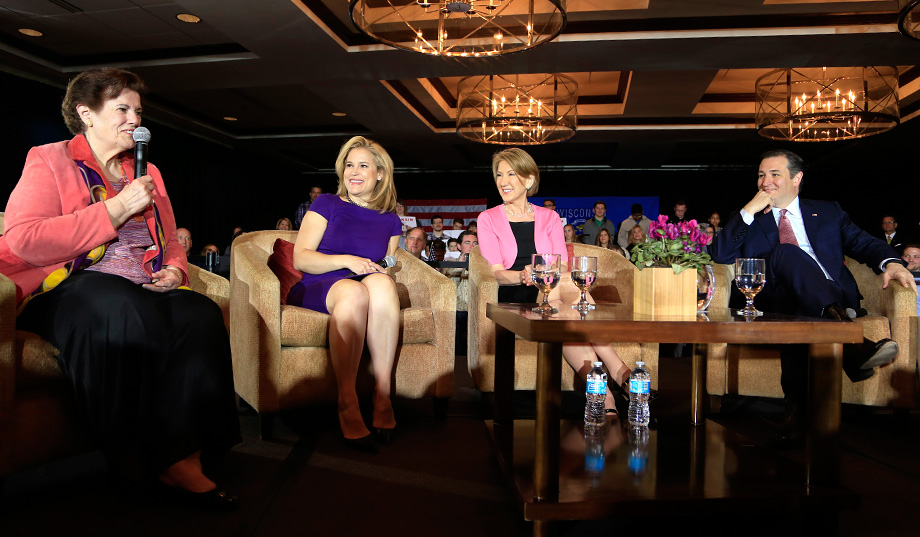 Madison, Wis. — Plush chairs. Stylish pillows. Purple flowers.
The ambiance inside Ted Cruz's campaign event here Wednesday morning was unrecognizable. There were no splashy campaign banners. No loud speeches or fiery denunciations of rival candidates. Instead, in a gently-lit hotel ballroom, beneath elegant, glass-encased chandeliers, the man known for his hardball tactics and red-meat rhetoric attempted to show a softer side.
It couldn't have come at a better time. After a week spent feuding with Donald Trump over attacks on their respective wives and tabloid reports of extramarital affairs — ugliness that only highlighted the GOP's continuing struggles to attract women voters — Cruz needed to reset the news cycle and push back on what his team sees as a false equating of the two candidates' prospects for attracting female voters in the fall. When Trump gave him the chance, Cruz pounced.
Cruz's campaign sketched out plans for a high-profile "Women for Cruz" event several weeks ago, pegging it to multiple dates only to repeatedly postpone. Politically speaking, it was an ace up the campaign's sleeve. And on Tuesday, against the backdrop of last week's events — and the fresh news that Trump's campaign manager had been charged with battery against a female reporter — Cruz decided to play it.
"It really was perfect timing," Rebecca Hagelin, a former Heritage Foundation vice president who co-chairs Women for Cruz, tells National Review after moderating Wednesday's event. Having already traveled to Wisconsin to assist Cruz's campaign in various capacities, she was e-mailed by a campaign official late Tuesday night asking if she was free to emcee, and was confirmed as the program's moderator just an hour before it began Wednesday.
Hagelin occupied one of five beige loungers on a small platform in the middle of the ballroom, arranged in a semi-circle and adorned with burgundy pillows. The others belonged to Cruz himself; Carly Fiorina, the former Hewlett-Packard CEO and one-time opponent who has become Cruz's star surrogate; Cruz's wife Heidi, a Goldman Sachs managing director; and Eleanor Darragh, Cruz's mother, whom he called "a pioneer" for women in the computer-science industry.
The group spent an hour talking about the challenges — and opportunities — that America presents for women. Cruz's mother recalled breaking through as a woman in the workforce a half-century ago. His wife reflected on the stress of giving birth to the couple's second daughter while chasing a major promotion. Fiorina spoke of quitting law school and working as a secretary before she began climbing the corporate ladder.
The person who spoke least at the event: Cruz himself. He took the stage declaring that the program would be a "celebration of strong women," and largely stayed in the conversation's background save for some intermittent thematic commentary.
"One of the most frustrating things about the Democratic party is the Democrats love to pigeon-hole women" with a set of issues, Cruz said at the outset. Borrowing a line Fiorina used frequently in her own campaign, he added, "I have news for the Democratic party: Women are not a special interest. Women are a majority of the United States of America. And every issue is a woman's issue."
Wednesday's themes were previewed briefly Tuesday night during a CNN-hosted town hall, during which Cruz gave a noticeably forceful and well-conceived response to the question of how he would appeal to women. He ended that answer the same way he ended Wednesday's event: with an ode to his daughters, Caroline and Catherine, whom he hopes will have opportunities to break down barriers like their mother and grandmother.
#share#Cruz and his team have long been quietly confident in his ability to connect with female voters, in no small part due to Heidi Cruz and her profile as the prototype 21st century woman: business leader by day, wife and mother of two by night. Utilized as a campaign-trail surrogate with increasing frequency, Mrs. Cruz was thrust uncomfortably into the spotlight last week when Trump — in retaliation for an unaffiliated group circulating nude photos of his own wife ahead of Utah's caucuses — re-tweeted an unflattering photo of her.
The incident galvanized Cruz's campaign and its supporters, with staffers and fans changing their Twitter avatars to photos of the candidate's wife. More important, it provided the ideal opening for her breakout moment Wednesday, when she commanded the room with playful anecdotes and charming accounts of her husband.
Cruz and his team have long been quietly confident in his ability to connect with female voters.
"I want all the women here in Wisconsin and across this country to know how incredibly supportive Ted . . . has always been of all the women in his life," Heidi Cruz said near the end of the program. "This is a son who was by his mother's side when she had breast cancer. This is a husband who has suggested that I go for every single promotion I've ever gotten — it has always been Ted's idea that I join the team, that I apply for the job, that I run the group."
The candidate's wife went on, detailing her husband's insistence on a "partnership of equals" in their marriage. She spoke of the frequent bouquets he brings her just to be "thoughtful," and explained that his caring nature — not his intellect or ambition — made her fall in love with him.
After one particularly polished response from the candidate's wife, Hagelin turned to the audience. "Isn't Heidi Cruz the first lady we've been waiting for?" The crowd erupted with applause — easily the loudest of the entire event — and gave her an extended standing ovation.
The candidate's mother, who spoke publicly Wednesday for the first time during her son's campaign, was equally engaging when sharing stories of her son's upbringing and the memories they'd made together. Cruz called his mother "a lifelong best friend," and she spoke of her son's unyielding devotion and affection. By the time they were finished, Cruz's wife and mother had done for him what he has struggled to do for himself: Tamed the image of a candidate known primarily for being a political brawler.
"They made him so much more human, so much more relatable," says Colleen Guger, a 57-year-old homemaker and part-time teacher. Guger arrived at the event leaning toward supporting Cruz in next Tuesday's Wisconsin primary, and says she left "100 percent" behind him. "I loved what Heidi had to say about how thoughtful he is. And I believe her. There was so much sincerity, it just came from her heart."
The atmosphere inside Cruz's event could not have contrasted more jarringly with news coverage of Trump, who spent Tuesday defending his campaign manager, Corey Lewandowski, after he was charged with battery against reporter Michelle Fields. (Trump suggested at one point that the bruising on Fields's arm could have been there before Lewandowski grabbed her.)
Within hours of Cruz's event concluding Wednesday, there was a fresh Trump controversy: He told an MSNBC-hosted town hall that women who have abortions should receive "some form of punishment." Trump quickly walked back the statement, but not before Cruz — whose own strident anti-abortion position has prompted criticisms from fellow Republican Lindsey Graham, now a Cruz supporter — pounced on his rival's misstep.
"What's far too often neglected is that being pro-life is not simply about the unborn child; it's also about the mother — and creating a culture that respects her and embraces life," Cruz said in a statement. "Of course we shouldn't be talking about punishing women; we should affirm their dignity and the incredible gift they have to bring life into the world."
Needing every possible vote in Wisconsin and beyond to deny Trump the 1,237 delegates needed to clinch the Republican nomination outright, Cruz is zeroing in on — and hoping to exploit — Trump's rising unpopularity with women voters.
#related#But he is also in the process of broadening his appeal more generally. The senator who earned a reputation as a conservative firebrand, and the presidential hopeful who honed a populist pitch to evangelicals, has begun speaking to new voters in new ways. A TV ad released in Wisconsin on Wednesday shows Cruz in a sweater, seated at a sun-drenched kitchen table, talking about workers with "calluses on their hands" — a phrase he also used Tuesday morning at a stop in the Milwaukee suburbs.
It's part and parcel of an effort not just to make Cruz more acceptable to Republicans across the ideological and demographic spectrum, but to help humanize a candidate who has struggled to forge an emotional connection with voters.
Wednesday was a step in that direction. "This is important, what he did today — he showed more of the real Ted Cruz, someone who is multi-dimensional," Hagelin says. "Until now we've only pretty much seen one dimension of him."
— Tim Alberta is the chief political correspondent for National Review.