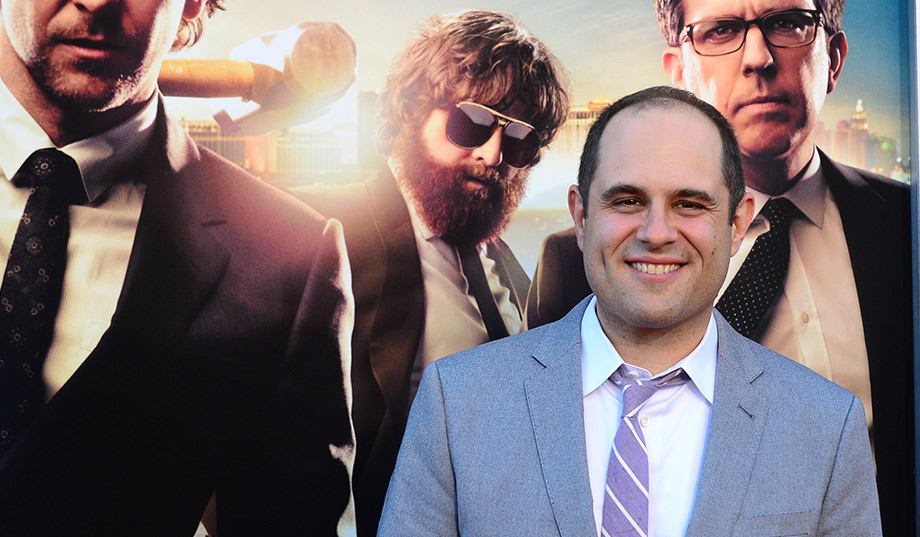 Some people never grow out of college. Meet Craig Mazin, currently America's most famous roommate.
Mazin is an alumnus of Princeton University, class of 1992, and he has done well for himself. He's a former Walt Disney executive and now a Hollywood screenwriter with writing credits on the third and fourth Scary Movie films, the second and third installments of The Hangover, and the upcoming The Huntsman: Winter's War, starring Chris Hemsworth and Charlize Theron. But professional success apparently has not made up for what he suffered in that annus horribilis 1988, when cruel fate conspired with Princeton's undergraduate-housing authority to make Mazin the roommate of a then-17-year-old Rafael Edward "Ted" Cruz.
From the ensuing academic year Mazin apparently has never recovered. And since Cruz's ascent to the national stage in 2012, when he was elected to the U.S. Senate from the Lone Star State, Mazin has been waging a Twitter crusade against him: "My freshman year college roommate Ted Cruz is going to be elected Senator," he wrote in October 2012. "In case I hadn't made it clear, he's also a huge ***hole."
Four years later, Mazin is still tweeting. Cruz has "no principles, no moral center, no values," he tweeted in March. "Just ambition." "Ted has no empathy and desires to control people. He's a bad person." Cruz is "devious, hypocritical, unethical, pointlessly ambitious, [and] valueless." He's "creepy, unfunny, mean, [and] boring."
And those are the more thoughtful criticisms. Cruz is also a "jackass," a "d***head," and "garbage." His campaign manager, Jeff Roe, is a "sick f**k."
If Mazin has a seemingly abnormal fascination with his freshman roommate, don't worry. Occasionally, he does tweet about his screenwriting work. For example, in February, linking to the trailer for The Huntsman: Winter's War, he tweeted: "Wanna piss Ted Cruz off? See this movie I cowrote."
Unsurprisingly, calling a Republican presidential candidate a "s**thead" has earned Mazin a sizable social-media following. Unfortunately, it has not given him succor. In mid January, he noted: "I have 30k followers now, and all I had to do was be stuck in a room with Ted Cruz for a year. I'm sure you're all nice, but so not worth it."
#share#As of this writing, Mazin boasts more than 85,000 Twitter followers — partly thanks to a recent tweet that went massively viral. Following a Mother Jones report that Cruz, during his tenure as solicitor general of Texas, defended a 2004 state law banning the sale of sexual toys, Mazin snarked: "Ted Cruz thinks people don't have a right to 'stimulate their genitals.' I was his college roommate. This would be a new belief of his." That witticism has been retweeted 44,000 times. Precisely what Ted Cruz's masturbatory habits — if such ever existed — have to do with the question of substantive due-process rights (the legal question at issue in Reliable Consultants Inc. v. Earle), or with the professional responsibilities of a state solicitor general, Mazin has not addressed — nor did, to choose admirers at random, the Jezebel contributor who penned "F***in' Craig Mazin: An Appreciation of Ted Cruz's College Roommate," an article that provides a fairly strong indication of the type of people think who that Craig Mazin is a teller of important truths or a master wit.
Spending one year in a dorm with someone can be trying. But with due respect to the trials of residential-college life, there are genocide survivors less traumatized than Mazin purports to be.
#related#Meanwhile, no twelve-month roommate situation has ever provided the depths of soul-piercing knowledge that Mazin claims. And, more to the point, even if Ted Cruz was The Worst Roommate Ever™, that was a quarter-century ago. The man currently campaigning for president isn't 17 years old.
Craig Mazin is the unfortunate sort of person one encounters in swarms in political life: the opportunist, the clinger-on, the long-ago acquaintance leveraging a tenuous connection to political influence. In this case, that involves accusing Ted Cruz of regularly viewing pornography and speculating on his perhaps occupying time with prostitutes — all while sanctimoniously declaring, "I want my country to know what I know."
I'd say that Mazin needs to get over the tribulations of 25 years ago. But he probably just needs to get over himself.