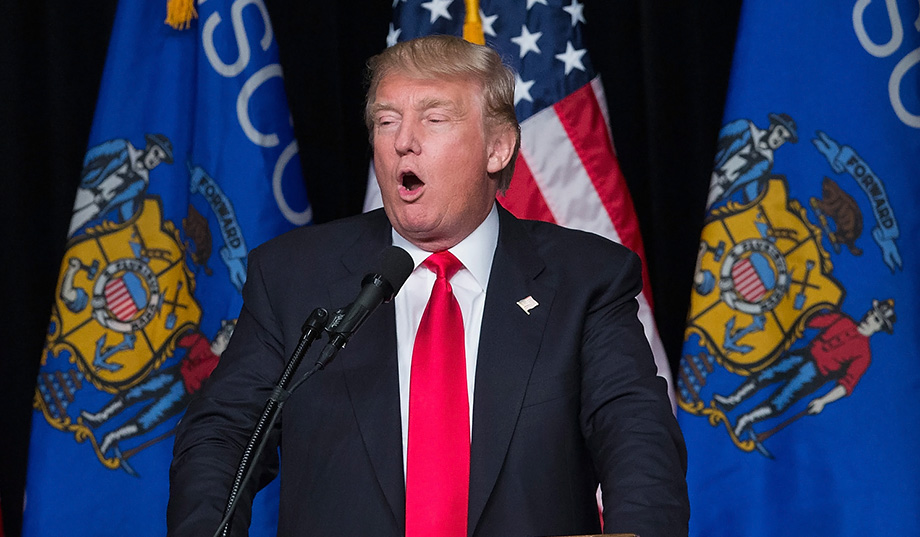 Brookfield, Wis. — One week before Wisconsin's presidential primary, Ted Cruz stood before hundreds of supporters in this Milwaukee suburb and cast the contest in sweeping terms, framing it as a "battleground" where forces opposed to Donald Trump could turn the momentum of 2016 campaign against him.
"The entire country is focused on the state of Wisconsin," Cruz said. "And right now in the state of Wisconsin it's neck and neck — Donald Trump and I are effectively tied."
Cruz was underselling his own support in the state, where he had already pulled comfortably ahead of Trump, according to private and public polling. But he was right about one thing: Wisconsin is being watched by Trump's adversaries around the country. And what they see is not just an opportunity to defeat the Republican front-runner on April 5, but a formula for denying him the nomination outright.
Trump's negatives are sky-high, particularly in populous southeastern Wisconsin, in part because of relentless attacks on his candidacy from the state's influential conservative talk-radio hosts. Two outside groups, the Club for Growth and Our Principles PAC, amplified that assault by blanketing Wisconsin's airwaves with anti-Trump ads. The state's GOP establishment, led by Governor Scott Walker, reacted to the winnowed primary field by rallying around Cruz as the best bet to topple Trump. And swarms of pro-Cruz volunteers and super-PAC workers descended on the state, seizing on the lull in the primary schedule to out-organize the competition as they had done in neighboring Iowa.
"It was a perfect storm, if you will," says Matt Batzel, the Wisconsin-based head of American Majority, a conservative activist group. "A lot of people talked about Trump having a ceiling of 30 to 35 percent in other states. But we actually see that in Wisconsin, and it's because of those factors working together."
The result: Cruz has pulled away from a battered Trump over the last two weeks and is poised for a resounding victory in Tuesday's primary. "We're going to have a solid win," says state senator Duey Stroebel, Cruz's Wisconsin chairman. "He'll beat Trump by at least eight points, easy."
Cruz has pulled away from a battered Trump over the last two weeks and is poised for a resounding victory in Tuesday's primary.
Indeed, Cruz's "neck and neck" talk did not reflect his team's bullishness, which was detectable even before a crucial 24-hour stretch last week seemed to seal Trump's fate. Tuesday afternoon, hours after Walker's endorsement, Trump's campaign manager was charged with battery against a female reporter. The next day, Trump stepped into fresh controversy after saying that if abortion were illegal, then women who have abortions should face "some form of punishment." (Cruz pounced; Trump later reversed himself.) Capping it off, Wisconsin's top pollster, Marquette Law School's Charles Franklin, released a survey Wednesday showing Cruz up ten points on Trump, 40 percent to 30 percent, and Trump's negatives surging statewide. (Marquette's previous poll in mid February also showed Trump at 30 percent, which at the time was enough for a ten-point lead over a larger, still-fractured Republican field.)
This turnaround isn't surprising to the Cruz campaign, which weeks ago identified Wisconsin as fertile ground for both their operation and the anti-Trump movement. "Once we get there and introduce ourselves, we can very quickly make it a race like Iowa," Chris Wilson, Cruz's pollster and data guru, predicted in late March, before Cruz and his allies arrived in Wisconsin.
RELATED: Why Cruz Is Poised to Stop Trump in Wisconsin
The question no longer seems to be whether Trump will lose Wisconsin on Tuesday, but whether Cruz's victory will truly signal a tipping point in the race — by arresting Trump's momentum and also by providing a blueprint for halting his march to 1,237 delegates.
"If Trump loses [Wisconsin], the wheels will be off Trump Express and it'll be the beginning of the end for him," Brent Bozell, a prominent conservative leader and Cruz supporter, tweeted Wednesday. "Crash and burn, Donald!"
* * *
There's an assumption that Cruz would earn all 42 of Wisconsin's delegates with a comfortable victory, shutting out Trump. But that's highly unlikely.
Wisconsin awards 18 at-large delegates to the statewide winner, but also three delegates to the winner of each of its eight congressional districts. While Trump could be crushed in the white-collar Milwaukee suburbs, his support appears steady in the rural northern and western parts of the state. He is heavily favored to win the seventh and third districts, and he should be competitive in the eighth and sixth, which encompass the Fox Valley, an unpredictable region where the demographic differences between southeast and northern Wisconsin collide. Whatever the result there, Trump should pick up at least six and perhaps as many as twelve delegates from Wisconsin.
"I think two is likely, three is reasonably possible, and four is even possible," Franklin says of Trump's potential congressional district wins. Walking away from Wisconsin with a dozen delegates or fewer isn't ideal for the front-runner, but at this stage, every bound backer is critical.
RELATED: Ted Cruz Can Beat Trump
An overlooked obstacle for Cruz is the continued presence of John Kasich. Even though the poorly funded Ohio governor pulled his radio ads from Wisconsin early last week, effectively ceding the state to Cruz, he remains a threat in the affluent "WOW" counties of Waukesha, Ozaukee, and Washington. "I certainly think Cruz is an odd standard-bearer for Republicans in that area," Franklin says, "but that's the position they're in because of their disdain for Trump."
Kasich topped 20 percent statewide in the Marquette poll, largely on the strength of his support in metro Milwaukee, and Cruz kept dumping anti-Kasich mailers in those areas through week's end. It proved that Kasich's relative popularity with upscale white-collar voters remains a threat to Cruz — in Wisconsin's case, he could steal enough votes to hand a suburban district to Trump, or even win one outright himself, further muddying a Cruz victory statewide.
#share#Even if Cruz does win a lopsided victory on Tuesday, Trump's immediate collapse is doubtful.
A two-week break occurs between Wisconsin and the next primary on April 19, an extended hiatus during which accounts of Trump's unraveling are certain to echo. But the state that is voting on April 19 happens to be New York. All four polls there in March, including a Quinnipiac survey last week, show Trump carrying at least 50 percent of the vote. That's significant: While New York's 95 delegates are awarded via a winner-take-most system — inviting Cruz or Kasich to win delegates in certain districts — anyone hitting 50 percent in a district takes all three of its delegates. The same 50-percent rule applies to the state's 14 at-large delegates.
RELATED: Cruz Must Be the Anti-Trump
If Trump takes a vast majority of New York's delegates, as seems likely, he'll have momentum heading into the April 26 "Acela Primary," when nearby Connecticut, Delaware, Maryland, Pennsylvania, and Rhode Island vote. With the exception of Pennsylvania — a volatile "loophole" contest where 17 delegates are awarded to the statewide winner, but the remaining 54 are elected directly on the primary ballot — those states look solid for Trump, regardless of the results in far-away Wisconsin on April 5.
It could be a very different story, however, as the calendar turns to May and two states are tested as potential bulwarks against Trump's march to the nomination: Indiana and Nebraska.
* * *
Trump will probably emerge from April 26 with about 900 delegates, which means he cannot afford to be shut out in either Indiana on May 3 or Nebraska on May 10. And yet those are the two remaining states where the formula used to defeat Trump in Wisconsin will be most aggressively applied.
A Midwestern state with Republican voters clustered around Indianapolis and scattered across more rural areas, Indiana will be familiar terrain for Cruz and his team, who will target the state with a well-financed, exhaustively organized effort similar to those they mounted in Iowa and Wisconsin. Nebraska, another deep-red stronghold in the Midwest, will receive similar attention from both Cruz's campaign and the #NeverTrump movement. And in both states, anti-Trump efforts are likely to receive a boost from prominent conservative office-holders — starting with Mike Pence in Indiana and Ben Sasse in Nebraska — who have made known their discomfort with Trump and who will undoubtedly enlist their networks to organize against him.
RELATED: How to Drump Trump
The stakes are enormous: Indiana awards 57 delegates, 30 to the statewide winner, the other 27, three apiece, to the winner of each of its nine congressional districts. Nebraska awards all 36 of its delegates to the statewide winner. Depriving Trump of all or nearly all of the combined 93 delegates from Indiana and Nebraska could strike a decisive blow to his effort to reach 1,237.
Voting with Nebraska on May 10 is West Virginia, which holds another unpredictable "loophole" primary where all of the state's 31 delegates — 22 statewide, and nine from three congressional districts — are elected directly on the ballot. Given that Cruz has outmaneuvered him in such grassroots affairs, including in Colorado and North Dakota this past weekend, Trump seems unlikely to collect many delegates in that contest.
RELATED: The Way Forward for the #NeverTrump Movement
A total of 375 delegates are up for grabs in the race's final stretch, from May 17 to June 7. But assuming that Trump is still hovering somewhere around 900 — having been essentially shutout since April 26 — he would need to win roughly 90 percent of those remaining to hit 1,237.
The key contests for those hoping to squeeze Trump into such a precarious position are Indiana and Nebraska.
That's quite improbable: Both Oregon on May 17 and South Dakota on June 7 are closed primaries; South Dakota is a winner-take-all contest in a Cruz-friendly part of the country, and Oregon awards its delegates proportionally without any threshold, conditions that in Trump's best-case scenario make it possible for him to take roughly a third of the delegates at stake that day. And Montana's June 7 winner-take-all caucuses — with 27 delegates on the line — are ripe for Cruz, who has dominated western caucus contests.
The key contests for those hoping to squeeze Trump into such a precarious position are Indiana and Nebraska. If Cruz and allied forces can stifle Trump in those states (and any others along the way), they'll make it nearly impossible for him to hit the 1,237 mark, and Wisconsin will be looked back upon as the catalyst: the state that wrote the playbook for defeating Donald Trump.
#related#Jason Storms, a 37-year-old pastor and anti-abortion activist in Wisconsin, embodies that playbook. Cruz was not his first or even his second choice in 2016. But determined to stop Trump, Storms signed on with a pair of Cruz super PACs that employed 20 full-time door-knockers in the final two weeks before Wisconsin's primary — and 40 on the final weekend.
"Not many people were paying much attention to Wisconsin as being a real factor in this race," Storms says. "Now they are."
Batzel, the Wisconsin-based activist, attended the Pennsylvania Leadership Conference this past week to instruct fellow organizers in grassroots-training seminars. "People kept asking, 'What did you guys do?' and 'How did it work in Wisconsin?'" Batzel says. "They're hoping our result gives them some momentum — and some ideas — to stop Trump."
— Tim Alberta is the chief political correspondent for National Review.
CORRECTION: In a previous version of this story, South Dakota's primary was listed as proportional; it is winner-take-all.