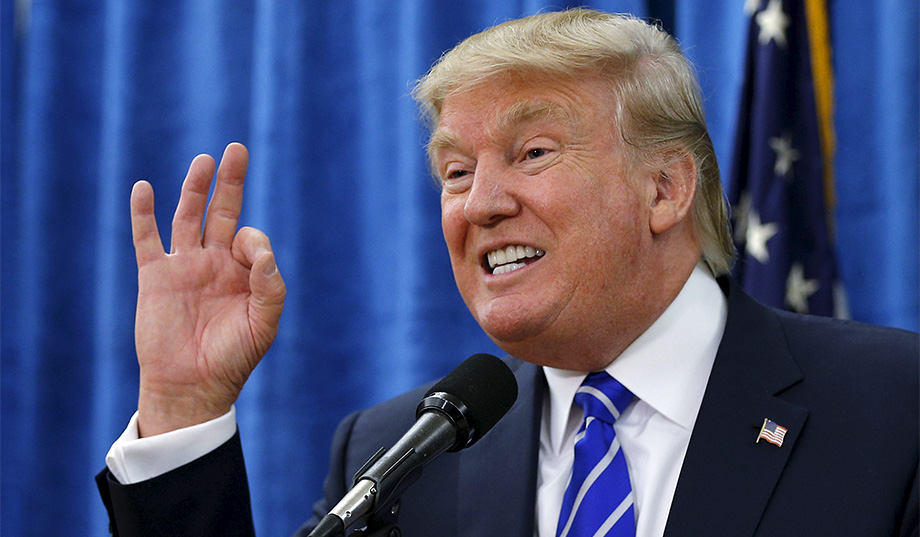 I must confess that I'm mystified as to why so many Republicans are utterly convinced that Donald Trump will be a better president than Hillary Clinton. Trump, of course, makes it easy for them to delude themselves, because each time he begins to sound like Noam Chomsky, he'll immediately pivot to mimic Rush Limbaugh, and he never stops talking long enough to be pinned down. But which words matter? Which words can we trust?
The answer, of course, is none of them. But for those people who might be clinging to some tiny shard of hope that the presumptive Republican nominee now has coherent, conservative principles despite his well-documented left-wing past, I present to you the following non-exhaustive list of liberal, extreme, and outright insane things he's said in this campaign. Let's begin:
1. Trump supported government-provided health care. Doubt me? Here's the key exchange from a September 27, 2015, interview on 60 Minutes:
Donald Trump: There's many different ways, by the way. Everybody's got to be covered. This is an un-Republican thing for me to say because a lot of times they say, "No, no, the lower 25 percent that can't afford private." But –

Scott Pelley: Universal health care?

Donald Trump: I am going to take care of everybody. I don't care if it costs me votes or not. Everybody's going to be taken care of much better than they're taken care of now.

Scott Pelley: Make a deal? Who pays for it?

Donald Trump: The government's gonna pay for it. But we're going to save so much money on the other side. But for the most it's going to be a private plan and people are going to be able to go out and negotiate great plans with lots of different competition with lots of competitors with great companies and they can have their doctors, they can have plans, they can have everything.
2. Trump supported raising taxes. And he keeps supporting raising taxes. Again, here he is in that same 60 Minutes interview:
Scott Pelley: Who are you going to raise taxes on?

Donald Trump: If you look at actual raise, some very wealthy are going to be raised. Some people that are getting unfair deductions are going to be raised. But, overall, it's going to be a tremendous incentive to grow the economy and we're going to take in the same or more money. And I think we're going to have something that's going to be spectacular.
3. Trump supported large-scale touchback amnesty for illegal immigrants. Yes, the man who wants to build a wall and deport 'em all also said this:
I would get people out and then have an expedited way of getting them back into the country so they can be legal. . . . A lot of these people are helping us . . . and sometimes it's jobs a citizen of the United States doesn't want to do. I want to move 'em out, and we're going to move 'em back in and let them be legal.
Also note that he buys the "jobs Americans won't do" justification for large-scale, low-skill immigration:
14. Trump has repeatedly parroted the Democratic line about 9/11, completely ignoring or glossing over the failures of two successive administrations, including the Clinton administration's wholly inadequate response to the African embassy bombings and the near-sinking of the USS Cole.
15. Finally, there is this now-infamous bit of lunacy, which can't be stressed enough: Trump tied Ted Cruz's father to John F. Kennedy's assassin:
"His father was with Lee Harvey Oswald prior to Oswald's being — you know, shot. I mean, the whole thing is ridiculous," Trump said Tuesday during a phone interview with Fox News. "What is this, right prior to his being shot, and nobody even brings it up. They don't even talk about that. That was reported, and nobody talks about it."

"I mean, what was he doing — what was he doing with Lee Harvey Oswald shortly before the death? Before the shooting?" Trump continued. "It's horrible."
Trump recently declared that, "This is called the Republican party, it's not called the Conservative party." That may be the single-most accurate statement he's made in the course of the campaign. But if the Republican party isn't conservative, what does it stand for?
The list above provides a clue to Trump's answer: It stands for whatever will put him in power. And to think there are still Republicans who ask me to trust that Trump will do the right thing. The only thing I trust is that Trump will do what he wants, when he wants, and that neither principle nor reason will stand in his way.
— David French is an attorney and a staff writer at National Review.