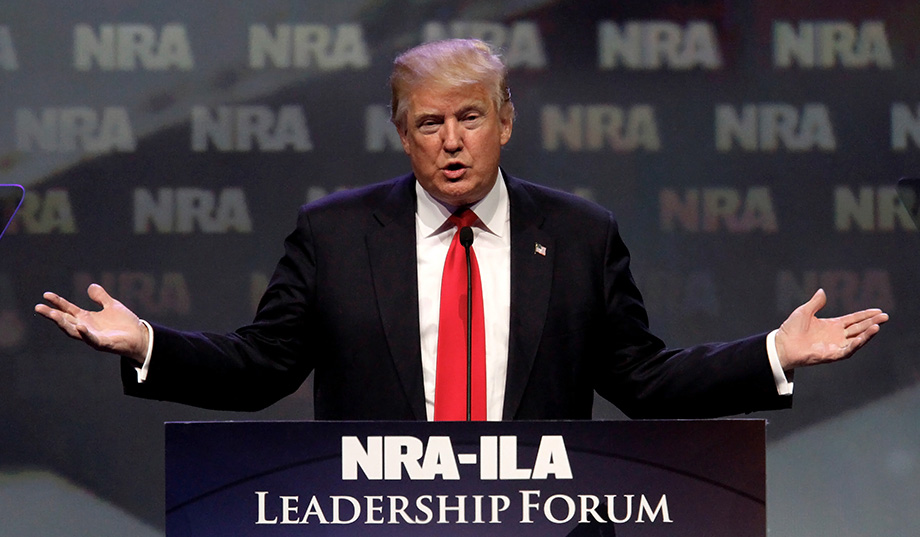 And the presumptive Republican nominee shows his thanks as only he could.
Louisville, Ky. — Whatever fears the NRA once had about Donald Trump, the organization put them aside Friday here at its annual meeting. Chris Cox, executive director of the NRA's Institute for Legislative Action, announced that the group was formally endorsing Trump for president. The crowd greeted Trump with a standing ovation as, flanked by Cox and NRA executive vice president Wayne LaPierre, the presumptive GOP nominee smiled and gave the crowd two thumbs up.
"I did not know that [the NRA would endorse me]," Trump began. "I knew I was doing well, but I did not know that. To get the endorsement, believe me, [is] a fantastic honor."
It took less than 60 seconds for Trump to offer his first reference to "Crooked Hillary" Clinton, noting that his likely Democratic opponent wants to "abolish" constitutional gun rights. He pledged to the audience that when it came to the Second Amendment, "we're going to preserve it, we're going to cherish it, we're going to take care of it." Then he pivoted to brag about the latest national polls showing him ahead of Clinton.
"My poll numbers are through the roof with men," Trump said. "But to be honest, I like women more than I like men. I think everybody knows that."
Trump sometimes looked down at either prepared remarks or notes, but it was continually clear that no script could possibly contain his now-familiar penchant for free association.
NRA officials who introduced Trump leaned heavily on the thinking that, for all his flaws, Clinton is worse.
"We're in Kentucky, so we're going to put the miners back to work, before I forget," Trump interrupted himself. "I won Kentucky, so I love this place."
The GOP front-runner offered a few signs that he was still getting used to his new, unlikely status as the standard-bearer for gun-rights advocates.
"My sons are members," Trump repeated. "They have so many rifles, so many guns, that even I get concerned. I say, 'That's a lot!'" The crowd greeted that admission with what can best be described as polite silence.
#share#At other times, he seemed to know his audience better. He pointed out that the shooters in last year's San Bernardino terrorist attack did not face armed targets. "If I would have been there," said Trump, who claims he has a concealed-carry permit, before pretending to draw a pistol from his hip. "BOOM!"
He called the late Charlton Heston, the former president of the NRA, "an incredible guy." He quoted Clinton's declaration, at a small private fund-raiser, that, "The Supreme Court is wrong on the Second Amendment, and I am going to make that case time and time again."
"That's bad," Trump said of her stance.
The real-estate mogul offered the NRA a more difficult choice for than a typical Republican nominee; for all their flaws, John McCain and Mitt Romney never wrote, "I support the ban on assault weapons and I also support a slightly longer waiting period to purchase a gun."
As a result, the NRA officials who introduced Trump leaned heavily on the thinking that, for all his flaws, Clinton is worse. Cox reminded the audience that Antonin Scalia's death had left Second Amendment supporters one vote short of a majority on the Supreme Court, and played the audio of the likely Democratic nominee's statement for the crowd, calling her "a corrupt politician who will say anything to get elected."
#related#"Hillary wants to live in a place where only law enforcement has guns and everything is free, health care is free, housing is free, and meals are free," Cox said. "That place exists, Hillary, and you might just get a chance to live there. . . . It's called prison."
His passionately anti-Clinton, quietly pro-Trump perspective was echoed by LaPierre.
"The Clinton White House would be a dangerous extension of the Obama White House," LaPierre said. He went on to paint a vivid, dark portrait of life under Obama's administration, and of what would happen if Hillary Clinton followed him.
Then, he closed his remarks on a note intended to be hopeful: "In a few minutes, you'll be hearing from a man who offers a very different White House."
— Jim Geraghty is the senior political correspondent for National Review.