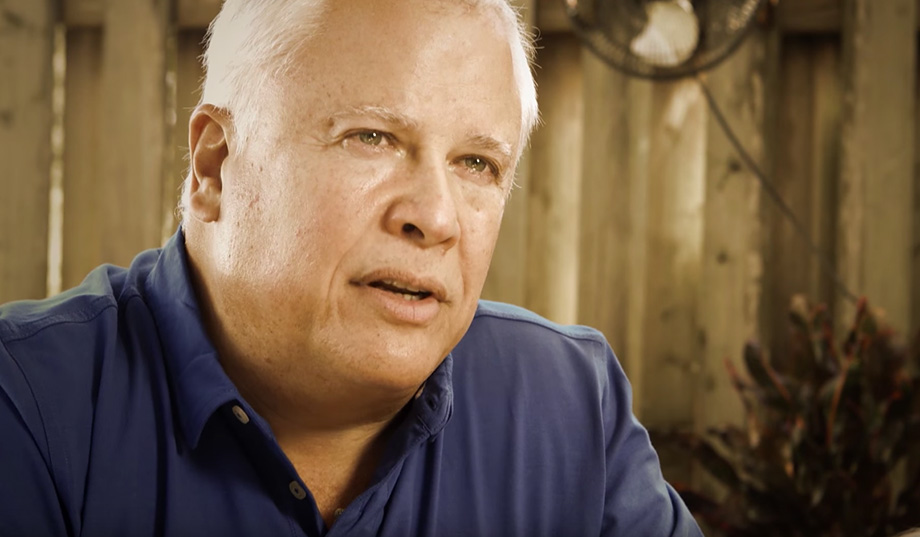 Carlos Beruff looks to move up from the water-district board.
One observer called him the "little Trump of Florida," but that isn't quite right.
Carlos Beruff is one of five Republicans vying to replace Marco Rubio, who manifestly desires to be almost anywhere other than the U.S. Senate. Beruff currently is in fifth place, clocking in at approximately nothing (0.7 percent) in the RealClearPolitics average of polls, but the leading candidate, U.S. Representative David Jolly of Indian Shores, is under 11 percent, so it's not like there's a runaway favorite for the August primary election.
Like the presumptive Republican presidential nominee, Beruff comes from a real-estate background, having built a very successful housing-construction business in Manatee and Sarasota counties. By his estimate, he has built more than 2,000 houses and has owned and developed a pretty fair-sized portfolio of other properties. Like Trump, he talks dismissively (if not quite so disdainfully) of "career politicians" and the "elitist political class that talks but doesn't really represent us." He speaks earnestly about bringing a businessman's "skill set" to bear on federal problems and creating a "customer service" model of government's relations with taxpayers. He isn't one of those Chamber of Commerce guys saying we should "run government like a business," but rather is much more insistent than that: "The federal government is a business," he says.
As for running in a swing state with Donald Trump at the top of the ballot, Beruff says: "I have pledged to endorse and support the Republican nominee, no matter who it is." That may strike some ears as the sort of endorsement that is something less than ringing, but Beruff is happy to call himself a "Rick Scott loyalist," and the Florida governor, who was the co-founder of Columbia Hospital Corporation and a successful venture capitalist before going into politics, was an early and important supporter of Trump, a fellow business mogul.
Beruff is more a miniature Rick Scott than a junior-varsity Donald Trump. Trump speaks in the very broadest and vaguest of generalities, but Scott, one of the country's best governors if not one of its most charismatic, is precisely the opposite, a deep-dipped facts-and-figures guy. Beruff, whose most notable political office so far in his career has been service on the Southwest Florida Water Management District, is cut from the same cloth. Speaking about that organization's finances, he cites a figure for its reserve funds ("both cash and liquid securities") that, after a second or two, seems wrong to him. He gets a little anxious about it and goes to look it up: He'd said $242 million when he meant $268 million. Later on, he says that the problem with the permanent political class in Washington is that when it comes to taxpayers, "nobody respects their money." He respects that $26 million.
Beruff is more a miniature Rick Scott than a junior-varsity Donald Trump.
That figure comes up right off the bat. When Beruff joined the water board, he learned that its cash balance had gone from $268 million to $707 million over the course of a decade, "despite spending like hell." That seemed like a lot of money for the agency to be holding, and he also thought that the organization had more staff than it really needed. Cutting operating costs (he is happy to report that these were reduced by 40 percent) and reversing that cash build-up looked to Beruff like a chance to save taxpayers some money, to achieve one of those little efficiencies that presidential candidates always are talking about.
That was Beruff's answer when asked why he wanted to take over Marco Rubio's job when Rubio himself eventually came to regard the position as effectively pointless.
#share#Florida is a very strange state, and not only because of the upside-down political geography ensuring that the farther north you go the deeper in the South you are. It's a 50–50 state that can go either way in a presidential election but one in which the GOP has enjoyed a virtual lock on statewide offices for some years. Florida has had a good economic run in recent years, and 60 percent of its voters say the economy is in good shape, but Governor Scott's approval ratings are underwater. So are Marco Rubio's. Beruff thinks that the state is more Republican than it lets on, that the numbers are skewed by the presence of older voters in the Panhandle who remain registered Democrats but who are not part of the party of Hillary Rodham Clinton and Barack Obama.
But the question is whether they are part of the party of Patrick Murphy, the leading Democratic candidate.
RELATED: Millionaire Developer Shakes Up Race for Rubio's Senate Seat
Murphy has denounced Beruff as a bigot, because that is the Democrats' opening play, always, even when the contest is a lily-white Democrat against a Hispanic Republican. That was in response to Beruff's agreeing with Donald Trump's proposal to suspend immigration from Middle Eastern countries. (Lots of similar "bigots" out there: An Associated Press poll taken before Trump made his remarks found that a majority of all Americans, including three-quarters of Republicans and third of Democrats, believe that the United States is taking in too many immigrants from the Middle East.) But that doesn't really seem to be what interests Beruff.
He'll talk your ear off about water-district finances, though.
Beruff is a man with no real political résumé who is running in a year in which political résumés are out of fashion.
Which is to say, Beruff, whatever his merits or shortcomings as a Senate candidate may turn out to be, has less in common with the Donald Trump personality cult and more with the old-fashioned notion of the citizen-legislator. The tradition of going into business, making a fortune, and then lending one's time and energy to public service, properly understood to include such unsexy endeavors as a stint on the Southwest Florida Water Management District or the Sarasota Manatee Airport Authority Board (on which Beruff also has served), is an old and proud American practice. If your personal fortune ran into nine figures, as Rick Scott's does, would you bother with Florida politics? If you were a millionaire real-estate developer, would you spend your free time scrutinizing Florida state-university library-construction budgets? Why?
The only truly persuasive answer is that some people genuinely believe that they can do a better job of it, and Beruff is one of them. "These guys have just done nothing but talk pretty their whole careers," he says of the people who would be his future colleagues in Washington. "Too many lawyers," he says. "Do the other candidates have the skill set to accomplish anything?"
#related#There are men in public life, Bill Clinton and Ted Cruz being excellent if dissimilar examples, who started running for president when they were about eleven years old. Beruff isn't one of them. "I never thought I'd run for dog catcher," he says. The dynamics of our peculiar — and dangerous — moment in history ensure that every man of ability thinks he should be president, or at least in Washington, maybe in the House, maybe in the Senate, if a Senate seat comes open. Senator Rubio grew disgusted with the realities of Washington, and the fact remains that men of ability are needed on local city councils, PTAs, school boards, and water-usage authorities. Trump, if he were interested in something other than the service of his own vanity, might have made a decent New York city councilman, maybe a mayor. (New York City has done reasonably well with megalomaniac billionaire mayors — if they're not missing Michael Bloomberg already, another dose of Bill de Blasio might do the trick.) Beruff thinks he has done some good locally and could do some more good in the Senate.
His Republican rivals are a member of the House who is a lawyer, another member of the House who is a lawyer, the Florida lieutenant governor (who is not a lawyer), and Todd Wilcox, a former special-forces soldier and CIA officer turned millionaire defense contractor. Carlos Beruff is a guy who builds houses and thinks the government should handle your money more carefully. He is a man with no real political résumé who is running in a year in which political résumés are out of fashion. The polls may not look great for his Senate hopes (to be sure, the polling isn't extensive), but if the worst-case scenario is that he continues putting his energy and work into unglamorous in-state projects, that wouldn't be too bad for Florida, either. The Senate isn't the only place in which active citizenship can do some good.