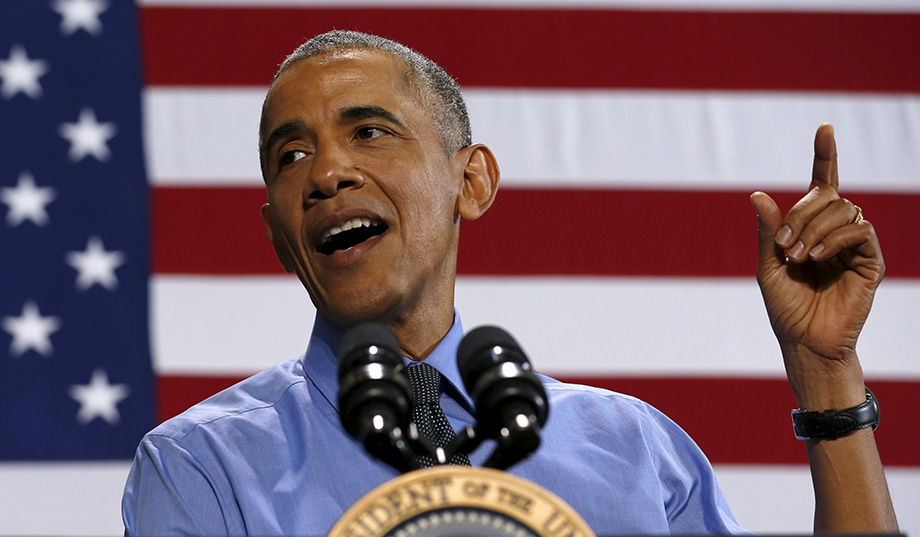 This weekend, in a commencement address at Rutgers University, President Obama declared that "by almost every measure, America is better, and the world is better, than it was 50 years ago, or 30 years ago, or even eight years ago."
Bernie Sanders and Hillary Clinton seem to have missed the memo.
As Obama was offering his cheerful assessment of the country Sunday, both Democratic candidates campaigned in Kentucky. In the midst of a swing through the western part of the state, Sanders took to Twitter to denounce America's "rigged economy," lament its "crisis of homelessness," and warn that people with HIV/AIDS are going bankrupt "because of the outrageously high cost of prescription drugs." In Louisville, Clinton was introduced by former governor Steve Beshear, who also seemed unconvinced by Obama's assertion that we're living in the best of times. "We live right now in some of the most dangerous times that this world has ever seen," Beshear said, citing "the threat of nuclear proliferation, terrorists abroad, and some at home." 
Obama told the graduates that they shouldn't long for a return to the good old days of yore, because those days never existed:
It's part of human nature, especially in times of change and uncertainty, to want to look backwards and long for some imaginary past when everything worked, and the economy hummed, and all politicians were wise, and every kid was well mannered, and America pretty much did whatever it wanted around the world. Guess what? It ain't so. [Laughter.] The "good old days" weren't that great. 
While Obama mocked nostalgia, Clinton promised a crowd that she and her husband would restore the economic prosperity of the 1990s. The New York Times reports:
Hillary Clinton already has an assignment for her husband, Bill Clinton, if they return to the White House next year. The former president, Mrs. Clinton told voters on Sunday, will be "in charge of revitalizing the economy."

"Because, you know, he knows how to do it," she said. "Especially in places like coal country and inner-cities and other parts of our country that have really been left out."

Mrs. Clinton mentioned her idea for her husband while speaking at a rally outside a home in northern Kentucky. Earlier this month, she said she had told Mr. Clinton that he would need to "come out of retirement" to help put people back to work.  
#share#It's jarring to hear Clinton and Sanders argue that America is falling apart even as Obama claims otherwise; it's not so unexpected to hear Republicans criticize Obama's stewardship of the country. But even some Democrats point to the Republican party's chaotic primary and unexpected likely nominee as further evidence that Obama will leave voters in worse shape than he found them. William Galston contends that Trump's rise is a strong indicator that Obama's economic policies left millions of Americans hopeless. He writes that most Americans are "painfully aware that their household income is still lower than it was at the end of the Clinton administration and that the jobs many of them have gotten during the recovery pay much less than the jobs they lost during the recession."
It's jarring to hear Clinton and Sanders argue that America is falling apart even as Obama claims otherwise.
For Democrats, to admit that the economy is bad and the nation's overall condition is gloomy is to put forth an argument against interest. There hasn't been much of an anti-Obama movement on the left the last eight years. The Democratic establishment spent most of that time claiming that the president had the right answers, the best instincts, and the most empathy for those going through tough times. No doubt they still believe as much, and would like to say so now, as Obama tries to spin his legacy from inferior cloth. But they can't, because the electorate doesn't agree.
It will be interesting to see how far Clinton is willing to run from Obama. When she declares that she will assign her husband the task of "revitalizing the economy," it's a quiet acknowledgment that the economy needs revitalizing. But can she hint and nudge and insinuate her way to being the candidate of change? If she thinks Obama's approach didn't work, doesn't she need to be open about it?
We know Trump won't be afraid to ask voters if they're better off now than they were eight years ago, because his campaign is expressly built on the proposition that they aren't. It's a thornier question for Clinton, who must at once appeal to Obama's voters and those he's left disaffected. Her answer will go a long way toward determining how the next eight years play out.
— Jim Geraghty is the senior political correspondent for National Review.