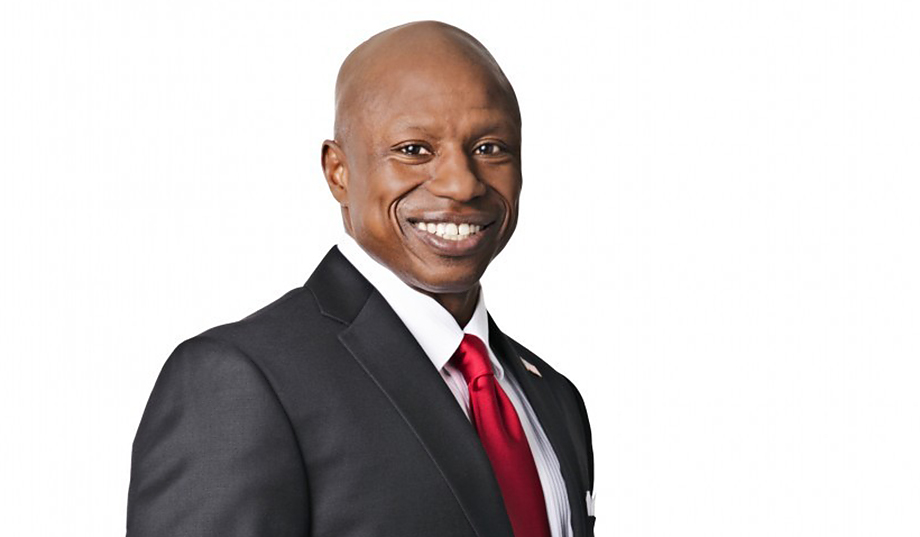 He is attracting attention from GOP luminaries.
Three months ago, El Paso (Colo.) county commissioner Darryl Glenn had just over $11,000 in his Senate-campaign account. He had no paid staffers. And though he'd elevated his profile with a stem-winder of a speech at Colorado's GOP convention and won his way onto the ballot — much to the surprise of many onlookers — as recently as mid May, most Republicans were still writing him off.
But that was then.
Though several Colorado Republicans describe the primary race as a "crapshoot," many now expect Glenn to emerge victorious when primary ballots are tallied Tuesday evening. In the five-way primary, he has managed to capitalize on the fractured field thanks to a surge of support from movement conservatives, including an outside group that has made independent expenditures on his behalf.
Glenn, an Air Force veteran and an African American, is vying for the GOP nomination to challenge Democratic senator Michael Bennet, one of the Republicans' only two realistic opportunities to pick up a Senate seat in November. It's a race that has left Republicans shaking their heads for months. After multiple top recruits opted not to run, Republicans were left with five candidates who have little name recognition. No candidate has done anything to break out of the pack, and the paucity of public polling has left many Republicans unsure as to how it will ultimately turn out.
But that fractured field, in part, is what some Republicans say opened the door for Glenn. The lack of any one defined candidate, little interest from outside groups, and the fact that only one candidate has been spending significantly on television advertising in the final weeks meant that an outside group willing to put some money in could have a big impact.
RELATED: Little-Known GOP Candidates in Colorado Aim to Tumble Senator Bennet
The Senate Conservatives Fund (SCF) did just that, putting its money into what is perhaps the last, best shot for movement conservatives to notch a primary win in a year in which Donald Trump has dashed their hopes over and over again.
The group endorsed Glenn at the end of May. It was an eyebrow-raising endorsement — Glenn had almost no money, and at the time seemed to have even less of a chance to win. From January 1 through the end of March, he raised a paltry $3,811. That changed after SCF endorsed him, and on his pre-primary FEC filing for the period between April 1 and June 8, Glenn reported $111,000 — 29 times his first-quarter haul. Coupled with the money SCF spent on radio and television ads promoting him, it was enough to put Glenn in contention.
"I would say Darryl, today, is the odds-on leader in this race because of the Senate Conservatives Fund," says Patrick Davis, a Colorado-based GOP consultant who is working for a super PAC backing one of Glenn's rivals, Robert Blaha, a businessman who is self-funding his campaign.
RELATED: The Revolution Will Not Be Quelled — GOP Voters Shake Up the System in Colorado
Others have followed in SCF's footsteps. Eight days before the primary, Texas senator Ted Cruz endorsed Glenn and traveled to Colorado to hold an event with him. At that point, says Cruz pollster Chris Wilson, polls had Glenn "performing very well." On Sunday, Nebraska senator Ben Sasse jumped on board. Utah senator Mike Lee followed on Monday. In the interim, Glenn also racked up endorsements from Sarah Palin, the blogger and talk-radio host Erick Erickson, radio host Mark Levin, Focus on the Family founder James Dobson, and the tea-party group FreedomWorks.
The run of endorsements has allowed Glenn to carve out a niche as the conservative in the race. Publicly, he has taken stances reminiscent of Cruz: He promised he would not work across the aisle with Democrats, and said he would vote against Mitch McConnell as Senate majority leader. He described himself as an "unapologetic Christian constitutional conservative" in his convention speech. "That is still a very powerful candidate in a low-turnout Republican primary," says Colorado pollster Floyd Ciruli.
#share#Republicans anticipate a low-turnout primary, based on the number of ballots already returned. Colorado is conducting the primary using mail-in ballots only, and as of Monday, just 24 percent of the GOP ballots mailed to voters had been returned, according to the Colorado secretary of state. That number could change a bit on Tuesday: In the 2014 primary, according to the secretary of state's website, nearly one-fifth of ballots returned came in on Election Day.
It's remarkable that some of the GOP's brightest stars have endorsed a candidate who is running a shoestring campaign, and who still boasts an all-volunteer staff. But Glenn's candidacy represents perhaps the best shot for movement conservatives to lift one of their own into the Senate. With Republicans largely playing defense, trying to protect vulnerable incumbents in purple states, there are few opportunities. In other primary contests that movement conservatives had targeted — the race against John McCain in Arizona, for example — no viable challenger emerged.
Some of the GOP's brightest stars have endorsed a candidate who is running a shoestring campaign.
"As far as good Senate pick-ups for conservatives, the opportunities have been pretty slim so far this year. . . . So I can understand where some of the movement conservatives see an opportunity and are trying to make the most of it," says Club for Growth communications director Doug Sachtleben. The Club has not endorsed a candidate in the Colorado primary.
Of the four other candidates in the race, Republicans say Jack Graham, the former athletic director of Colorado State University, may be the best positioned other than Glenn. Graham has positioned himself as the more moderate candidate in the race — his opponents criticize him for having been a registered Democrat in 2015 — and has spent more money on television ads in the final weeks than his rivals.
"We think the media will help make a difference. It's hard for people to vote for a candidate if they've never heard of him," says Walt Klein, a consultant for Graham's campaign.
Also in the race are Blaha, who has drawn comparisons to Trump for his brash style and eye-popping ads; Ryan Frazier, a former Aurora city councilman; and Jon Keyser, a former state representative who was initially seen as the favorite, but whose star fell amid floundering public appearances and failure to live up to fundraising expectations.
RELATED: Senate Candidates in the Trump Mold
Whether the Colorado race is winnable for any Republican in November is unclear. Colorado was a bright spot for Republicans in 2014, when then-Representative Cory Gardner bested incumbent Democratic senator Mark Udall in a race that was not seen as competitive at the beginning of the cycle. But this year, many Republicans are not particularly bullish about their prospects.
Bennet has a 60 percent approval rating, according to a CBS/YouGov poll released Sunday. As of June 8, he had $5.7 million in his campaign war chest: Whoever his Republican opponent is will have to scramble to catch up to that. Colorado has trended blue in presidential years, and some Republicans speculate that Trump could exacerbate that trend.
Democrats, for now, are delighted by the prospect of going up against Glenn, hoping that the stances that have made him so popular in a primary will hurt him with a general electorate. A Democratic group sent a mailer to Colorado voters decrying Glenn and Blaha as the "ultraconservative" candidates in the race, while attacking Graham, Keyser, and Frazier as "frauds." The mailer, paid for by Keep Colorado Great Project, a registered trade name of ProgressNow Colorado, a progressive group, employs a tactic Democrats have used successfully in past races: attacking a candidate for being too conservative with the tacit goal of boosting that candidate in the GOP primary.
#related#But some Republicans hope Glenn could put up a stronger challenge than the initial months of his campaign might have suggested. For one thing, according to a source close to Glenn, the campaign will not be a shoestring operation for much longer: Glenn is in the process of hiring staff and taking steps to professionalize his campaign operation in preparation for the general election.
A big question will be whether the eventual Republican nominee can convince donors that, in a year when they must defend a number of incumbent senators, it is worthwhile to spend money on a longshot in a swing state.
His pitch will certainly be that nothing is predictable this year. "In 2016, I don't think you can write off almost anything as unwinnable — or unlosable," says Mike Lee. "This is a different sort of year."
— Alexis Levinson is the senior political reporter for National Review.