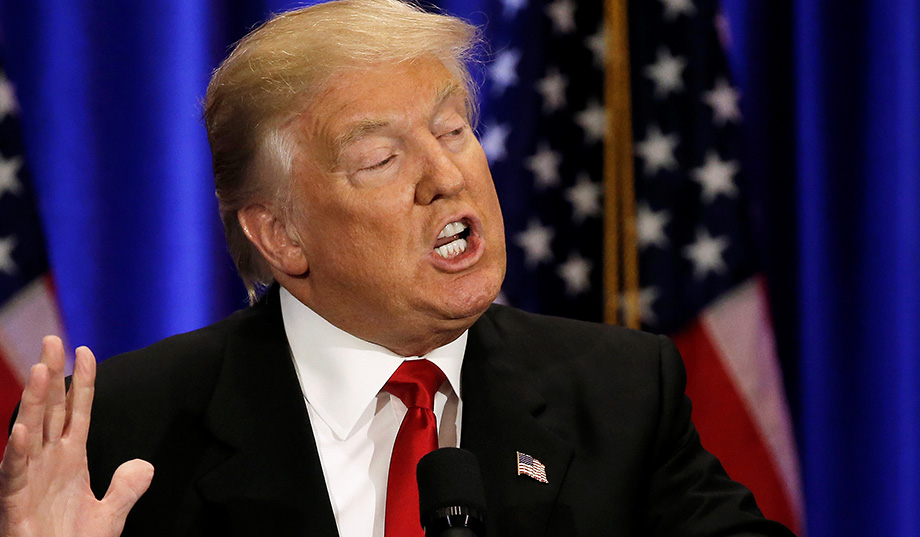 Trump's foes will probably get a hearing on the convention floor. But without an organization or a candidate to replace him, they're unlikely to achieve their goal.
Twenty-eight. That's how many — or more accurately, how few — delegates it would take to throw the Republican National Convention into at least temporary chaos next month.
Murmurs of an organic, delegate-led move to snatch the nomination from Donald Trump are growing. And though the odds of success remain slim, the chance that the 2,400-plus delegates assembled at the convention in Cleveland will vote on a rule that frees them from their obligation to vote for a particular candidate on the first ballot — thereby allowing them to nominate an alternative to Trump — is not. That said, a lack of organization and the absence of an alternative to Trump are likely to stymie the effort.
"Four weeks ago it was strictly Timothy Leary land: no basis in reality," says one RNC delegate, referring to the psychologist and advocate of psychedelic-drug use. "Two weeks ago, some folks started thinking about it late at night, and today, I think more folks are entertaining the possibility. If it's a hundred-yard dash, it's moved from a few inches to maybe a few yards."
Any effort to wrest the nomination from Trump at the last minute would have to start with the RNC's 112-member Rules Committee, which will convene in Cleveland just days before the convention kicks off on July 18. What has been mostly overlooked is that RNC rules require the support of just a quarter of Rules Committee members — 28 of them — to issue what's known as a "minority report," which would throw the matter of unbinding delegates to the convention floor for an up-or-down vote. That in and of itself would cause a stir on the first day of the convention.
Convincing a majority of the 2,472 delegates on the floor to pass the rule would be a much heavier lift. Despite political and philosophical concerns about Trump among many convention delegates, there is no real organizational muscle behind the jumble of inchoate efforts to dump Trump. Colorado delegate Kendal Unruh is leading one group. Steve Lonegan of New Jersey, who served as state director for Ted Cruz's presidential campaign, is spearheading another. And then there's North Dakota delegate and Rules Committee member Curly Haugland, who has taken no position on Trump but has long opposed the binding of delegates, on principle.
"That kind of nebulous organization is very difficult to rally around and organize around," says Saul Anuzis, the former chairman of the Michigan GOP who is a delegate to the convention this summer and who, like Lonegan, previously worked on Cruz's campaign.
As a result, delegates say that anti-Trump efforts are likely to hit a snag on the convention floor: Without high-profile leadership and a deeply experienced whip operation, wrangling a majority of the 2,400-plus delegates on the first day of the convention, when a vote would take place, would be a monumental and nearly impossible task.
"In my view it's a pipe dream," says Steve Duprey, a delegate from New Hampshire. Steve Scheffler, a Rules Committee member from Iowa, says, "I don't think it's going anywhere, and I think it is ludicrous that anybody would be involved in that kind of thing. . . . If that were to happen, it would create friction in the party that couldn't be healed for ten, 15, 20 years."
What all the efforts lack beyond infrastructure and cash is a candidate who would replace Trump as the nominee.
What all the efforts lack beyond infrastructure and cash is a candidate who would replace Trump as the nominee. "You can't beat somebody with nobody," says Anuzis. "There are only a few people who could rally the conservative base on the floor of the convention." That group includes Cruz and Walker. But, he says. "There's no rallying point, there's no focus, there's just a desire to educate delegates in the event that they might have a choice or a choice emerges. And as of today, a choice is just not there."
Nonetheless, though many Rules Committee members say they aren't familiar with the provision allowing for a minority report, Randy Evans, a longtime RNC committeeman and Rules Committee member from Georgia, says he thinks the issuance of a minority report that opens the unbinding of delegates to debate on the convention floor is likely. As Evans sees it, the Rules Committee is composed of three factions: a pro-Trump group, which he says is the largest; a contingent of party regulars, activists, and donors without an allegiance to any candidate; and a group of solid Trump opponents, which he says is the smallest of the three but will almost certainly still have the 28 votes to move a motion to the convention floor. (Some of the members who will constitute the Rules Committee in Cleveland are not yet known. The committee consists of two members, a man and a woman, elected or appointed by each state's delegation, and a handful of states have not yet selected committee members.)
This week's revelation, in fundraising numbers released by the Federal Election Commission, that Trump had a paltry $1.3 million on hand as of May 31, raised alarm among Republican heavyweights and added some energy to the movement to stop the party's presumptive nominee. "No matter how odious you are, no matter how awful you are, you can be forgiven, but one thing that's not forgiven is the money," says a delegate who asks to remain anonymous. "It's astonishingly, insanely weak. . . . I gotta believe that Reince has got bleeding ulcers at this point."
Even if delegates are unlikely to vote to unbind themselves and boot Trump, that doesn't necessarily mean they won't make any moves to assuage the Never Trump forces. The key figure in all of this is Cruz, who has been elusive about his position in the run-up to Cleveland, though he has said he doesn't support efforts to strip Trump of the nomination.
"I think Cruz has to emerge as a voice for the slighted and the angry, but he can't allow the convention to deteriorate" by pushing to oust Trump, says Ed Martin, the former chairman of the Missouri Republican party.
During his presidential campaign, Cruz was successful in helping his allies — and opponents of Trump — become delegates to the convention. Many observers, including Martin, believe it's likely that the Texas senator will take a stand on some sort of rules change that leaves Trump as the nominee but reforms the primary process for future election cycles. One idea that has gained traction is passing a rule that would incentivize states to close their primaries to registered Republicans by, for example, awarding bonus delegates to those that obliged. According to Anuzis, Cruz has "in principle" been supportive of closed primaries.
"That is something that I think is supportable," says Ken Cuccinelli, the president of the Senate Conservatives Fund, who led Cruz's efforts to wrangle delegates.
"That could be a way for Cruz to say, 'I know the system was broken, and we're not going to let moderates and Democrats pick our nominee next time,'" Martin says. "Even me, I'm for Trump, and I think it's a stupid system."
The anti-Trump forces may have to settle for that consolation prize. Even if they succeeded in unbinding the delegates, many Republicans remain insistent that they won't achieve their ultimate goal.
"Just because they're unbound doesn't mean anything," Anuzis says. "There's no one else to vote for."
— Eliana Johnson is the Washington editor of National Review.