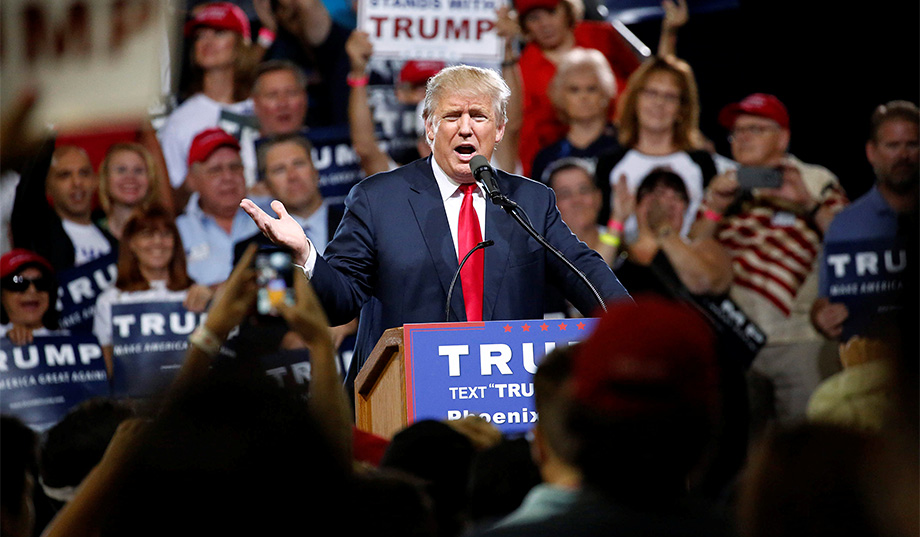 The convention's Rules chairwoman will referee a fight between pro-Trump and anti-Trump delegates, and is viewed suspiciously by both sides.
Enid Mickelsen will be the establishment's enforcer at this summer's GOP convention, working on behalf of Republican National Committee chairman Reince Priebus to squash dissent and facilitate the uneventful nomination of Donald J. Trump.
That is, unless Mickelsen is actually Priebus's secret, hand-picked sleeper agent, the woman empowered — by party bosses, in case of an electoral emergency — to rig the proceedings in favor of a group of rebels attempting to overthrow Trump.
These dueling perceptions of Mickelsen, a former member of Congress and the current Utah national committeewoman, have percolated inside the RNC since Priebus appointed her to chair the powerful Convention Committee on Rules and Order of Business. This panel, which writes the rulebook that governs the convention, represents the final obstacle between Trump and the nomination. And Mickelsen, by agreeing to lead it, has subjected herself to intense scrutiny — of her Mormon faith, her support for Mitt Romney in 2012, and even her status as a lame-duck committeewoman who will retire in 2017 regardless of how the convention and general election play out.
Trump will be the star attraction at this summer's Republican National Convention in Cleveland. But nobody will be watched more closely over the next three weeks than Mickelsen, a little-known, Sunday School-teaching grandmother from Draper, Utah. And what's most fascinating, in surveying more than a dozen colleagues who will serve on Mickelsen's committee, is that members on both sides of the Trump divide — those intent on changing the rules to oust him and those determined to preserve his nomination — see reason to fear her.
"The more people criticize me, the more determined it makes me to show I'm an honest broker," Mickelsen says in an interview, acknowledging the whispers surrounding her appointment. "I'm not walking into this with any loyalty to any candidate — past, present, or future. My job is to run a fair committee."
RELATED: Dump Trump Can Cause Chaos in Cleveland, but What Then?
Traditionally, the presumptive nominee staffs the convention committees with trusted supporters. But Mickelsen, who remained neutral throughout the primary process, was actually chosen by Priebus. (Trump signed off, perhaps because his longtime adviser, Roger Stone, and his campaign chairman, Paul Manafort, have known Mickelsen since she was the 18-year-old chairman of the Utah Young Republicans and they ran the national group.). She concedes that the circumstances of her appointment were unique, but argues her impartiality thus far should be of comfort to Trump.
"I think what any candidate needs at the Rules Committee is somebody who's going to be fair, who knows the rules, who understands parliamentary procedure, and who is committed to the majority working their will while allowing the minority to air their concerns," she says.
Mickelsen is regarded as a meticulous, and occasionally confrontational, advocate for reform in the party.
Mickelsen is certainly qualified: She sat on the House Rules Committee in Congress, and is a longtime member of the RNC's Standing Committee on Rules. Known for her diligence and no-nonsense demeanor, she has emerged during Priebus's tenure as one of his closest allies. He tapped her in 2014 to head the RNC's search for a convention host city, and later named her co-chairman of the Committee on Arrangements, which organizes logistics for the convention. Above all, she's known as a party stalwart, having done stints as vice chairman and chairman of the Utah GOP before winning the spot of committeewoman in 2008.
But Mickelsen is hardly a rubber stamp Republican. She is regarded as a meticulous, and occasionally confrontational, advocate for reform in the party. Earlier this year, she filed a resolution to strip the first four states on the nominating calendar — Iowa, New Hampshire, South Carolina, and Nevada — of their protected status. (She later withdrew it.) This wasn't her first time ruffling feathers inside the RNC: After the 2012 election she challenged Arizona committeeman Bruce Ash, the incumbent chairman of the RNC Rules Committee, for his gavel. (She lost.)
RELATED: Not a Single Republican Delegate Is 'Bound' to Donald Trump
"Anybody who's bold enough to run against against a sitting chairman, when the RNC is all about seniority, is pretty bold," says Randy Evans, the Georgia committeeman and Rules Committee member. "Then she offered the amendment to take out the carve-out states — that's pretty bold. And she decided not to run for reelection as committeewoman, so she really doesn't have too much to lose one way or the other. And in that regard, it gives her a lot more freedom."
All of this has some Republicans worried that Mickelsen could go rogue in Cleveland. The most pointed public warnings came from Ash, who last week penned a scalding letter to RNC colleagues denouncing the appointments of Mickelsen and Massachusetts committeeman Ron Kaufman — "two of the leaders in the 2012 Romney campaign" — as chair and co-chair of the Convention Rules Committee. Ash, whose missive was first reported by Politico, has made similar remarks on Arizona radio shows and is now being shunned by some RNC colleagues who accuse him of "sour grapes" because he wasn't awarded the convention chairmanship he coveted.
Others, however, agree that Mickelsen's appointment should be questioned.
"My guiding principle regarding rules of the Republican party is to the extent possible, the process should flow from the bottom-up rather than the top-down. She's been on the committee a long while and has supported every effort to centralize power in the party," says Virginia committeeman Morton Blackwell, who, like Ash, wants convention delegates to respect the voters' will and nominate Trump.
"If you were trying to send a signal that this is a Trump convention, I'm not sure those are the two people you'd put in charge," says one Rules Committee veteran, who, like several others concerned over Mickelsen's selection, asks not to be named. "You would have expected a very clearly pro-Trump person to be appointed as Rules Committee chairman, because this is the only place his nomination could be put into jeopardy."
RELATED: New RNC Proposal: No Rules Changes in Cleveland
The RNC member, an ally to Priebus, worries that Mickelsen's appointment is feeding the perception that "Reince created an escape hatch in case something goes wrong between now and July 17. People think that. They know he's a really smart guy. . . . Maybe he said, 'I'm going to build that hatch into the Rules Committee.'"
Of course, that's news to some anti-Trump Republicans intent on blowing up the GOP rulebook inside Mickelsen's committee. In their view, she was chosen precisely because of her loyalty to Priebus and the party elders who are determined to enforce the status quo in Cleveland.
"I think she'll just be even-handed and follow the process because of her legislative experience. Her demeanor is such where she'll chair a good meeting and not insert herself inappropriately," says Curly Haugland, the North Dakota committeeman who has written a book arguing that all convention delegates are unbound and free to vote for whomever they choose.
RELATED: What Would Need to Happen for Trump to Lose in Cleveland?
Haugland, who claims the RNC refuses to give him its master list of delegates to mail his writings to, believes no rules change is required for delegates to become unbound from the winners of their respective states. But Mickelsen clearly disagrees. She points to Rule 16(a), which requires delegates to vote for the candidate to whom they are bound, and which, she says, would have to be amended in her committee before Haugland's vision could be realized on the convention floor.
Trump's opponents may interpret this as Mickelsen showing hostility toward their cause. Yet she emphasizes that they will have every opportunity to gather the 28 votes needed to publish a "minority report" that would then go to the House floor for a vote. Of course, this, in turn, is certain to anger Trump supporters who want the chairman to squash any and all dissent.
Mickelsen is boxed in, a reality that is dawning on those around her. One senior RNC member, a friend to Mickelsen and a member of her committee, says he received dozens of e-mails this week from delegates protesting her appointment: some raising her ties to Romney, and others accusing her of being Priebus's puppet. The RNC official says several Rules Committee members even suggested a motion to vacate the chair — triggering an up-or-down vote on removing Mickelsen altogether — the success of which he believes would be unlikely, but not impossible.
RELATED: Republicans Are Stuck with Donald Trump until November
At the same time, RNC members say there are efforts underway to rally around Mickelsen, especially in light of Ash's unsavory e-mail.
"I was very surprised by Bruce's letter that he sent out. We're in the party, we all know each other, we're all friends, and I was surprised and hurt," says Cindy Costa, the South Carolina committeewoman and Rules Committee member. "I know Enid and Ron, and I think the reason they were selected is that they are loyal party supporters that understand the process . . . and they will run the Rules Committee meeting properly."
"I was delighted about Enid. She's a very fair, very calm person who really evaluates things. And Ron's been around forever, so I feel very comfortable with those two," says Toni Anne Dashiell, the Texas committeewoman and Rules Committee member. She, like Costa, believes Trump won the nomination fair and square — and insists Mickelsen will run the committee accordingly.
#related#Mickelsen, for her part, says she has invested decades of her life in the Republican party — including two years in the planning of this convention — and just wants things to end well. "I want to see this done right. My committee chose the city of Cleveland. My other committee is putting on the convention," she says. "And now, that's how I feel about Rules: I just want to see this done right as I finish my service to the RNC. It's nothing more complicated than that."
Trump's nomination won't be the only pressing business before the Rules Committee. Mickelsen and her 112-member cohort are responsible for crafting language that governs the party not only during its four-day gathering in Cleveland, but for the four years until the 2020 convention. There is certain to be no shortage of bloody disputes regarding the GOP's future, including whether to restructure the nominating calendar and tighten the participation guidelines for primaries and caucuses ahead of the next presidential cycle. Mickelsen pledges that she is now neutral on all matters, including her old resolution to strip the four carve-out states of their protected status.
Steve Scheffler, a longtime Rules Committee member and Iowa committeeman, is tasked with both protecting Iowa's status and preserving Trump's nomination. On both counts, he says he was alarmed at Mickelsen's appointment — but felt better after immediately placing a phone call to Priebus. "He said with 100 percent certainty that Enid would run the meetings in an unbiased manner and would be neutral in any matter that was controversial. So I feel quite comfortable that nothing's going to be done in terms of her taking a position against Iowa's first-in-the-nation status, or taking a position against Trump," Scheffler says.
He adds: "Reince and I have been friends for years. He's never lied to me yet, and I don't think he's lying to me this time."
— Tim Alberta is the chief political correspondent for National Review.