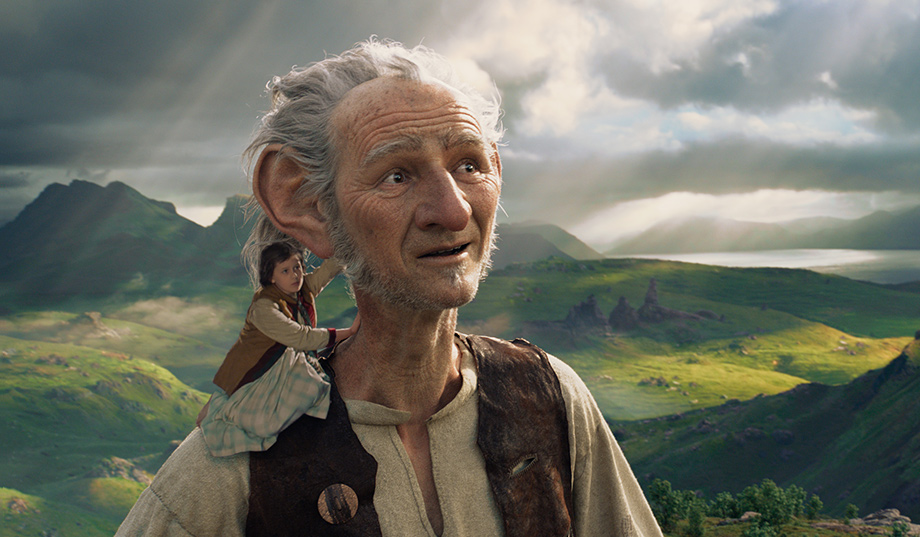 Spielberg pays homage to the Big Friendly Political Icon.
Some Spielberg watchers, of whom I am one, have had cause for concern: Can the great populist filmmaker ever regain his popular touch? Ignore box-office receipts and consider what's become of his once-unifying, art-advancing cultural expression. Spielberg's collaboration with didactic playwright Tony Kushner proved exemplary in the Mossad drama Munich (2005), a moral examination that divided critics according to their stance on Israel's self-defense. (It remains among the most captivating of all 9/11-inspired movies, second only to Spielberg's awesome War of the Worlds.) Yet, the Spielberg–Kushner team's Lincoln (2012) lost all dramatic interest. Lincoln was something new in Spielberg's cosmology; its period story expounded political partisanship, which prevented the film from attaining populist assent. Working under the influence of changing political winds, Spielberg and Kushner turned a biography of the 16th president of the United States into a myth infatuated by the 44th president, whose administrative difficulties they strove to explain and defend through historical allusion. Not only was this effort unpopular, it felt anti-democratic, lacking transparency as much as any secretive Cabinet meeting, but with the worse result that Spielberg seemed to have lost the unerring grasp of universal emotion that had distinguished his previous filmmaking. Lincoln was the first Spielberg film that felt glum; the second was the Cold War apologia Bridge of Spies.
All this is de rigueur in an era that no longer takes movies seriously. But for an era that takes its politics so very personally, Spielberg's artistic shift reflects a definitive change in social temper. Political intent cannot be overlooked despite the escapist surface of his new film, The BFG.
The BFG is based on a Roald Dahl story in which an English orphan girl, Sophie (Ruby Barnhill), befriends Big Friendly Giant (Mark Rylance), a benevolent leviathan who, being derived from the legacy of British childhood fantasy, stalks the streets of London inducing dreams into the unconscious of sleeping children. On first sight, BFG is ominous, as scary as Jaws, as unknowable as the flying saucers in Close Encounters, as threatening as King Kong when he reached his lascivious hand into a woman's bedchamber. That's how BFG kidnaps Sophie and takes her to his kingdom of giants, where he, a fellow misfit, stocks subconscious dreams while placating other, malevolent giants: Fleshlumpeater, Bloodbottler, Bonecruncher, Childchewer, Gizzardgulper, Meatdripper. (The BFG's verbal descriptions evoke a miscellany from A Midsummer Night's Dream and A Clockwork Orange.)
The BFG is an involuted fairy tale, leaning both Left and Right, expressing the quiddities of utopian imagination.
The giant's fantasyland recalls Spielberg's 1991 Hook (British make-believe based on James M. Barrie's Peter Pan) more than it evokes the archaeological history of his Indiana Jones series, but, really, The BFG combines both. Spielberg appears to justify his own identification with Otherness as part of a developed spiritual and political faith. The BFG evokes historical legend while also exploring innocence and maturation. Sophie's loneliness is relieved by her empathy with the benevolent alien. Her adventure in the giant kingdom eventually leads to a climactic feat of social activism: Sophie and BFG enlist the Queen of England, becoming allies in a moral battle similar to what Spielberg depicted in Saving Private Ryan.
If you think I've spoiled the plot, you're ignoring what's more fascinating than plot. This has to do with the complex of Spielberg's creativity meeting his politics and his ultra-humanism. Yes, The BFG is being sold as a children's movie, but it's much more than that.
* * *
In Molly Haskell's upcoming book, Steven Spielberg: A Life in Films (part of Yale University Press's Jewish Lives series), she quotes Spielberg as saying, "Everything about me is in my films." That explains why the hero in The BFG, who is both an outsider and a towering figure of social benevolence, has a physical resemblance to Spielberg. This half-human, half-digital BFG recalls writer Bruce Handy's unbeatable Vanity Fair description of Spielberg as "both elfin and rabbinical." But there's an additional celebrity resemblance — a spiritually and politically inflected likeness that gives the film a different, unsettling meaning.
We could expect Haskell to delve into Sophie as a feminist figure. The little girl boldly dons a dead boy's red uniform jacket, then turns it inside out (to queer gender identity as well as detach her from the little girl in the red coat in Schindler's List). But most critics — and most people who don't take movies seriously — might be content to ignore the significance of Sophie's infatuation with BFG. Yet all one need do is look at what's on the screen.
BFG is almost a shape-shifter. He eludes adult detection by stealth. His large, heavy head hangs on his skinny neck like a street lantern as he stalks the nighttime city. (The film's first images of London's Tower Bridge at night have the clarity and wonder of images in a View-Master stereopticon.) Sometimes hooded, BFG holds onto his dream-blowing trumpet/staff like an Old Testament prophet. He has Spielberg's smile, but, when he's excited, his large ears flap like fish gills. Those ears also suggest Spielberg's cinematic idol David Lean (just as the Close Encounters alien suggested Jean Renoir), but BFG mostly resembles our current president, the phantom figure behind Spielberg–Kushner's Lincoln. BFG's Big Daddy Obama ears hear all. He's a figure of liberal dreams who provides citizens their own dreams. The BFG is the most extravagant send-off Hollywood has ever given an American president.
Explore the metaphor: A transition from a sleeping boy imbibing dreams from BFG's trumpet to an English landscape shaped like the boy's body is a political transfiguration. Spielberg's Obama idolatry becomes mythic symbology. This deification goes beyond anything in Lincoln. It even surpasses Darryl F. Zanuck's effort to idolize Woodrow Wilson in the 1944 Wilson (a movie as forgotten as Spielberg's Lincoln is already forgotten).
Timed to celebrate Obama's last year in office, The BFG hides its hagiography behind the filmmaker's personal self-delusion — and behind his skill.
Timed to celebrate Obama's last year in office, The BFG hides its hagiography behind the filmmaker's personal self-delusion — and behind his skill. The BFG flaunts what Spielberg learned from making his 2010 two-fer War Horse and The Adventures of Tintin. Their gyroscopic elegance is extended in these vertiginous, dream-like images. The mash-up of political history and fantasy is not coincidental — it's multilateral. Just as Spielberg rationalizes Obama's mythos, he honors Britain's imperial legacy. When Sophie and BFG visit Windsor Castle (for a comic, exaggerated high tea), they convince the Queen to save England's children from beastie threats.
In a housekeeping scene, dust gets wiped off a Queen Victoria portrait (Spielberg's traditionalist sympathies confound his notorious liberalism), thus updating modern political allegiance. The Queen (Penelope Wilton) issues a command to her commanding officers to "put some army in it!" for the fight against the malicious giants. Spielberg disrupts the childhood whimsy with helicopters, paratroopers, and the machinery of modern warfare. Then — damn him — he includes an image that goes back further than The Good War: Sophie dangerously walks through Giant Land meadows like David among a field of sleeping Goliaths. Whatever Spielberg's politics on the question of open borders, this metaphor for the threat from ISIS and al-Qaeda is indelible.
#related#Without ever questioning BFG's motives, Spielberg assigns him almighty benevolence, imagining him as an alien figure who is an idealized answer to liberal dreams. (A bonus: BFG's lair, where dreams are stored in glass jars, evokes the multi-colored lobotomies in Steve Martin's The Man with Two Brains.)
The BFG isn't a remake of E.T. or A.I. but its own peculiar epic. It's an involuted fairy tale, leaning both Left and Right, expressing the quiddities of utopian imagination. Spielberg's childlike optimism brings quixotic ideas to life. (Imagine if Scorsese's insipid Hugo had visionary lyricism.) Through its witching-hour presentation of potential moral and political alliance, The BFG teaches the movie-loving electorate to simply dream. It should be a lesson to politicized Spielberg watchers.