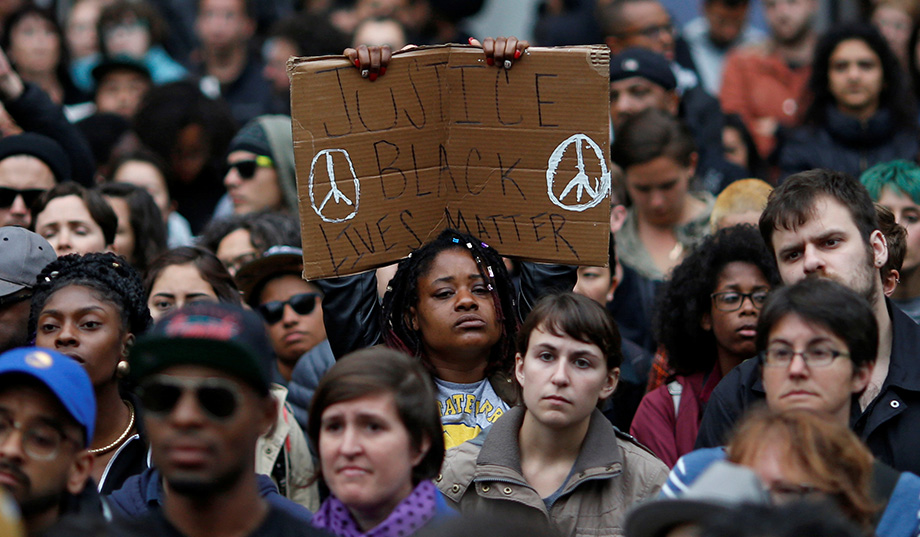 Our nation is at risk of falling into a vicious cycle of violence and recrimination.
As if God wanted us to pay attention, we've seen in the past three days the whole crisis of race and policing recapitulated in three separate incidents.
Last night in Dallas, five cops were murdered. A CNN headline read, "Dallas Shooting Is Deadliest Attack for Police Officers Since 9/11."
A few days earlier in Baton Rouge, an armed man was killed by police outside a convenience store after resisting arrest. The Washington Post reports the cell-phone video coverage this way:
The cellphone video of the incident began with police standing a few feet from Sterling.

A loud pop — like that of a stun gun — can be heard.

"Get on the ground!" a police officer yelled.

"Get on the ground!" the voice yelled again, followed by a second pop.

Sterling, a large man, remained on his feet.

A police officer tackled him over the hood of a silver car, then onto the ground.

Meanwhile, another restrained his left arm behind his back and knelt on it.

"He's got a gun!" someone yelled.

"Gun! Gun!"

Both officers drew their pistols from their holsters. Then, the officers shouted something unintelligible, which seemed to include the phrase "going for the gun."
Any killing by police ought to be thoroughly investigated. But by indiscriminately hurling accusations, the Black Lives Matter movement appears to be perilously close to establishing a right to resist arrest. This is an untenable principle for any society.
The cops are noticing. Back in Dallas, police chief David Brown poignantly asked the public (some of whom were captured on video taunting the police even in the middle of a live-shooter situation) for support. "We don't feel much support most days. Let's not make today most days. Please, we need your support to protect you from men like these, who carried out this tragic, tragic event."
Murder is not a tragedy; it's a heinous crime. This crime was a terrorist attack, because the perpetrator (whose name I will not mention) said his motive was to kill cops, representatives of our government's authority. To target cops is to target public safety; it is to target each and every one of us.
It was a racist attack, because the killer said he wanted to kill white cops particularly, according to Dallas police. And according to Brown, the dead killer said specifically he was motivated by the Black Lives Matter movement:
The suspect said he was upset about Black Lives Matter. He said he was upset about the recent police shootings. The suspect said he was upset at white people. The suspect stated he wanted to kill white people, especially white officers. . . . The suspect said that he was not affiliated with any groups, and he stated that he did this alone.
So builds the case against the Black Lives Matter movement.
#share#The Dallas attack on our legal system came just a day after Minnesota cops shot Philando Castile during a routine traffic-infraction stop. Castile was a school-cafeteria supervisor.
"We're just devastated," said Anna Garnaas, who teaches first-, second- and third-graders at the school, located in St. Paul, Minn., to the Washington Post. "He just loved the kids, and he always made sure that they had what they needed. He knew their names, he knew what they liked, he knew who had allergies. And they loved him."
This is every black mother's worst nightmare: a hardworking, decent son gunned down by cops during a routine interaction, in front of his girlfriend and her daughter.
The Black Lives Matter movement needs to decide if it wants to incite rebellion or build a multiracial movement for reform.
Jeronimo Yanez, the police officer who killed Castile, deserves due process. It is neither wise nor just for Democratic governors like Minnesota's Mark Dayton to announce they believe the cop was racist., Such irresponsible, politically motivated pronouncements by powerful men contribute to the deep sense among police that they are now cheap political targets.
But if the facts of the Castile case are anything like they are being reported, it is hard to imagine a more deeply disturbing example of why Black Lives Matter is right to protest: Law-abiding black men have to fear the police who are supposed to protect them and us.
#related#There is no easy way to pick sides here, no easy way to move forward. The Black Lives Matter movement needs to decide if it wants to incite rebellion or build a multiracial movement for reform. It needs to decide whether the advantages of building a large protest movement are more important than choosing the incidents to protest more carefully and policing their own ranks and rhetoric. If Black Lives Matter fails to adjust after Dallas, it is going to see not a movement to reform but a movement to minimize policing in black neighborhoods and a powerful political backlash. The hate of the killer and those protesters who taunted police while they were hunting him down will provoke yet more hatred in a vicious cycle from which nothing good will come for any of us.
Regardless of the path Black Lives Matter chooses, decent people need to move forward with thoughtful, practical reforms to minimize unnecessary police shootings, not because it will satisfy the Left, or extremists, or violent racists, but because it is the right thing to do.