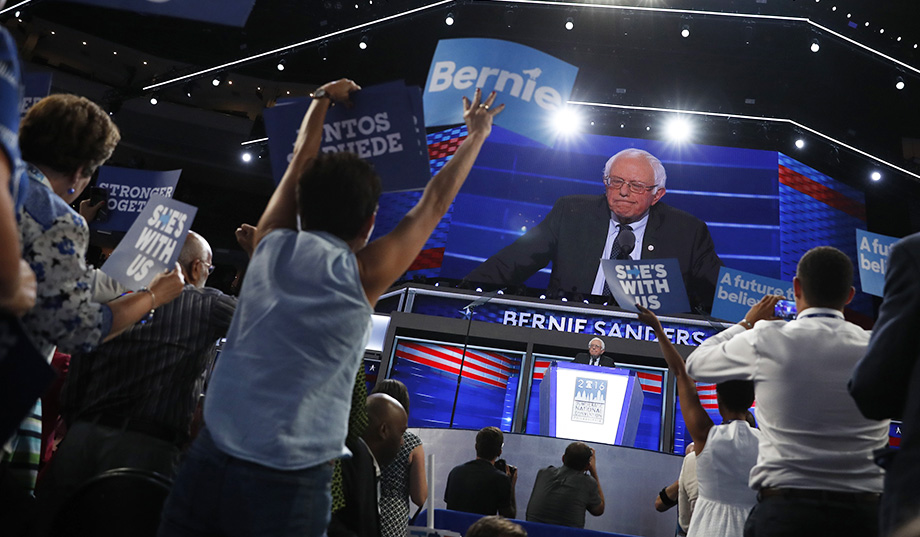 For a party that protects the procedure at all costs, Democrats are remarkably reluctant to name it.
The word "abortion" wasn't uttered by a single speaker as the Democratic National Convention opened last night. But abortion was indirectly referenced more than a handful of times, via euphemisms such as "woman's right to choose" and "family planning."
Massachusetts senator Elizabeth Warren described Hillary Clinton as "a woman who fights for children, for women, for health care." Later on in her speech, Warren said, "We believe — and I can't believe I have to say this in 2016 — in equal pay for equal work and a woman's right to control over her own body! Hillary will fight for women."
Bernie Sanders also included a line in homage to Clinton's dedication to abortion, saying, "Her Supreme Court appointments will also defend a woman's right to choose."
Earlier in the evening, a number of less prominent speakers tossed out several euphemistic references to "women's rights."
Elijah Cummings, a U.S. representative from Maryland, asserted that "it is our Democratic party that fights for women's rights." He added that the Democratic party platform "envisions an America in which we protect a woman's right to choose."
Representative Raul Grijalva from Arizona spoke of the important battles "fought and won by progressive leaders of our party" including the fight for "women's rights."
Nita Lowey, who has served as a representative from New York since 1989, touted Clinton's history of achievements, both within New York and outside the state. Among the accomplishments Lowey listed were Clinton's efforts "to make family planning accessible for every American woman."
Meanwhile, Dan Malloy, governor of Connecticut, claimed that Indiana governor Mike Pence "signed a law that would have forced women to hold funerals for fetuses, even in some cases after miscarriages." As reported by National Review in April, such a characterization of the law in question — used by many liberal, pro-abortion activists — is highly misleading.
#related#In what was arguably the night's most bald-faced reference to abortion, Representative Luis Gutierrez from Illinois vowed that Democratic politicians "will not stand idly by, because we believe Congress has to keep their hands off Planned Parenthood."
For a party that is now formally dedicated to repealing the Hyde Amendment, which bans taxpayer funding of abortion, and to calling for the repeal of all federal and state policies that impede abortion, mentions of the word "abortion" were conspicuously absent. Perhaps this oversight indicates a realization on the part of Democrats that abortion-on-demand isn't as popular with voters as the party's leaders think it should be.
— Alexandra DeSanctis is a William F. Buckley Fellow in Political Journalism at the National Review Institute.