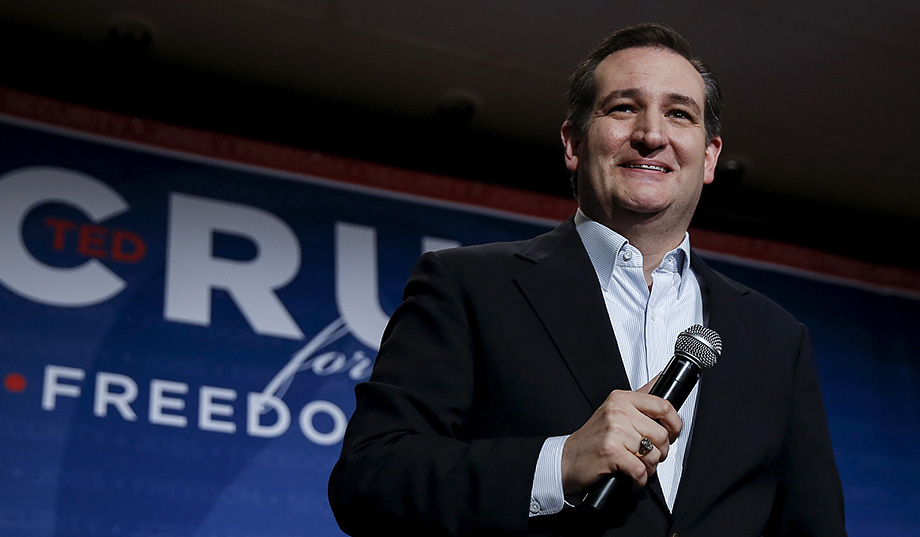 In an interview, Cruz argues there was nothing wrong with his 2016 strategy.
Cleveland — As soon as Ted Cruz dropped his bid for the presidency on May 3rd — after a 17-point shellacking in Indiana at the hands of Donald Trump – the Texas senator's team began preparing for his next presidential run. Top aides set about transforming the campaign into an enterprise that would continue to market the candidate, improve his brand, and introduce him to a wider audience. Plans were hatched to create affiliated nonprofit groups that would keep his campaign machinery humming. Key personnel were strategically shuffled and repositioned within Cruz's orbit. A wide-ranging, data-driven autopsy of his 2016 campaign was ordered up.
There is no question Cruz will run for president again. He's up for reelection in 2018, but his 2020 plans are likely to move forward no matter who wins the White House this fall: Challenging a Republican incumbent would suit Cruz's style and message, and he would probably be assured of a significantly smaller primary field that could facilitate the one-on-one matchup with Trump that John Kasich denied him this time around. What that next campaign will look like, however, remains unclear even to close observers of Cruz and those in his inner circle.
In conversations with the Texan's operatives, allies, and donors, there are more questions than answers: Will Cruz, whose slash-and-burn tactics in the Senate cost him establishment support against Trump, start to play nice? Will Cruz, who dominated with Evangelicals and very conservative Republicans, make a concerted effort to broaden his appeal? Will Cruz, who ran a campaign that was heavy on data and light on charm, take concrete steps to erase the caricature of him — "Lyin' Ted," in Trump's memorable coinage — as a cold, calculating political provocateur? And will Cruz, who forged tight bonds with the key operatives on his 2016 team, bring in fresh blood (and fresh perspective) rather than staying loyal to his battle-tested lieutenants?
His aides concede that these questions, some of which were raised before his campaign ended, are entirely legitimate. And they privately acknowledge certain shortcomings — from the accuracy of the campaign's data to the strategic decisions on which they were based — that must be thoroughly investigated and corrected between now and the formal launch of Cruz 2020.
Cruz himself, however, is a different story. Multiple sources close to the senator describe conversations since his departure from the race in which he attributes his loss to a host of external factors — the mood of the electorate, media coverage of Trump, the number of debates, other candidates staying in the race too long — while stubbornly refusing to recognize any fundamental weaknesses in his own candidacy. Cruz, his allies say, believes wholeheartedly that his campaign was nearly flawless and that except for Trump's meteoric rise, he would be accepting the Republican nomination for president on Thursday evening.
Because of this, Cruz sees no need for a course correction. In an interview with NRO on the eve of his much-anticipated speech to the convention Wednesday night, the Republican runner-up reflected at length on the 2016 campaign. He did not, however, offer any critical analysis of his own performance. Asked at least three times to pinpoint failures in his candidacy — mechanical, personal, or otherwise — Cruz repeatedly demurred, pointing instead to outside elements that he claims were beyond his control.
"The two biggest reasons I think Trump won: It took too long for conservatives to unite at the outset, and he benefited from a splintered field being able to win early primaries with 28, 30, 32 percent of the vote," Cruz says. "Secondly, in the later stage of the campaign, the media narrative that Trump was unbeatable became a self-fulfilling prophecy. Donald received $3 billion in free media. That is unprecedented."
Additionally, Cruz argues, "This was not an issues- or policy-based election, as much as I desperately tried to make it an issues-and-policy-based election. This was decided on factors other than issues." Asked what those factors were, Cruz pauses for 19 seconds before replying that he would rather not elaborate on the record. "He got more votes," Cruz finally says of Trump.
Cruz, his allies say, believes wholeheartedly that his campaign was nearly flawless.
Pressed to criticize his campaign, Cruz eventually says: "We did not anticipate the active role the media would play in the primary. Every Republican, especially every conservative, expects the media to be hostile and critical. . . . But there was no precedent in a primary for the media giving $3 billion of free coverage. That was a mistake on our part not to anticipate it. And we were unable to break through. The 30 days before Indiana, Trump got $500 million in free media."
Asked what his team would have done had they "anticipated" this, Cruz exhales and takes another pause. "Everything we thought of, we tried," he says. "The debates' ending was incredibly harmful. Whenever we had debates, consistently our numbers would go up, our fundraising would spike, our support would soar. The last debate was in Florida. We tried very hard to get another debate, particularly because the early debates were ten people, there was so much noise that we never had a one-on-one debate. And the reason that matters is a debate is one of the very few things that was big enough to break through the media tsunami, where you could actually talk directly to voters and get it covered."
Uncorking months of pent-up frustration, Cruz offers a window into his disgust with the media's coverage of the campaign. "The night of the New York primary, my election-night speech, the networks didn't cover it. We had just won five states in a row, my election-night speech was twelve minutes long. CNN and Fox News both cut off and didn't cover it, while at the same time they're covering the Trump plane circling the airport because he's getting ready to land and give a speech in a half hour."
Cruz and his team clearly believe the three major cable-news outlets — and Fox News in particular — played an outsize role in boosting Trump at his expense. (His strongest age group was young people, who don't get their news from television, and his weakest was seniors, who are "at home and cable news is on all day long," he says. "Young people we could connect with on social media, we could connect with on e-mail, we could get around the gatekeepers.")
He blames cable news for interceding on Trump's behalf during a critical stretch of the campaign. "If you go back to March and April, we were winning this race," Cruz says. "We had five consecutive elections over the course of three weeks that we won by double digits. Utah, North Dakota, Wisconsin, Colorado, Wyoming. Those are diverse states, they're markedly different states, and every single one of them was a double-digit victory. And 1.3 million people voted in those five states. . . . After Marco [Rubio] dropped out, 80 percent of Marco's supporters came to us, and the party was uniting behind our campaign. That's why we were winning one after the other after the other after the other."
But then, he argues, the media squashed his momentum. "In an ordinary world, when you have five consecutive victories by double digits, the press coverage is 'another big victory, momentum is growing, the wheels are coming off the other campaign,' " he says. "None of that got covered on any network. And instead . . . starting a week out from New York, the 24/7 press narrative was, 'Trump is unbeatable, he's unstoppable, it's mathematically impossible for him to lose, we cannot win.' And within 36 hours our numbers dropped 20 points. And they dropped everywhere."
"There was no precipitating event," he adds. "[It's] not like I stuck my foot in my mouth or said something foolish. Their campaign had not said something profound. What happened is the voters gave up. They were told 24/7, 'It's hopeless, you cannot win,' and they gave up."
Two weeks later, during his last stand in Indiana, Cruz says the campaign's internal polling showed "92 percent of our voters who came and voted for us believed Trump would be the nominee" regardless of whom they voted for. "You cannot win if your voters are all told it is hopeless," Cruz says.
#share#All of this has Cruz convinced that he got it right in 2016. He believes that he achieved his oft-stated goal of collapsing the Evangelical and tea-party lanes of the primary race into one — while acknowledging that Trump stole many tea-party voters out from underneath him — and he also argues that his campaign won masses of the Reagan Democrats toward whom he says much of his message was targeted.
The truth is more complicated. Exit polling does in fact show Cruz carrying both "very conservative" voters and self-described Evangelicals in many states. The data also reveal, however, that Cruz's performance with those Reagan Democrats — whom he defines as blue-collar, middle-income voters without college degrees — was average, especially relative to Trump's. Exit polls consistently showed Trump carrying these demographic groups by healthy margins; they were the cornerstone of a coalition that pulled in voters from every corner of the Republican party.
The question Cruz and his team will grapple with over the next four years remains: Was Wisconsin an outlier, or can he replicate those results without changing his approach?
Cruz's campaign, for all its technical proficiency — and its strong, consistent support among both conservatives and Christians — never demonstrated anywhere near the breadth of Trump's coalition. Of the 27 states where exit polling was conducted, Cruz won non-Evangelical voters in just one: Wisconsin.
Presented with this statistic and asked about broadening his appeal, Cruz disputes the premise of the question, saying he believes he won non-Evangelicals in many others places. (Several low-turnout contests that Cruz won, such as Utah and Kansas, did not have exit polls. Texas, his home state, was the closest he came to a second victory among non-Evangelicals: There, he lost those voters to Trump by a single point.)
Pressed on his limited appeal among non-religious voters, and asked again about expanding his coalition of support, Cruz — who launched his campaign at Liberty University and delivered heavy doses of spiritual rhetoric on the stump — rejects the notion that Evangelical voters are his base.
"Our strategy started out and was always [aimed at] the Reagan Democrats," Cruz says. "Now, in the media narrative it was always the Evangelicals. Now, I'm a Christian, I don't hide from my faith, but if you look at the coalition that led to our victory in the Senate, it was the Reagan Democrats. I think that's where this primary was decided, and at the end of the day, Trump got more of those votes than I did. But the reason we went head to head right up until the end is because we were competing effectively for those voters."
The reality is that without the strong backing of Evangelicals and very-conservative voters, Cruz could never have won Iowa — which in the eyes of Republicans made him viable to win the nomination — or Oklahoma, a much-needed victory on Super Tuesday that, in addition to a win in his native Texas, staved off whispers of his campaign's impending collapse. Cruz and his team spent the past 18 months talking about Reagan Democrats in order to prevent comparisons to Mike Huckabee and Rick Santorum, who in 2008 and 2012, respectively, won Iowa and emerged as the conservative challenger to the establishment before flaming out because they couldn't attract moderates and secular Republicans.
Cruz, whose performance among the primary electorate's key demographic groups often mirrored those of Huckabee in 2008 and Santorum in 2012, could point at Wisconsin — the high point of his campaign — to argue he possesses sufficiently broad appeal. In that state, where he won a 13-point victory over Trump, he swept nearly every demographic: men, women, all age groups, all income groups, college graduates and non-college graduates. (He lost self-described moderates, however, by eleven points — despite winning non-Evangelicals by seven points.)
Still, the question Cruz and his team will grapple with over the next four years remains: Was Wisconsin an outlier, or can he replicate those results without changing his approach?
#related#Cruz says it's "too early to worry about 2020 or 2024″ and insists he will now be focused on "moving people's hearts and minds." Yet his political operation has now essentially merged with his Senate office: Cruz hired David Polyansky, a senior adviser to the campaign, as his new chief of staff. Paul Teller, whose job Polyansky took, is moving to an advisory role with two new affiliated nonprofit groups that will be staffed with Cruz for President veterans and effectively serve as a campaign-in-waiting ahead of 2020.
The decision Cruz and his team must make between now and then is whether that campaign will look and sound very similar to the 2016 version. The candidate himself seems to believe it will; his advisers might have other ideas.
Eliana Johnson and Alexis Levinson contributed to this report.
— Tim Alberta is National Review's chief political correspondent.