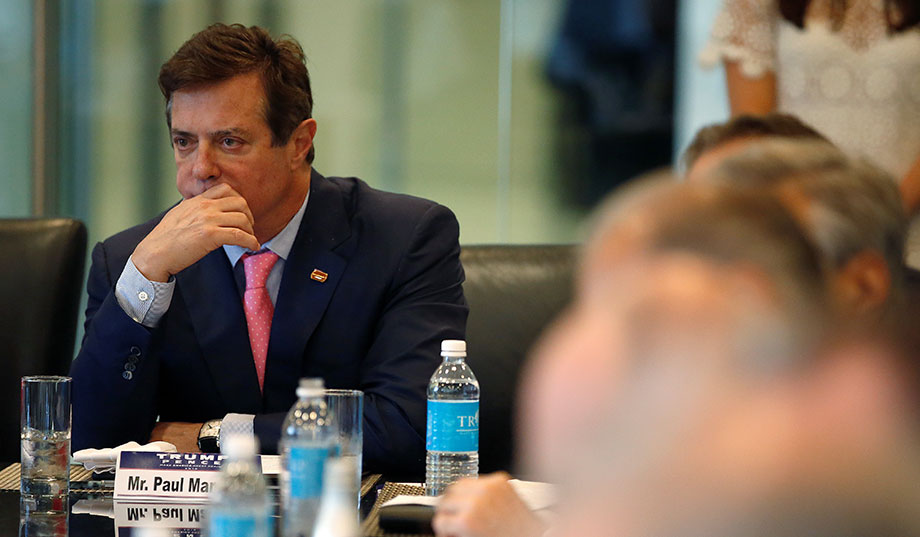 Chafing at criticism, Donald Trump brings in cheerleaders likely to tell him the road to victory is paved with orange bricks.
A Trump campaign that has seesawed between inexperienced loyalists and longtime party flaks seesawed back again early Wednesday morning as campaign chairman and erstwhile foreign lobbyist Paul Manafort was layered between Breitbart CEO Stephen Bannon, now serving as CEO of the Trump campaign, and newly named campaign manager Kellyanne Conway.
"This is a reversion," says a top Trump campaign aide. Manafort's predecessor atop the Trump organization was 40-year-old Corey Lewandowski, who pioneered the hands-off managerial maxim "Let Trump be Trump." The shakeup represents not just a reversion but an intensification of the media-driven strategy by which Trump bested 16 adversaries in the Republican primary. At Breitbart, Bannon has been leading a brigade of vociferous Trump defenders, and like his new boss, Bannon is a media-savvy operator who understands the value of shock and awe. And with Conway at the helm, the notoriously poll-obsessed candidate now has a veteran pollster running his operation. Trump is being Trump.
As such, the move is also a rejection by Trump of efforts to give him a more presidential bearing. The campaign announced on Wednesday that, in contrast to the scripted remarks Trump delivered Monday and Tuesday, he will hold back-to-back rallies — his stock-in-trade during the primary season — on Thursday, Friday, and Saturday. It's but one signal that Trump is also shedding all pretenses that he will pivot in a general election.
Gone too is any pretense of objectivity from some elements of the conservative media, including Breitbart and parts of Fox News. Bannon's elevation marks a formal merger of what has come to be known as the alt-right media and the Trump campaign. The former helped incubate the populism and nationalism to which Trump gave voice on the campaign trail. The New York Times reported Tuesday that former Fox News president and CEO Roger Ailes is advising Trump ahead of the presidential debates. The news makes perfect sense. On his watch, many noticed that the network's primetime hours took on a decidedly Trumpian tilt, and there's a sense that things have come full circle.
Outside the nexus of the Trump campaign and a handful of media outlets, the response has been bleaker. A longtime Republican-party operative described the general mood in the party in the wake of last night's shakeup as "despairing." Neither Bannon nor Conway bring to their new roles experience on a general-election campaign — let alone a flailing one. Trump loyalists argue that a return to the strategy that vaulted him ahead of 16 opponents in the primary is the best way to defeat Hillary Clinton in a general election, too; skeptics say the divided primary field made it easier for Trump to clinch the nomination, and that Trump's tactics aren't sufficient to draw new voters into his political coalition. Bannon declined to be interviewed for this article, and Conway did not respond to an immediate request for comment.
While Manafort's ouster has been chalked up to Trump's post-convention tumble in the polls, its roots lie in the campaign's previous shakeup, which ended when former Trump campaign manager Corey Lewandowski was frog-marched from Trump Tower in late June.
Lewandowski was the rare campaign manager who shadowed his boss, and his departure also meant the loss of a loyal aide who spent his days whispering in Trump's ear, taming, massaging, and encouraging the volatile and restless candidate. It's a role that Conway, who has been traveling with Trump, is expected to fill. Nonetheless, Lewandowski's exit had consequences for the candidate and the campaign. "I don't know what's happening except for that they've lost control of Mr. Trump," a second Trump aide told me ten days ago, in the wake of Trump's attacks on the Khan family and his public refusal to endorse House speaker Paul Ryan in his primary race. "I've always maintained that the person who dominates his ear is the best manager. If you're in his headspace, then you're a successful manager."
Manafort, who has a decades-long history of successfully making over crackpot dictators abroad, vowed to do the same with Trump. Trump chafed. Manafort wasn't in his headspace, either, having opted to direct both the candidate and the campaign at a distance, planting himself at Trump Tower in Manhattan.
Neither Bannon nor Conway bring to their new roles experience on a general-election campaign — let alone a flailing one.
As campaign chairman, Manafort never named a replacement for Lewandowki, absorbing his duties instead, and Trump went without a campaign manager from Lewandowski's June 20 departure until Conway's appointment last night. The result was a candidate who was often untethered from his own campaign and who earned rebukes from Manafort for his inability to stick to a script. "No marriage can work if one person is constantly trying to change the other," says the first Trump aide.
Manafort had also marketed himself as the maestro of political conventions — and Trump's, mired by accusations of plagiarism and the candidate's own remarks on NATO, fell flat. The results were predictable: His poll numbers, to which he is comically sensitive, dropped precipitously.
If that was the impetus for Manafort's ouster, there were dozens of proximate causes, including news reports of his longstanding ties to the deposed Ukrainian strongman Viktor Yanukovych and, by extension, to Putin's Russia.
The relationship between Trump and Manafort began to sour almost immediately after Manafort came aboard in late March, according to several sources with knowledge of the campaign. Manafort's deputy and longtime consigliere, Rick Gates, hired experienced GOP operative Rick Wiley in mid April. Lewandowski had hired the firm WizBang Solutions as a direct-mail vendor for the campaign, paying the company about $500,000 in April, according to FEC reports. On Manafort's watch, Wiley, a Wisconsin native, brought in another direct-mail firm with roots in Madison, Wisc., that was paid more than $730,000 by the Trump campaign over the course of just five days. Trump ruthlessly scours the campaign's financial reports; when he saw the numbers, according to an aide, he peered up at Gates from his stack of papers and asked, "Well who the f*** are you?" Wiley left the campaign the following month.
#related#Trump, however, never managed to resolve the civil war simmering between Lewandowski and Manafort, which had created dueling camps inside the campaign that remained even after Lewandowski's defenestration. "Frankly there are still a lot of Lewandowski fans around who felt he was treated poorly after he helped engineer one of the greatest primary victories of all time," says a source with knowledge of the situation. "You don't just dump the guy and have armed guards escort him out the door. So I think there's some payback here, not from Corey but from his allies." Even Trump himself remained torn between the two: According to New York magazine, he continues to consult with Lewandowski.
With Manafort effectively sidelined, Trump is back in his comfort zone. Yes, it's the zone from which he toppled 16 primary opponents. Nonetheless, many remain skeptical that even an amped-up version will prove deft enough to defeat the Clinton machine.