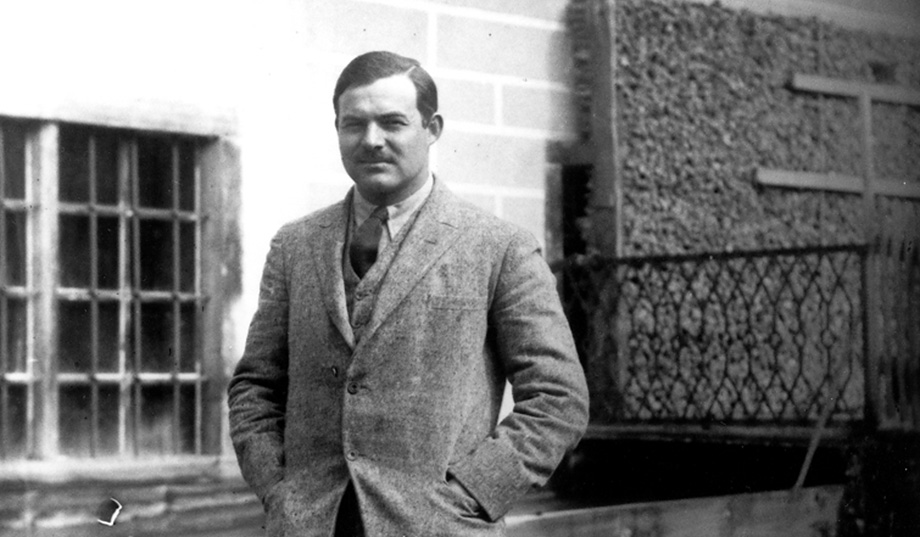 James M. Hutchisson provides a rare, balanced view of a much-studied author.
Ernest Hemingway: A New Life
by James M. Hutchisson (Penn State University Press, 320 pp., $37.95)
Norman Mailer once located courage in Ernest Hemingway's manic depression. Proof of this, according to Mailer, was that Papa was able to produce classic works despite daily struggles with that crippling condition.
James Hutchisson takes off from that point and advertises that his is the first "balanced" view of Hemingway in years. Others, he argued, have either portrayed the writer as the persona he created for himself — that of a rugged adventurer with a genius for words — or as an alcoholic womanizer. Hutchisson justifies this latest attempt at explaining Hemingway by announcing that he would view the author's work through several prisms: his medical condition that grew worse over the years (like others, Hutchisson sees an air of inevitability about Hemingway's putting the fatal shotgun in his mouth and pulling the trigger); his obsession with life and death, which was grist to his creative mill; and his relationships with women.
He does this convincingly, especially with the latter. Unlike other biographers, he doesn't accept as true Hemingway's depiction of an adversarial relationship with his mother. Hemingway portrayed her as a shrew who drove her husband to suicide, but Hutchisson argues that there was love between mother and son, pointing out that Hemingway took care of her financially the rest of her life). He was "drawn to motherly types." While married to his third wife, Martha Gellhorn, the least motherly of all his wives, he loved her mother more. Hadley, his first wife and the one he later claimed he loved the most, was maternal in appearance and attitude and took care of him while he struggled to become a writer. His second wife, Pauline, took care of his every need, once saying that "a good writer has to be nurtured."
Hemingway had a reputation for independence and for being a starving writer who wrote his way out of poverty, whereas in fact his first two wives provided a cushy, financial berth. Hadley's $3,000 trust fund allowed the leisure of studying under Getrude Stein, James Joyce, and Ezra Pound. Once safely established, he married Pauline, the richest of his wives. Her Uncle Gus bankrolled for Hemingway a fishing boat and an African safari, which gave him material for his stories. (Two of them, "The Short Happy Life of Francis Macomber," and the "Snows of Kilimanjaro" are arguably his greatest.) Pauline also provided him a congenial location, a "room of one's own" — oddly away from other writers — to produce when her Uncle Gus bought them a house in Key West. From this perch came A Farewell to Arms and the beginnings of For Whom the Bell Tolls (the latter finished in Cuba and Wyoming).
But Hemingway worked best amid turmoil. He wrote Arms while racked with guilt over leaving Hadley for Pauline. He wrote Tolls when he left Pauline for Martha Gellhorn. Although acknowledging the influence of women on his work, Hutchisson argues, quite convincingly, that it was ultimately Hemingway's manic depression that was the source of his creativity. The act of writing about death kept his demons at bay, however temporarily.
Unlike other biographers, Hutchisson doesn't accept as true Hemingway's depiction of an adversarial relationship with his mother.
Hutchisson's work is balanced. He accepts Gellhorn's opinion that Hemingway failed to satisfy her sexually. He doesn't neglect the writer's betrayal of friends, many of whom — Ford Madox Ford, Sherwood Anderson, Getrude Stein (another mother figure) — helped him get his start. But he also shows a heroic side. Hutchisson asserts that during his famous wounding during World War I, Hemingway carried an injured Italian soldier on his back to safety. This incident spooked Hemingway to the core, and he suffered from post-traumatic stress disorder, which, untreated, lasted the rest of his life.
It is a pity that Hutchisson doesn't devote the same attention to Hemingway's politics, particularly during that most political of wars, the Spanish Civil War. In this conflict, where Hitler supplied arms to the Franco rebellion, and Stalin to those who defended the left-of-center Republic, Hutchisson characterizes his politics as complex, anti-Fascist without being pro-Communist. But the reality is that during his coverage of the war and his premarital relationship with Martha Gellhorn, he was politicized to the point of being Communist.
Like his protagonist Robert Jordan of For Whom the Bell Tolls, Hemingway believed that the Communists had the best means of fighting the war and accepted their discipline. But whereas Jordan suspended his thinking — the necessary attitude for a good Stalinist — for the duration of the war, Hemingway devoted his energies to defending Soviet behavior. Under its sway, Hemingway produced some of his most embarrassing works — To Have and Have Not, The Fifth Column — the latter reducing Fascism and Communism to cops and robbers. (In The Fifth Column, Hemingway introduced his worst character, Philip Rawlins, a Comintern counter-espionage agent who, in the words of a disappointed Edmund Wilson, a critic who had championed Hemingway early on, was little more than a sadistic Stalinist thug.)
But because Hutchisson is so good on everything else, it is a minor quibble to note his neglect of Hemingway's political views. Hutchisson has done the impossible: He has made an original contribution to the literature about the most written-about author in American letters.
— Ron Capshaw writes from Midlothian, Va.