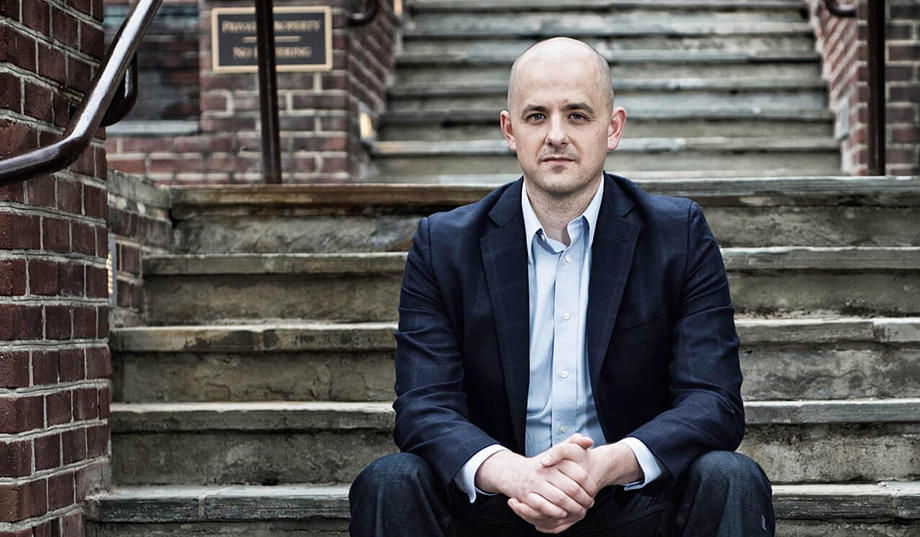 In an exclusive interview, the independent candidate emphasizes separation of powers, calling Trump 'a bona fide authoritarian.'
'Donald Trump is losing because he is a weak candidate. Trump is weak. And I frankly question whether he has the stamina to make it through the election," newly declared independent presidential candidate Evan McMullin told National Review this morning during the first on-the-record interview of his campaign.
"I see him imploding."
McMullin, who announced his candidacy this morning, explained that the state of the presidential election has rendered him "distraught for the last several months." And so, after months of waiting for other candidates to jump in and challenge Hillary Clinton and Donald Trump, McMullin did it himself.
"I believe Donald Trump is a bona fide authoritarian," McMullin said. "I am deeply concerned that if he were president of the United States he would act accordingly."
McMullin is a devout Mormon who was born in Utah and raised in western Washington. While attending Brigham Young University, he began a ten-year career with the CIA. Along the way, he also earned an MBA from the Wharton School at the University of Pennsylvania and worked in the investment-banking division at Goldman Sachs. Until this morning, he was the chief policy director for the House Republican Conference.
Unsurprisingly given his previous work, McMullin seemed especially interested in foreign policy, and was keen to draw a contrast between himself and the other announced candidates.
ISIS's terrorists "eat, drink, and sleep to destroy us," he argued. "It's real. They are extremely motivated. I know them. . . . I worked against them, and with them, convincing them to work with us. I understand their mentality. These are very motivated people. And many of them are very, very intelligent."
Later, he stressed that time is of the essence, saying that the United States must take the fight to the terrorists, with Muslim allies by its side. "Muslims actually play a critical role in our counterterrorism efforts," he added, arguing that Trump's proposed ban on Muslims' entering the country would "destroy our ability to destroy ISIS and other terrorist organizations."
Domestically, McMullin cast himself as an advocate of federalism and of congressional power, pledging to sign, if elected, the REINS (Regulations from the Executive in Need of Scrutiny) Act, which would grant Congress more oversight of significant executive-branch regulations. He also said he would respect states' rights to make political decisions with which he disagreed.
"I'm talking about states having the ability to chart their own course to a greater degree, which may mean Vermont does something absolutely wild that Utah wouldn't want to do," he said, adding that neither Trump nor Clinton would challenge the increasing consolidation of executive power.
"What about Donald Trump makes you think he is comfortable giving power to anyone? Hillary? Absolutely not. . . . We have to let the competition of ideas and democracy play out among the states. At the federal level it's a monopoly of power. . . . There's no real competition, and that's part of why we have the problems we have now," McMullin said.
#related#Although some of McMullin's ideas align with those advanced by Libertarian nominee Gary Johnson, McMullin stressed that he has two issues with Johnson's approach. First, he suggested, Johnson "doesn't understand religious liberty." And second, "if he were president we'd have to drug-test him every four months."
Perhaps seeking a receptive audience for such social-conservative stances, McMullin said he would begin his campaign in Utah before building outward to the rest of the Mountain West. Asked to whom he hoped to appeal, McMullin kept it broad, saying he would target "center-right" voters.
"The power comes from the people," he concluded. "The government reports to the people, is responsible to the people, and I think we need leadership that reflects those basic fundamental — and I would say universal — principles."
— Austin Yack is a William F. Buckley Fellow in Political Journalism at the National Review Institute.