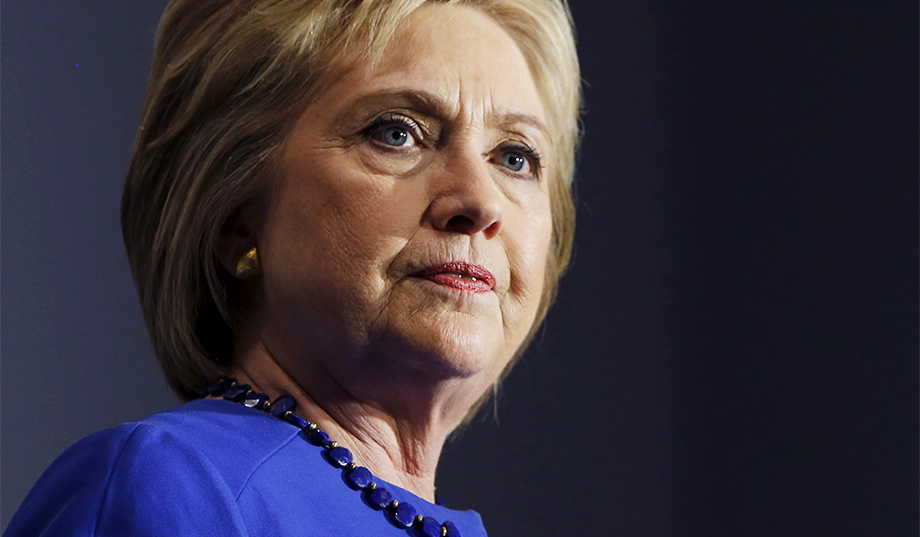 Democrats have drifted so far left, they now stand at odds with the country's largest police union.
The Democratic party has clearly put itself in the position of being the anti-law-enforcement party. On Friday, Hillary Clinton told the 335,000-member National Fraternal Order of Police (FOP) that she won't even bother applying for their endorsement.
Although the FOP has traditionally leaned Republican, its endorsement has never been a sure bet. The FOP endorsed Bill Clinton in 1996, and declined to endorse either President Obama or Mitt Romney in 2012. But this is the first time that any major-party presidential candidate has refused to even ask the police for their endorsement.
There is more to this than simply Hillary Clinton knowing that Donald Trump is certain to get the FOP's endorsement — not even applying for the endorsement is an open "snub" of the nation's police.
The FOP Presidential Candidate Questionnaire actually contains a lot of union-related questions that should be in the Democratic party's wheelhouse. All four legislative priorities listed at the beginning of the questionnaire, and then repeated in the section on "Employees' Rights Issues," are purely union issues: exempting police from having to participate in Social Security, providing salary and retirement benefits to all Federal law-enforcement officers, guaranteeing the right of public employees to engage in collective bargaining, and guaranteeing procedural rights in any police disciplinary proceedings.
Collective bargaining for public employees isn't something that Republicans generally support. But it has never been a problem for Democrats.
It's the second set of questions — "Criminal Justice Issues" — that presents a real problem for Democrats. For Hillary Clinton in particular; she has promised to cut the U.S. prison population by over 50 percent. The FOP, on the other hand, wants:
‐ Stiff prison penalties for "knowingly caus[ing] bodily injury to any person, or attempts to do so, because of the actual or perceived status of the person as a police officer" (see H.R. 4760, titled "Blue Lives Matter Act of 2016").
‐ Increased penalties for "threats and violence against law enforcement officers, judges, and courtroom personnel."
‐ Criticism of those who "convey the message that police officers are a 'militarized' enemy."
‐ Limits on damage claims for injuries that were "incurred in the course of being apprehended for a felony or violent crime."
‐ Support for the death penalty.
But the gun-control issue may pose the biggest obstacle of all to Hillary Clinton. The FOP asks presidential candidates to pledge that "the Second Amendment is sacrosanct and will in no way be modified in my administration." And that "gun control laws are not the answer to gun violence." The NRA couldn't have written a stronger statement.
All this isn't too surprising. Police know how important guns are in protecting their own lives; and despite the importance of police, they almost always show up after the crime has been committed. In addition, as my new book The War on Guns shows, increased civilian gun ownership reduces violent crime and the states that have had the biggest increases in gun ownership have seen the biggest drops in the shooting deaths of police officers. As armed civilians cause criminals to pick another occupation or decide to stop carrying guns, police officers' jobs actually becomes less dangerous.
Seventy-one percent of officers said that an assault-weapons ban would have no effect.
Democrats could not be more out of touch with police on gun-control issues. PoliceOne, an organization of about 380,000 active and 70,000 retired officers, surveyed 16,000 members on the subject in 2013.
Massive majorities of the survey's respondents said that the "assault-weapons" ban, a "federal ban on ammunition magazines that hold more than ten rounds," background checks on private transfers of guns, and "a national database tracking all legal gun sales" would either do no good or actually cause harm.
Seventy-one percent of officers said that an assault-weapons ban would have no effect, while 20.5 percent said that it would make things worse. Seventy-six percent of officers said that legally armed citizens are either extremely or very important to reducing crime. Eighty-six percent of officers said that abolishing gun-free zones would reduce or eliminate casualties from mass shootings.
The Democratic National Convention further alienated many police officers by announcing that it would only host mothers of victims of police shootings, not the relatives of police killed in the line of duty.
In 2016, Hillary Clinton and other Democrats have shifted even further left on sentencing, on gun-control policy, and in their divisive rhetoric. Despite being pro-union, they no longer stand a chance of gaining the support of law-enforcement unions.
Voters ought to ask themselves: When it comes to keeping America safe, does the Democratic party really know better than police officers?