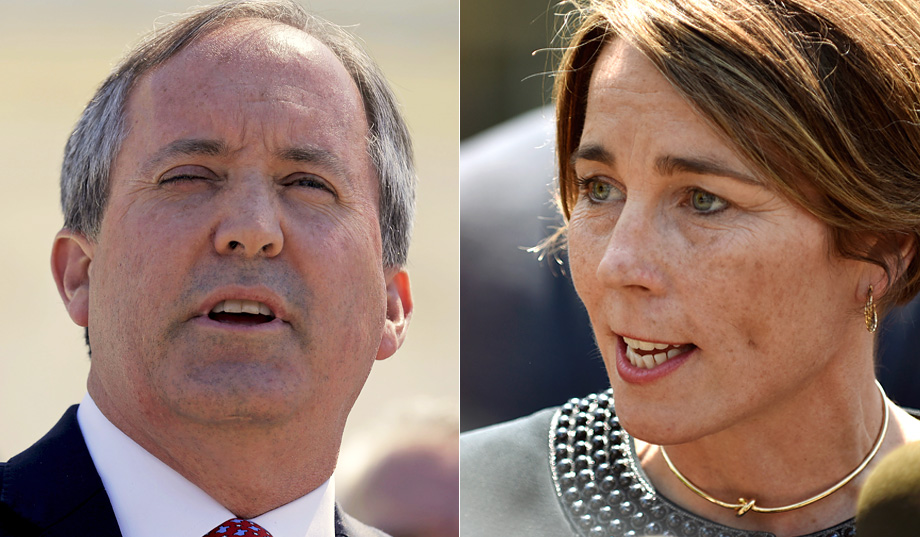 Texas attorney general Ken Paxton leads the fight against an unconstitutional climate-change stunt.
When Massachusetts attorney general Maura Healey subpoenaed ExxonMobil for 40 years' worth of company documents in April, she alleged the energy giant had engaged in a conspiracy to bury its scientific understanding of the consequences of burning fossil fuels on the climate. Healey claimed the documents would prove that ExxonMobil "knew about the risks of climate change decades ago and fraudulently concealed that knowledge from the public." Ken Paxton, the attorney general of Texas, disagreed. Last Friday, he filed an amicus brief on behalf of his state and ten others in support of ExxonMobil, describing the subpoena as a "grave mistake" — no less than a political stunt to silence all climate-change skeptics.
Healey's subpoena stems from New York attorney general Eric Schneiderman's probe into ExxonMobil. In November 2015, Schneiderman rallied 19 Democratic state attorneys general and formed "Green 20," a coalition with one common interest: "Limiting climate change and ensuring the dissemination of accurate information about climate change." Since its establishment, three members of Green 20 — Schneiderman, Healey, and U.S. Virgin Islands attorney general Claude Walker — have issued subpoenas for ExxonMobil's climate-change related documents and the files of the Competitive Enterprise Institute (CEI), a free-market think tank that has received funding from the Texas-based oil-and-gas company. (Walker withdrew his subpoenas in June.)
But the Green 20 coalition is now opposed by eleven Republican state attorneys general, marking a major shift in the controversial lawsuit. In addition to Texas's Paxton, the state attorneys general of Louisiana, South Carolina, Alabama, Michigan, Arizona, Wisconsin, Nebraska, Oklahoma, Utah, and Nevada signed the amicus brief challenging Healey's subpoena.
Paxton's brief called into question Healey's use of her law-enforcement authority in the context of an "ongoing public policy debate of international importance," noting that it is a threat to freedom of speech. In this, Paxton is correct; government does not have the authority to silence or bully those who disagree with its preferred policy agenda.
"If the [Attorney General Healey] is right," ExxonMobil's attorneys wrote in a filing before Massachusetts's Suffolk County Superior Court, "nothing is to stop a state prosecutor from issuing a subpoena to a political opponent seeking decades of records on the theory that a disagreement about policy constitutes fraud." Policy disagreements, ExxonMobil's attorneys argued, should be "resolved at the ballot box, not in the courthouse " — reasoning closely aligned with Paxton's. With a countersuit filed in federal court in Texas, ExxonMobil hopes to end Green 20's investigation based on Healey's imminent violation of the company's constitutional rights, including the freedom from unreasonable search and seizure and its freedom of speech.
Chris Horner, a senior fellow at the Competitive Enterprise Institute, the nonprofit think tank subpoenaed by the Virgin Islands, told National Review that Republican opposition to the investigation is "heartening to see," since "other elected legal officials [are] voicing concern about how colleagues have politicized their own offices."
Green 20 is a political coalition. Unfortunately, it's a political coalition that is abusing law-enforcement authority.
At a March press conference, Attorney General Healey demonstrated the extent to which Green 20 is playing politics. A month before the subpoenas were even issued, Healey forcefully highlighted the Commonwealth of Massachusetts's climate-change-policy achievements while promising to hold ExxonMobil accountable for its supposed fraudulent activity. That timetable and Healey's overheated rhetoric make it clear that the "investigation" has been nothing but a witch hunt from the very beginning — with politics, not the law, in mind.
Green 20 is a political coalition. Unfortunately, it's a political coalition that is abusing law-enforcement authority.
But Green 20's climate crusade, CEI's Horner noted, is hardly the first time the power of the law has been misused for political ends. "This recent climate mob is really in some ways an extension of a recent trend in how AG offices are used to obtain results unavailable through the proper democratic process — in this case, a policy agenda — and to extract settlements to fund political allies," Horner told NR.
#related#That's not to say there hasn't been pushback; it's not just the eleven Republican state attorneys general who have publicly opposed the migration of politics into the courtroom. This week, the House Science Committee called for hearings on the ExxonMobil investigation and Congress's power to subpoena Healey and other state officials for their presumed wrongdoings.
If Maura Healey and Green 20 are successful, the ExxonMobil lawsuit would provide precedent for resolving political issues in the courts — a feat that would dramatically alter the American tradition of democracy and freedom of speech.
— Austin Yack is a William F. Buckley Fellow in Political Journalism at the National Review Institute.