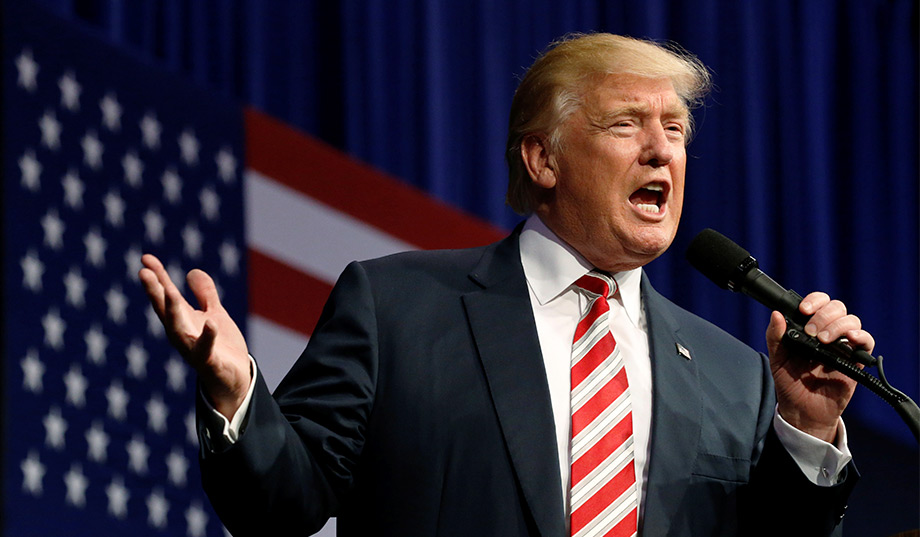 From school choice to black outreach to rebuilding the military, he's running solidly on the right.
Why is Donald J. Trump neck and neck with Hillary Clinton? For the most part, he is doing exactly what the Right would want and expect from a Republican nominee.
Left for dead just a month ago, Trump now bests Clinton in Nevada (43 percent to 40 percent), North Carolina (45 to 40), and Ohio (42 to 37), according to a September 18–20 Fox News survey (margin of error, +/- 3.5 percent). Nationwide, an ABC News/Washington Post poll has Trump and Clinton tied at 41 percent.
How did Trump construct this dramatic turnaround?
Hillary Clinton's May Day parade of ethical and medical woes certainly has left her crooked and wobbly. But notwithstanding the unyielding opprobrium of the Right's Never Trump Caucus, the Manhattan real-estate tycoon also is climbing because — on nearly every issue — he is running on a reformist, conservative agenda.
A Conservative Running Mate
Trump passed his most important test with flying colors. In Governor Mike Pence (R., Ind.), Trump selected a solidly Right running mate with a 95 percent lifetime rating from the Club for Growth and a 99 percent career average from the American Conservative Union. Pence is an experienced former congressman who is well liked by both fiscal and social conservatives.
Make SCOTUS Conservative Again
When it comes to the Supreme Court, Trump told Sean Hannity in August that his appointees would be "as close to Justice Scalia as we can get."
Indeed, Trump earlier this year named 11 potential SCOTUS nominees. All were associated with the originalist Federalist Society, and five were recommended by the conservative Heritage Foundation. Trump named 10 more prospective justices on Friday, including Senator Mike Lee (R., Utah), a widely respected legislator and Constitutionalist. As a member of the "Senate club," Lee might face a less withering confirmation process than would an outsider.
Trump's embrace of Lee helped Senator Ted Cruz endorse Trump on Friday, after months of intrigue and acrimony.
"We know, without a doubt, that every Clinton appointee would be a left-wing ideologue," the Texas Republican wrote on his Facebook page. "I have been seeking greater specificity on this issue, and today the Trump campaign provided that, releasing a very strong list of potential Supreme Court nominees — including Sen. Mike Lee, who would make an extraordinary justice — and making an explicit commitment to nominate only from that list."
Beyond this, Trump recently has presented several sober, eloquently written, and calmly delivered speeches filled with concrete solutions to America's seemingly innumerable problems. In chronological order, here is an overview of how Trump detailed how he would govern.
Immigration Reform
Among Trump's plans on immigration, unveiled in Phoenix on August 31, he said:
‐"We will build a wall along the Southern Border."
‐"End Catch-And-Release"
‐ "Zero tolerance for criminal aliens."
‐"Block funding for sanctuary cities"
Trump also would "develop a list of regions and countries from which immigration must be suspended until proven and effective vetting mechanisms can be put into place."
As part of this strict scrutiny, Trump said, "Applicants will be asked for their views about honor killings, about respect for women and gays and minorities, attitudes on Radical Islam, and many other topics as part of the vetting procedure."
In their upcoming debates, Trump should ask Hillary Clinton: "What's wrong with barring from America those who believe that women should be murdered by their relatives for going on dates, and gays should be stoned to death?"
Refuting those who argue that he opposes all immigration, Trump said, "We want people to come into our country, but they have to come in legally and properly-vetted, and in a manner that serves the national interest."
Asking Black Americans for Their Votes
For decades, conservatives have begged GOP nominees to take the Right's message to black neighborhoods. Trump, at long last, is doing exactly that – to the profound frustration of the Left.
"I believe that we need a civil-rights agenda for our time," Trump said at Detroit's Great Faith Ministries on September 13. "One that ensures the rights to a great education and the right to live in safety and in peace and to have a really, really great job. A good paying job and one that you love going to every morning."
"Nothing would make me happier and more fulfilled than to use what I have learned in business and in traveling all over the world," Trump told the predominantly black parishioners, "to bring the wealth and prosperity and opportunity to those who have not had these opportunities before."
Black Americans may be heeding Trump's overtures. Some of his rallies have featured voters waving signs that read "Blacks for Trump." An NBC/Wall Street Journal survey found that, despite the Left's accusations that Trump is a racist, he holds 7 percent of the black vote, while Clinton has 81 percent. This puts Trump in better shape than 2012 GOP nominee Mitt Romney, who wound up with 6 percent of the black vote versus 93 percent for Obama. Clinton will have major trouble reaching the Oval Office with such tepid black support, and Trump seems determined to continue his outreach into America's black neighborhoods.
Defense Readiness
In Philadelphia on September 7, Trump seamlessly welded a military-modernization proposal with a call for smaller federal bureaucracy, a plea to liberate energy production, and an attack on Hillary Clinton's abuse of state secrets.
"Today, I am here to talk about three crucial words that should be at the center of our foreign policy: Peace Through Strength." Those three words echo President Reagan's core philosophy on national security.
"Instead of an apology tour," Trump promised, "I will proudly promote our system of government and our way of life as the best in the world — just like we did in our campaign against communism during the Cold War."
"I will ask my generals to present to me a plan within 30 days to defeat and destroy ISIS," Trump said, including "military warfare, but also cyber warfare, financial warfare, and ideological warfare."
Trump pledged to build . . .
‐"an active Army of around 540,000," versus 490,000 today.
‐ "a Marine Corps based on 36 battalions . . . We have 23 now."
‐"a Navy of 350 surface ships and submarines . . . We have 276 ships now."
‐"an Air Force of at least 1,200 fighter aircraft . . . We have 1,113 now."
‐"a state-of-the-art missile-defense system."
How would Trump underwrite this?
"I will ask Congress to fully offset the costs of increased military spending," he said. "In the process, we will make government leaner and more responsive to the public."
He suggested saving $135 billion per year by stopping excess government payments and $385 billion in uncollected taxes.
"We can also reduce the size of the federal bureaucracy through responsible work-force attrition," Trump said, "When employees retire, they can be replaced by a smaller number of new employees."
"We can also stop funding programs that are not authorized in law," Trump advised. "Congress spent $320 billion last year on 256 expired laws. Removing just 5 percent of that will reduce spending by almost $200 billion over 10 years."
Trump also expects "additional revenues from unleashing American energy" — an estimated $36 billion annually.
"One of the first things we must do is to enforce all classification rules," Trump said, lunging for his opponent's jugular.
"Hillary Clinton put her e-mails on a secret server to cover up her pay-for-play scandals at the State Department. Nothing threatens the integrity of our Democracy more than when government officials put their public office up for sale."
Widespread School Choice
"There is no failed policy more in need of urgent change than our government-run education monopoly," Trump said September 8 at Cleveland Arts and Social Sciences Academy, a charter school in that Ohio city's largely black Woodland Hills neighborhood.
"I want every single inner-city child in America who is today trapped in a failing school to have the freedom, the civil right, to attend the school of their choice. This includes private schools, traditional public schools, magnet schools, and charter schools, which must be included in any definition of school choice."
Trump elsewhere said, "School choice also means that parents can home-school their children."
Trump would reallocate 20 billion "existing federal dollars" and send that money to the states as block grants for school-choice initiatives.
He has explained further: "Because 90 percent of education spending is at the state level, I will campaign to get the states to reallocate another $110 billion of their education budgets to school-choice programs. If we do this, that would mean $12,000 in school choice funds for every disadvantaged student in America."
Trump also opposes Common Core, backs merit pay for quality teachers, and says he would support candidates for local and state offices who endorse his classroom agenda.
"If we can put a man on the moon, dig out the Panama Canal and win two World Wars, I have no doubt that we can provide school choice to every disadvantaged child in the country."
#share#
Un-bullying America's Pulpits
"The first thing we have to do is give our churches their voice back," Trump told the Values Voters Summit on September 9 in Washington, D.C. "The Johnson Amendment has blocked our pastors and ministers and others from speaking their minds from their own pulpits. . . . If they want to talk about politics, they're unable to do so. If they want to do it, they take a tremendous risk that they lose their tax-exempt status."
Trump promised: "If I become president, we are going to knock out the Johnson Amendment."
Unplug Obamacare
"We're also going to repeal and replace disastrous Obamacare which gives the government control over the lives of everyday citizens," Trump also told the Values Voters. "It's going to die of its own weight anyway, but we're going to get rid of it, and we're going to replace it with some great, great alternatives."
Trump has said he will offer a more thorough prescription in the days ahead.
Farewell, Phyllis
Trump travelled to St. Louis on September 10 to eulogize the late Phyllis Schlafly, a veteran activist so conservative that she made Margaret Thatcher look like Joan Baez.
"Even at the age of 92, this beloved woman had more strength and fire and heart than 50 strong politicians all put together," Trump said. "She was the ultimate happy warrior — always smiling, but boy could she be tough."
The candidate whom Schlafly endorsed early on added: "She never wavered. Never apologized — and never backed down in taking on the kingmakers."
Make America Grow Again
Trump envisioned an "American economic revival" before the New York Economic Club on September 15.
"If we lower our taxes, remove destructive regulations, unleash the vast treasure of American energy, and negotiate trade deals that put America First, then there is no limit to the number of jobs we can create and the amount of prosperity we can unleash," Trump declared.
"It's time to start thinking big once again," he continued. "That's why I believe it is time to establish a national goal of reaching 4 percent economic growth." This would be more than quadruple today's hemophilic 0.95 percent growth rate.
"It begins with bold new tax reform," Trump explained. He would . . .
‐"greatly simplify the code and reduce the number of brackets from 7 to 3. The 3 new brackets will be 12, 25 and 33."
‐
‐"bring back trillions in business wealth parked overseas and tax it at a 10 percent rate," rather than 35 percent today. This alone could welcome home and put to work some $2.1 trillion, Bloomberg estimates.
‐impose "a moratorium on new federal regulations that are not compelled by Congress or public safety." Moreover, he added, "I will eliminate all needless and job-killing regulations now on the books," including the private-property-snatching Waters of the U.S. Rule and Obama's "so-called Clean Power Plan, which the government itself estimates will cost $7.2 billion a year."
‐"lift restrictions on all sources of American energy production."
Trump's hostility to unfettered trade is his most troublesome departure from conservatism. But it's hard to argue with his desire to shield American intellectual property from foreign thieves.
"Just the single action of enforcing intellectual-property rules alone would add millions of new American jobs," Trump said. "According to the U.S. International Trade Commission, improved protection of America's intellectual property in China would add 2 million jobs a year to the United States every single year."
Also, Trump's child-care assistance seems to be a touchy-feely mixed bag of tax-friendly savings accounts, deductions, and an expanded Earned Income Tax Credit. This is not Adam Smith. But it may be a bearable price to pay for the rest of this impressive tax reduction. Trump needs to attract women voters, and making child care more affordable is not the worst way to win them over.
Trump summed up:
I am going to lower your taxes; I am going to get rid of massive amounts of unnecessary regulations, on business and in your life; I'm going to unleash American energy; I'm going to repeal and replace Obamacare; I'm going to appoint Justices to the Supreme Court who will follow the Constitution; I'm going to rebuild our depleted military and take care of our vets; I'm going to save your 2nd Amendment; I'm going to stop illegal immigration and drugs coming into our country, and yes, we will build the wall. And Mexico will pay.
Protecting Unborn Americans
In a September 16 letter to pro-life leaders, Trump announced that his new Pro-Life Coalition would be headed by Marjorie Dannenfelser, president of the Susan B. Anthony List, an anti-abortion PAC.
#related#"Hillary Clinton not only supports abortion on-demand for any reason, but she'd take it a step further: She wants to force the taxpayers to pay for abortions by repealing the bi-partisan Hyde Amendment," Trump wrote. "Hillary Clinton also supports abortion until an hour before birth. And she will only appoint Supreme Court justices who share this view."
"She doesn't even try to hide her extremism," Trump added. "When asked on Meet the Press when unborn children have constitutional rights, Clinton bluntly responded, 'The unborn person doesn't have constitutional rights.' She is so committed to this view that she proclaimed in a speech that 'religious beliefs . . . have to be changed' in order to advance her abortion agenda."
In order to "advance the rights of unborn children and their mothers when elected president," Trump declared, "I am committed to . . .
‐Nominating pro-life justices to the U.S. Supreme Court.

‐Signing into law the Pain-Capable Unborn Child Protection Act, which would end painful late-term abortions nationwide.

‐Defunding Planned Parenthood as long as they continue to perform abortions, and reallocating their funding to community health centers that provide comprehensive health care for women.

‐Making the Hyde Amendment permanent law to protect taxpayers from having to pay for abortions.
Trump concluded: "Together we can form this vital coalition so that Mike Pence and I can be advocates for the unborn and their mothers every day we are in the White House."
As much as Glenn Beck, Bill Kristol, George Will, and other center-Right commenters crucify Donald J. Trump as a statist interloper, the Republican nominee has emerged as something completely different: America's best hope for a conservative/limited-government overhaul since Ronald Reagan rode into the sunset.
— Deroy Murdock is a Manhattan-based Fox News contributor and a contributing editor of National Review Online.
Editor's note: This piece has been updated since its initial posting.