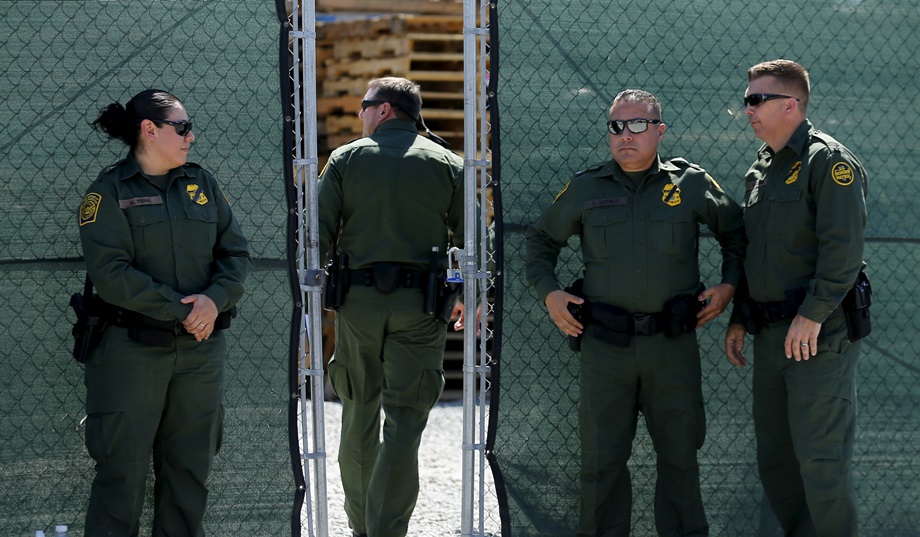 858 high-risk immigrants were mistakenly given citizenship instead of being deported. Why are the media ignoring it?
Behold a perfect storm of federal incompetence and liberal media bias: Washington bureaucrats accidentally turned pending deportees into citizens, while the network news programs overlooked this outrage and gave ten times more coverage to Donald Trump, Jr.'s use of tainted Skittles to analogize ISIS members among Syrian refugees.
The Department of Homeland Security's inspector general revealed on Monday that 858 immigrants destined for deportation unwittingly were granted citizenship. These immigrants applied for citizenship using aliases and other false information. Their fraudulent applications flew beneath the radar and were approved, in part, because the paper fingerprint records that could have exposed them as imposters had not been digitized. (Some 315,000 aliens facing deportation orders lack fingerprint records.)
Worse, these 858 accidental citizens likely are not from Argentina, Botswana, Holland, or Singapore. Rather, they are from "countries of interest" that pose national-security threats or neighboring states that are rife with immigration fraud. Some of these deportees-turned-citizens received credentials that gave them access to secure areas at airports and other transit hubs. One of these devious-and-lucky 858 works as a law-enforcement officer.
This total fiasco gives the lie to the notion that America can screen the stampede of Syrian refugees that President Obama is waving into the USA, and Hillary Clinton wants to boost by more than sextuple — from Obama's 2016 goal of 10,000 to hers for 2017: 65,000. Uncle Sam cannot vet deportees within this country's borders. This dismal performance confirms GOP presidential nominee Donald Trump's argument that Americans should have zero faith in Washington's ability to discern peaceful refugees from ISIS agents.
Regardless, CBS Evening News spent exactly twelve seconds on this humiliation for Obama and Clinton. ABC's World News Tonight and NBC Nightly News ignored it altogether.
But the next night, all three networks pounced on Donald Trump, Jr. when the candidate's son asked via Twitter: "If I had a bowl of Skittles, and I told you that just three would kill you, would you take a handful? That's our Syrian refugee problem."
CBS discussed this for 27 seconds and ABC for 30. NBC aired 70 seconds on this matter after anchor Lester Holt lured viewers thus, as the broadcast opened: "Skittles outrage: Donald Trump's son getting backlash after comparing refugees to poisoned candy."
"Add it up," says Rich Noyes of the Media Research Center, "and the Skittles flap on Tuesday drew 120 seconds of evening-news airtime, ten times what those broadcasts had given to the citizenship embarrassment the night before."
"To me it was a simple metaphor," Donald Trump Jr. said about this imbroglio. "You know people will today make what they want of anything, and they see the worst in everything and they look for subtext that doesn't exist."
Just three days after immigrants from Afghanistan and Somalia wounded some 40 innocent civilians in bomb and knife attacks in Manhattan and Minnesota, the major networks were ten times more worried about candy-coated comments than about deportees-turned-citizens.
As the late, great Yogi Berra would say: "Only in America."
Update: Citing a footnote in the DHS document, CNN now reports that this mess is more than twice as bad as first thought. Atop the aforementioned 858 undeserving new citizens, there were . . . 
 . . . as of November 2015, an additional 953 individuals about whom the Inspector General couldn't determine if there was a problem with the fingerprint records specifically, but also should have been deported. This other group consisted of members of a slightly broader classification, from countries of concern as well as from neighboring countries where there is a history of fraud. That amounts to a total of 1,811 individuals granted citizenship who should not have been.
As Washington Post columnist Marc Thiessen lamented, "Apparently, US officials can't tell the difference between a deportation order and a passport application."
— Deroy Murdock is a Manhattan-based Fox News contributor and a contributing editor with National Review Online.