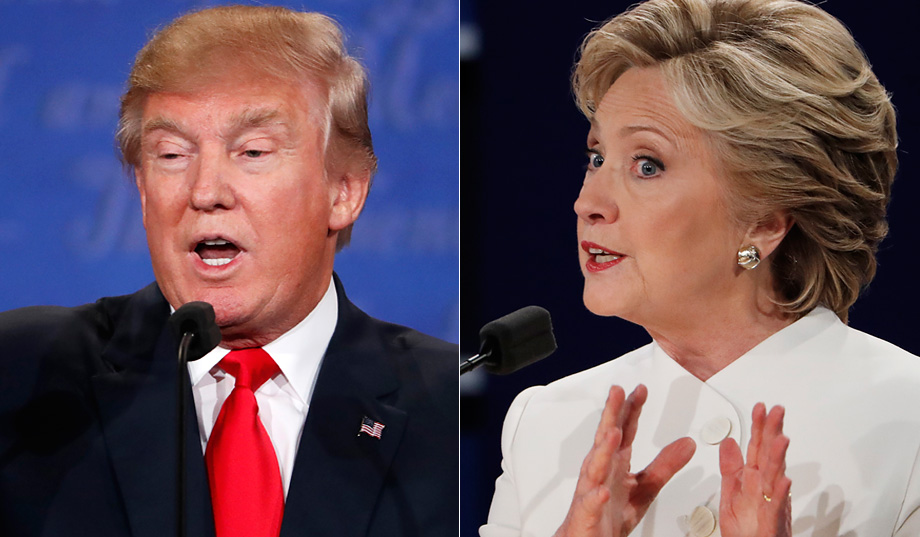 Trump scored points early, only to give them back to Clinton late.
Las Vegas — Donald Trump saved his best for last, and his best wasn't good enough.
It was a tale of two debates — and two elections — here on the campus of the University of Nevada Las Vegas, where the Republican nominee squared off against Hillary Clinton for a third and final time. The first 45 minutes showcased Trump at his sharpest: Offering a reminder of the potential for an outsider candidate, he used plainspoken arguments to aggressively prosecute Clinton as a failed political insider incapable of bringing change to the country. But the last 45 minutes demonstrated his glaring and fundamental weaknesses, as he sputtered in the face of questions about recent allegations of sexual assault and Clinton, smelling blood in the water, reverted to unloading a trove of opposition-research to stall his momentum.
Then, in a moment that negated much of his success and stole every post-debate headline, Trump refused to promise that he would accept the election's result.
At a venue just off the famous Las Vegas Strip, that moment — in which the GOP nominee bucked centuries of American political tradition — was the only real gamble of the night. Both candidates otherwise seemed content to play to their bases, avoid damaging missteps, and steer clear of the fireworks that dominated the second debate in St. Louis.
Unfortunately for Trump, the result was an evening that did little to alter the trajectory of an election now less than three weeks away.
With his poll numbers plummeting and Republicans jumping ship to save themselves from the collateral damage, the GOP nominee needed a virtuoso performance on Wednesday to stop the bleeding and challenge the conventional wisdom of his imminent defeat. He couldn't have asked for a better start, either. In fact, the opening 45 minutes Wednesday night were arguably his strongest of the entire campaign.
RELATED: Trump's Best Debate So Far … And His Worst
Having clearly prepared for this final audition, Trump was crisp and rhetorically polished in responding to an opening volley of policy questions from moderator Chris Wallace of Fox News. He deftly used the opening subjects — the Supreme Court, immigration, the economy — to speak directly to critical elements of the Republican base. He offered a muscular defense of the Second Amendment, praising the Heller decision and citing his endorsement from the National Rifle Association. He pointed to women in attendance whose children were murdered by illegal immigrants, promising to secure the border and rid the country of foreign criminals. He pledged to jump-start the country's "anemic" economic growth and bring back jobs by renegotiating trade deals. And, in a moment of visceral resonance with religious voters, he described the graphic procedure of partial-birth abortion — which Clinton voted against banning as a senator — before concluding, "Now you can say that that's okay. And Hillary can say that that's okay. But it's not okay with me."
Trump wasn't just hitting the right notes to mobilize GOP voters, he was consistently putting Clinton her heels. On a range of different issues — guns, partial-birth abortion, her former support for a border fence, and a speech in which she called for "open trade and open borders" — Trump dictated the tempo and forced Clinton to confront subjects that she was endeavoring to pivot away from.
Trump also attempted to soften his image somewhat, taking a significant step back from his pledge of mass deportation. Indeed, when Wallace turned to immigration — the issue that fueled Trump's rise in the GOP primary and sustained much of the enthusiasm behind his candidacy — Trump reiterated his promise to deport illegal immigrants who have committed crimes and to build a wall on the Southern border. But, he added, "Once the border is secured . . . we will make a determination as for the rest" of the people who remain in the country illegally.
RELATED: No, Trump Didn't Get It Done Tonight
Clinton wouldn't let that rhetorical maneuver slide. She promised to pursue comprehensive immigration reform, an issue that has bitterly divided the GOP over the past decade, during her first 100 days in office. And then she lambasted Trump for his pledge during the primaries — one that he rescinded during the general election — to use a so-called deportation force to round up and deport illegal immigrants, calling it "an idea that would rip our country apart."
When Wallace pressed Clinton on her advocacy of "open trade and open borders" in a 2013 speech — revealed in the hacked e-mails of Clinton campaign manager John Podesta published by WikiLeaks — she answered feebly that her remarks were in reference to energy policy, before shifting the focus to U.S. intelligence agencies' claims that the Russian government had stolen and leaked the e-mails to meddle in the U.S. election. "That's a nice pivot from 'open borders,'" Trump interrupted, smirking.
And yet Trump let Clinton off the hook and allowed the conversation to settle on Russia. He said he disapproved of the country's interference in the election — and clarified that Vladimir Putin isn't his "best friend" — but said the Russian leader is right not to fear America's political class. "He has no respect for this person," Trump said, pointing to Clinton.
"That's because he'd rather have a puppet as president," Clinton shot back.
"You're the puppet!" Trump replied.
In a moment that negated much of his success and stole every post-debate headline, Trump refused to promise that he would accept the election's result.
The tone grew similarly tense during a discussion on the economy. After promising not to add "a penny" to the debt, Clinton touted her the economic growth and fiscal responsibility characteristic of her husband's administration. Trump responded that Clinton's husband had also signed NAFTA, which he said had decimated the American manufacturing industry, and warned that she secretly supports the Trans-Pacific Partnership, which he implied would flood the American market with cheap, Asian-made products.
"There's only one of us on this stage who has actually shipped jobs to Mexico," Clinton replied. As for China, she said, one of the biggest problems is their illegal dumping of steel and aluminum in the U.S. "Donald has bought Chinese steel and aluminum — in fact, the Trump Hotel right here in Las Vegas was made with Chinese steel," Clinton said. "So he goes around with crocodile tears about how terrible it is, but he has given jobs to Chinese steel workers, not American steel workers."
It was Clinton's strongest moment of the debate's first half. Still, up until that point, Trump was clearly ahead on points. He even ended with an effective, well-rehearsed line: "The one thing you've got over me is experience. But it's bad experience," he said. "The problem is you talk but you don't get anything done, Hillary."
RELATED: Tonight's Debate Perfectly Summed Up the State of the Race
Everything changed, though, moments later, when Wallace announced that he wanted a discussion about the candidates' fitness to serve as president — and began by asking Trump about the numerous recent allegations of sexual assault by a host of women. Trump responded nonchalantly that many of the allegations had been "debunked," and then, with a nod toward his opponent, said, "I think it was her campaign that did it — her very sleazy campaign."
Clinton, in turn, argued that Trump's response illustrated a larger character failing: "He never apologizes or says he's sorry for anything." Furthermore, she said, Trump's sardonic suggestion that some of the women were too unattractive for him to bother assaulting is characteristic of his "dark and dangerous vision for our country."
Trump went to the well for a favorite line — "Nobody has more respect for women than I do" — but some in the audience laughed loudly. ("Please, everybody," Wallace warned the crowd.) He then tried, clumsily, to turn the discussion toward Clinton's handling of e-mails. But it was unsuccessful; she kept the focus on Trump's negatives, reverting to the tried-and-true tactic of rattling off the GOP nominee's 16-month history of insulting practically every voting bloc in the electorate.
And just like that, Trump's momentum came to a screeching halt.
The second half of the debate wasn't without any highlights for the Republican nominee. He was particularly forceful in accusing Clinton of hypocrisy for talking of women's rights while her family foundation took millions of dollars from Middle East nations that oppress women and persecute gays and minority groups. "Why don't you give that money back?" Trump challenged her.
#related#But any points Trump might have scored down the debate's home stretch were negated when Wallace broached the topic Trump has hammered in recent days: a "rigged election." The Republican nominee refused to say he would accept the results on November 8, promising only that he would examine them "at the time." When Wallace reminded Trump of America's tradition of peaceful transitions of power, and pressed for a more specific answer, Trump replied: "I'll keep you in suspense." At that point, Clinton chimed in to underline the moment: "That's horrifying."
The debate ended with a whimper, as the candidates offered few specifics to questions about the national debt, entitlement spending, and the humanitarian crisis in Syria. (Though notably, Clinton suggested she supports a no-fly-zone over Aleppo, despite the "legitimate risks" cited by the White House and military leadership.)
As Wallace granted the candidates a closing statement, and reminded Americans of their sacred responsibility to vote, it was apparent that Trump's remarks about the election results would dominate the post-debate coverage.
It was a fitting end to a debate season — and a campaign — in which the Republican nominee repeatedly distracted from his own potential strengths with the needless deployment of hyperbole and provocative rhetoric.
— Tim Alberta is National Review's chief political correspondent. Eliana Johnson is National Review's Washington editor.