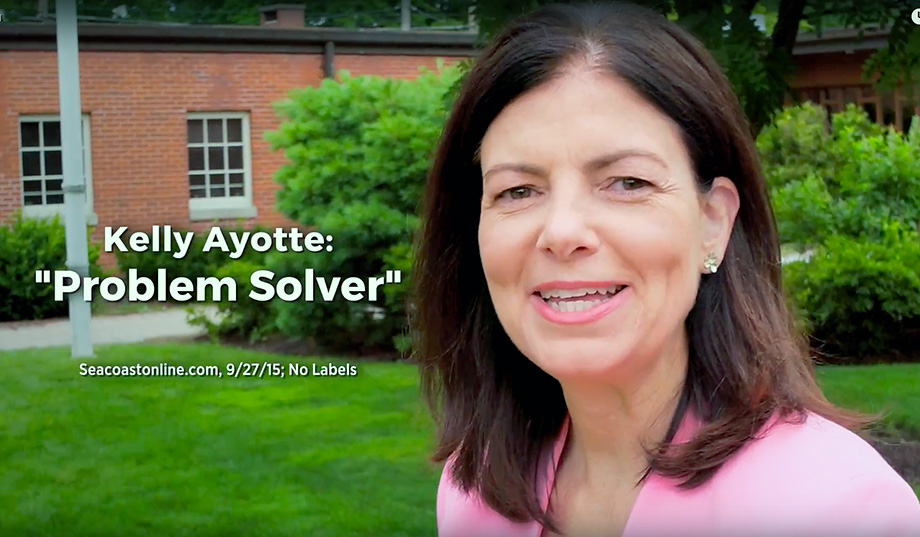 Can she thread the Trumpian needle in New Hampshire?
Senator Kelly Ayotte is launching a new ad Wednesday that attempts to address and move past her comments in a debate Monday evening that she would "absolutely" call Republican nominee Donald Trump a "role model" for young people.
The comment earned Ayotte immediate grief, and she quickly walked it back, but the damage had already been done.
In a new ad provided first to National Review Online, Ayotte tries to remedy the situation. "Let's be honest, both Donald Trump and Hillary Clinton are far from perfect, and I'm not perfect either," Ayotte says, as she walks along, speaking directly to the camera, with a smile on her face.
In the 30-second ad, which begins airing Wednesday as part of the Ayotte campaign's $7 million fall television ad buy, Ayotte goes on to tout her credentials as a "bipartisan senator" and a "problem solver."
Whether I'm working with Republicans, Democrats, or Independents, I'm standing up for New Hampshire," she concludes. It will run statewide on television, as well as online.  
The ad is an attempt to clean up her answer in Monday night's debate with her Democratic opponent, Governor Maggie Hassan. Ayotte was asked if she would point to Donald Trump as a role model for young voters. "I believe he can serve as president, and so absolutely I would do that," Ayotte said, as Hassan looked on with a mixture of joy and astonishment on her face.
Within hours, Ayotte walked back her debate comments on Trump. "I misspoke tonight," she wrote in a statement. "While I would hope all of our children would aspire to be president, neither Donald Trump nor Hillary Clinton have set a good example, and I wouldn't hold up either of them as role models for my kids."
By morning, Democrats had posted a Web ad splicing her answer during the debate with some of Trump's more offensive comments.
RELATED: Can Kelly Ayotte Outrun Trump's Shadow in New Hampshire?
Ayotte leads Hassan by 1.6 percentage points in the RealClearPolitics polling average. But her race is among the most competitive this year, and operatives on both sides of the aisle expect it to come down to the wire. To keep her seat, she will probably need to outpoll Trump, who has trailed Hillary Clinton in every single poll of the state since June.
#related#Until this week, Ayotte has been careful in picking her way through the minefield some of Trump's remarks have created for other Republicans. She says she supports him but does not endorse him, a tenuous differentiation that meets with skepticism in some quarters. She loudly criticized him for counterpunching against the Gold Star father who criticized Trump at the Democratic National Convention, and she rebuked Trump for suggesting that a judge would necessarily be biased against him by virtue of his Mexican heritage.
But her "role model" remark gave Democrats ammunition to link her to the Republican nominee. To keep her seat, she needs to prevent her opponents from cementing that narrative.