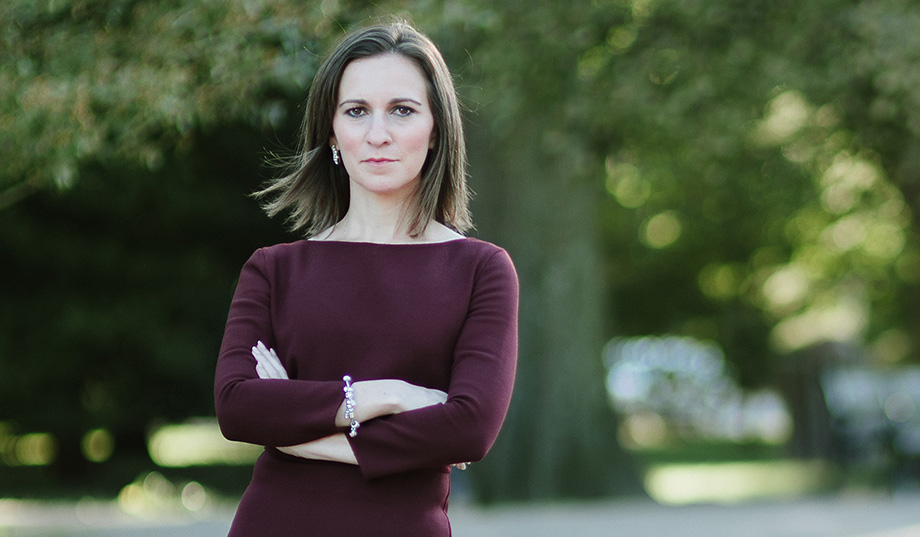 Evan McMullin's running mate is committed to principled conservatism.
Mindy Finn wouldn't have guessed a year ago that she'd be running for vice president of the United States.
But today, the longtime Republican campaign strategist (she worked for George W. Bush in 2004 and Mitt Romney in 2008), recent entrepreneur (she's the founder and president of the feminist organization Empowered Women), and mother of two adorable boys is committed to her role aside Evan McMullin, the conservative independent candidate for president.  
During the primary season, Finn helped lead the Never Trump movement as Donald Trump inched closer and closer to clinching the nomination. Like many estranged Republicans, she would be drawn to McMullin's real conservative values and consider him a viable candidate she could support.
She admits she was "shocked" to be asked to be his running mate, but took little time in saying yes when the opportunity presented itself.
Finn notes to National Review that she "ran one of the groups that was trying to stop Trump in the primary . . . and had been helping a group that was getting ballot access for a potential independent candidate to run if the Trump candidacy blew up."
After failing to recruit a number of former candidates, members of Congress, and others as an independent candidate, the group Finn was working with eventually approached McMullin. At the time, he was working as the chief policy director for the House Republican Conference and wanted to assist in the search for a candidate.
In the end, McMullin stepped up for the job himself — and it didn't take him long to find another young, enthusiastic conservative leader he could trust to have by his side.
"He knew about me and my background and my work in opposing Trump, in particular [Trump's] rhetoric . . . around Muslims, Hispanics, women and every other group he's criticized," Finn says.
When the campaign set up a call with her, Finn knew she was going to be asked to take on some kind of role but was not expecting the VP ask. Despite her surprise, she had confidence that saying yes was the right thing to do.
"The more I thought about it and the message we're trying to put forward, the more it made absolute sense," Finn says. "On everything I've worked on in my career . . . what I believe about the future of the country and what's needed — this was a perfect opportunity to move in a positive, proactive way."  
RELATED: Evan McMullin's Candidacy Just Got a Big Boost
The McMullin campaign's strength is policy. In an election season jam packed with drama and he-said/she-said antics that could fill episodes of Jerry Springer, McMullin and Finn remain focused on the most important substantive issues of the day.
"Military budgets are kind of at the mercy of domestic politics. . . . We need to take advice directly from the generals and make sure that military funding is separate from domestic political battles and that our military men and women get what they need," Finn says, as an example of the kinds of policy battles she's ready to fight.
She spoke passionately about defeating ISIS, taking a strong hand against our enemies, and not making promises we can't keep if we want to maintain a strong bargaining position on the world stage. 
On the debt, a topic that has been oddly absent from the political conversation in 2016, Finn said her team wants to tackle the "unpopular" problem of entitlement spending and ensure that the tax code is simplified.
These policy strengths are certainly helping the McMullin–Finn ticket in one state — Utah — where it is neck and neck with Hillary Clinton and Donald Trump in the polls. The campaign has spent a lot of time there in the past week, ginning up support and capitalizing on the enthusiasm that is keeping their names in the news.
'We think it's important to start to build that new conservative movement and send a message about the type of leaders we want in the future.'
Though a McMullin-Finn win is unlikely at this point, Finn pointed out that a Utah victory would open up a path to stopping Clinton and Trump —giving their ticket a chance to win by denying the other candidates 270 electoral votes and sending the election to the House.
More than anything, though, Finn says this is an "opportunity for people to stand on principle."
"I think it's important to send a message that we want honest and wise leaders," says Finn. "We think it's important to start to build that new conservative movement and send a message about the type of leaders we want in the future."
That future is one of increasing diversity, as evinced by the many Republican female leaders on the rise. In an election featuring the first female major-party nominee, Finn is also representing her gender on a presidential ticket.
"I have heard from people who support our ticket saying, 'Thank you so much for running, it's so nice to support a woman who is not Hillary Clinton,'" says Finn.
Finn also maintained that it's important for people to take note that conservatives don't oppose Hillary Clinton simply because she's a woman.  
#related#"We are for women leading, for more women in the public sphere as elected officials — and the reason we oppose Hillary is not because she's a woman, but because of her policies."
And it's not just conservatives who don't want to see Clinton take office. Finn said she's heard from Bernie Sanders voters and independents who express respect and support for the campaign as well.
"They will say, 'I don't agree with you on every issue but I like that you're being forthright. . . . I like that you're bringing a new generation of leadership, that you are very clear and transparent about what you believe,'" says Finn.
With just 20 days left until Election Day, Finn says it will feel "more like 100," but she's ready to campaign, win votes, and hopefully build a new foundation of leadership for conservatives that can endure beyond what has been a very tumultuous 2016.