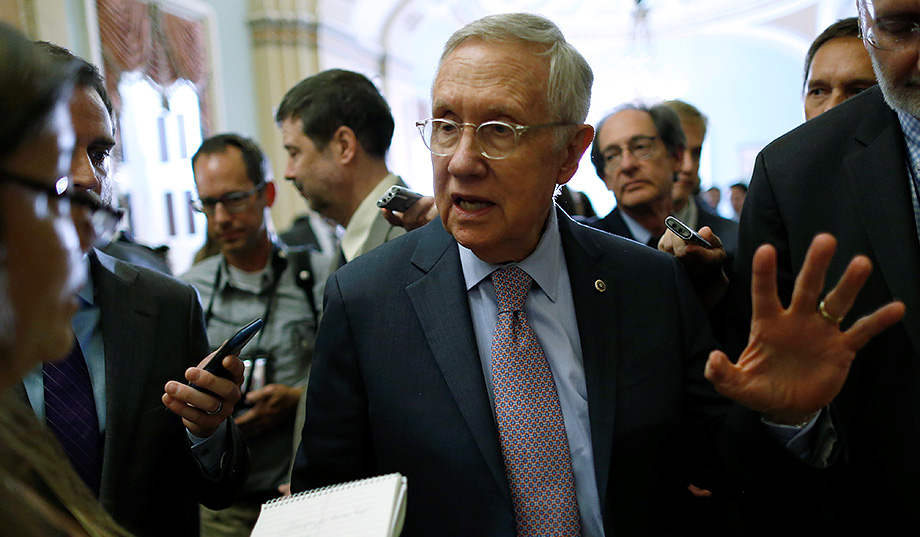 The proxy war between the outgoing minority leader and his foes could determine control of the Senate.
Las Vegas — Senator Cory Booker was in the midst of an impassioned diatribe.
"Whether she gets elected or not is going to determine whether the minimum wage gets raised in this country and people who are working harder than most of us work, two and three jobs, are still below the poverty line," he said, pointing a finger in the air for emphasis.
"She" is Catherine Cortez Masto, the Democratic senatorial nominee in what has become the most important race in the country. Booker was addressing a crowd of about 20 members of the Urban League Young Professionals, urging them to help Masto across the finish line. He told the crowd, scattered throughout a Mediterranean-themed coffee shop in a Vegas strip mall, that if Masto isn't elected, "a kid with diabetes" insured under Obamacare "could literally not have health care," and that the outcome of the Nevada senate race will also determine the fate of many in his home city of Newark, New Jersey: whether they eat, have housing, or get deported.
Booker may have been taking dramatic license, but Republicans and Democrats alike agree that the stakes in Nevada are high. Masto and her challenger, the three-term Republican congressman Joe Heck, are vying for the seat Senate minority leader Harry Reid has held for three decades. The contest has become a proxy fight between Reid and his Republican foes, who would like nothing more than to steal the seat from under his nose. And the outcome could very well determine which party controls the upper chamber.
It is likely to be very close, too. Nevada, with its burgeoning Hispanic population, is trending blue on the federal level. Once a solidly Republican state, it voted for Bill Clinton twice and then for George W. Bush twice, but President Obama won there by 12.5 points in 2008 and by six points in 2012. Reid, the undisputed king of Nevada politics, is doing his best to ensure the same happens on the state level, where Democrats were wiped out in 2014. Two years earlier, Republican senator Dean Heller defeated Democrat Shelley Berkley by a single point, and the Masto-Heck contest is shaping up to be similarly close. Heck, in an interview at his campaign headquarters, nestled in a Las Vegas strip mall, calls this a "margin of error" race. Masto's spokeswoman, Kristen Orthman, says that while she expects it to be tight until the end, she refuses to ride "the pollercoaster." 
RELATED: Nevada's Joe Heck Aims to Keep the Senate Republican
Reid, being Reid, has loomed large over the campaign. He was a longtime friend of Masto's late father, Manny Cortez, who served as Clark County commissioner and is credited with transforming Vegas into an international tourist destination. "He made it very clear early on that Masto was his preferred candidate, and since then he's done everything he can to make sure that she wins," says Jim Manley, Reid's former communications director. "I don't think anybody's gonna work harder at it than Senator Reid to make sure that that happens.."
Masto is a more impressive version of the 2014 Kentucky Senate candidate Alison Lundergan Grimes, who was helicopter-parented by her father, a prominent Democratic donor with deep ties to the Clintons, into a race against Senate majority leader Mitch McConnell. Like Grimes, Masto is an attractive lawyer with a political pedigree and a record of public service. She was twice elected Nevada's attorney general, a more impressive feat than Grimes's humdrum service as Kentucky secretary of state.
Reid, being Reid, has loomed large over the campaign.
Like Grimes, however, she can at times seem to lack a reservoir of policy knowledge. Masto brought a lot of feistiness to a Friday-night debate against Heck, but looked like a deer in headlights fielding a question about what she would do to combat Chinese aggression in the South China Sea. (Grimes, of course, was much derided for her remark that Israel's missile-defense system, Iron Dome, had been a "big reason" it had succeeded in destroying many of the underground tunnels Hamas was then using to enter the country.)
Republicans see in Masto's candidacy the sort of nepotism and political backscratching that has so many voters up in arms. "She is Harry Reid's handpicked candidate," Heck says. "He is calling out every shot and calling in every favor he's accumulated over 30 years in order to hand the seat over to her." Others, including Democratic representative Dina Titus, indicated interest in running for the seat, but didn't pull the trigger. So what some see as smart politics — Masto would be the first Hispanic woman elected to the Senate — Heck sees as Reid putting his thumb on the scale to clear the field. "As I understand it, something like ten or twelve years ago this decision was made," he says. "She has been getting groomed for this day for the past decade. . . . Look, Dina Titus, who would be a much more formidable candidate, she wanted the opportunity and Harry said, 'No. It's Catherine Cortez Masto.'"
If demographics are working against them, Republicans have candidate quality on their side. Heck is an emergency-room doctor and Army reservist. Not unlike Reid, he has the look, the seriousness, and the hunger of a man who has worked his way up the ladder. "He looks like the guy next to you playing the penny slots," says one Republican strategist, but he is much sharper than that guy. He has managed to thrive representing the state's third congressional district, a diverse constituency carried by Obama in both 2008 and 2012. And he has increasingly won their approval — by a one-point margin in 2010, by 7.5 points in 2012, and by 25 points in 2014.
Masto's strategy has been to hang Trump around Heck's neck. He rescinded his endorsement of the Republican nominee after the publication of the now-infamous 2005 Access Hollywood tape, and he has paid a political price for it. He had led in nearly every public poll for the last few months, but two surveys taken after he denounced Trump have him trailing now. In Friday's debate, Masto hammered him as a craven politician, accusing him of distancing himself from Trump because he was "worried about his political career." "It is astonishing to me that for eight months, nine months, he was Donald Trump's biggest supporter," she said.
Reid has chimed in, too: "I wish we had more Republicans like Brian Sandoval, who you haven't seen rushing to endorse this Republican nominee Donald Trump," Reid lamented in an August meeting with the Reno Gazette-Journal editorial board. "But Joe Heck, whoa, man, he loves this guy. He campaigns with him and thinks he's the best." Reid, says Manley, "started a while ago taking on Donald Trump trying to make him as radioactive as possible for Republicans down-ballot" and has "gone smash-mouthed after Heck when he's seen the need to do so."
As the race heads into its final days, the polls are tight. But Nevada has been notoriously difficult to predict. Harry Reid's 2010 Republican challenger, Sharron Angle, led in most pre-election polls, only for Reid to win by 5.6 points. President Obama led Mitt Romney by a slim two-point margin in the polls and then bested him by six points when the votes were counted. Heller was expected to best Berkley by a comfortable margin, but ended up winning by one point.
#related#All of these cases suggest either that polling has consistently underestimated Democratic strength in Nevada or that Nevada Democrats have a superior turnout operation. In 2010, says Republican data guru Chris Wilson, "I don't think the polling was wrong, I think [Reid] just had such a kickass turnout operation that he was able to overcome the deficit." Booker sounded the same note on Saturday. "We have all the voters we need to win this election. The challenge is not having them but getting them to the polls," he told the Urban League crowd.  
That said, Reid prevailed in 2010 largely because he meddled in the Republican primary to help ensure that assemblywoman Sharron Angle beat former state GOP chairwoman Sue Lowden. This year, Heck was the strongest candidate in the Republican field — and Masto is a weaker candidate than Reid. "He works with what he's given, but, you know, he didn't have a lot to play with this time when it came to the Republican primary," Manley says.
Can superior candidate quality prevail over a well-oiled political machine 30 years in the making? We're about to find out.
—​ Eliana Johnson is National Review's Washington editor.