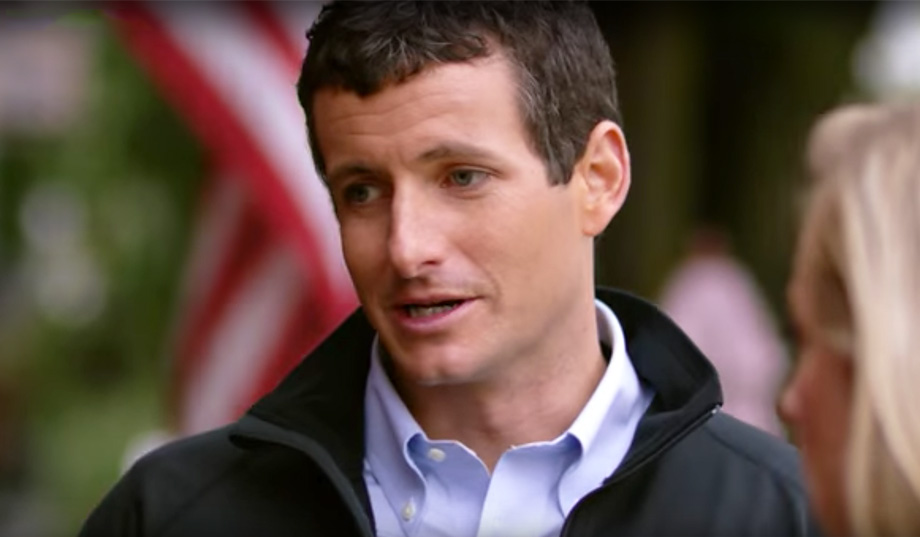 Trey Hollingsworth is in an unexpectedly tough fight.
Jeffersonville, Indiana — "It's always the little dogs that bite," Trey Hollingsworth says as he approaches a house where a little dog is visible through the glass door. This is a subject on which Hollingsworth, a first-time GOP candidate for Congress in southern Indiana's Ninth District, can speak with authority. According to his campaign, he's knocked on well over 20,000 doors since he entered the race last year — and apparently it took him some time to learn to be wary of voters' dogs in his pursuit of a victory that has proved a much tougher lift than initially expected.
Mitt Romney won the Ninth District by 17 points in 2012, but the race to replace Representative Todd Young (R.), who is now running for Senate, is a surprisingly close one between Hollingsworth and his Democratic opponent, Shelli Yoder, who is making her second bid for the seat after losing in 2012. Yoder's campaign released an internal poll last week with the two candidates tied at 43 percent. Republicans do not dispute that the race is a close one.
Democrats, sensing an opportunity, have started paying attention in the final weeks to this district that stretches from the Kentucky border to the Indiana suburbs, covering rural farm country, some forest, and the college town of Bloomington along the way. The Democratic group House Majority PAC made a weeklong ad buy in the district, and the National Republican Congressional Committee, on Monday, responded in kind with an ad attacking Yoder.
But the question is why this heavily Republican district is even competitive in the first place. And some Republicans say it has little to do with the national turmoil, and much more to do with Hollingsworth himself.
The release two weeks ago of the now infamous video of GOP presidential nominee Donald Trump recounting predatory advances on women roiled the political world and prompted a reexamination of down-ballot races. Trump's remarks in the video were deemed so beyond the pale that some Republican elected officials revoked their endorsements of him. Some Republicans remain concerned that the video could damage Trump's candidacy so much that other Republicans on the ballot, even in seemingly safe Republican seats, would not survive.
But although this race came into focus in the wake of that turmoil, Trump, in this district, could just as easily be a blessing as a curse. Yoder's internal poll gives Trump a 48 percent to 38 percent lead over Hillary Clinton, and Republicans expect him to be the ultimate victor in this district. That, they say, could help Hollingsworth push through a tight race — especially if low-propensity voters turn out for Trump and help other Republican candidates along the way.
"I think [Trump's] got enough coattails to get a close race for Trey over the line," says Justin Groenert, director of public policy and government relations for the Southwest Indiana Chamber of Commerce.
Hollingsworth clearly sees a benefit to staying with Trump. "I strongly support my Republican nominee for president," he says. "I don't endorse every word that he's ever said, I don't endorse every tweet that he's ever made, but I firmly believe that he is a better choice than Hillary Clinton." While door-knocking, he stops at houses with Trump-Pence signs, even if they're not on the list of homes of targeted voters.
The problem in the Ninth District, say some Republicans, has little to do with Trump, and more to do with Hollingsworth. "Had any other Republican been running, this probably wouldn't be a problem," says one Indiana GOP consultant of the district's competitiveness.
Hollingsworth moved to Indiana only in September 2015; he filed for the House race a month after that. A super PAC, funded by his father, spent heavily on ads that gave him a leg up on his primary opponents. But in the final weeks of the primary campaign, opponents branded him "Tennessee Trey," running ads that mercilessly attacked him as a carpetbagger attempting to buy the seat.
GOP candidate Trey Hollingsworth clearly sees a benefit to staying with Trump.
Hollingsworth won the primary, but the "Tennessee" tag stuck. According to the Yoder camp's polling memo, when voters were asked what they know about Hollingsworth, a quarter said it was that he was not from the state. "The Tennessee Trey thing did hurt – a lot," says Groenert.
Hollingsworth brushes off the attack line in an interview on the drive to a residential neighborhood where he will spend about an hour knocking on doors.
"What they don't tell you is that I've been working in Indiana for eleven years, building nine different businesses in 14 different locations all the way across the state," he says. His wife grew up just across the river, in Louisville, Ky., and Hollingsworth says they moved to Jeffersonville to be closer to her family. "It made sense to be four miles from my mother-in-law – sometimes I think that's a little too close – and very close to the businesses I've had the last eleven years," he says, noting that they actually moved from South Carolina, not Tennessee.
"It's something that [Democrats] try to latch onto 'cause they understand the ideology of the district and the desires of the district and the concerns of the district don't match my liberal opponent's views on where we should go as a country," he adds.
It could have some practical impact on Hollingsworth's campaign.
"There's just so many unique aspects of that district that it's probably hard to come in and relate to the idiosyncrasies of each city and county," says Indiana attorney general Greg Zoeller, who endorsed Hollingsworth after placing third in the primary behind Hollingsworth and State Senator Erin Houchin.
"It's a huge advantage when you have relationships with both people and the places you represent, and he, frankly, has to make up a lot of ground in terms of knowing the people and the places," Zoeller adds.
It's evident that Democrats see this as their path to victory. House Majority PAC put $650,000 behind an ad that revived the "Tennessee Trey" nickname, and a Democratic Congressional Campaign Committee memo updated Monday spells out a similar game plan. If Trump has an impact in their favor, Democrats say, they will find out when the results come in, when it will become evident if disillusionment with Trump kept some Republican voters home from the polls.  
Hollingsworth's campaign says the dynamics of the campaign are exactly what they expected. "Nothing's guaranteed in this district this year," says a source close to the campaign, adding: "Trey's been running this as if it was going to be a difficult race, and that's why he put such a value on voter contact."
#related#Hollingsworth evidently relishes that part of the campaign. Clad in blue jeans and a maroon sweater over a button-down shirt, he is energetic and friendly as he moves through this residential neighborhood, knocking on doors of targeted voters. His campaign says he regularly adds door-knocking time to the schedule. He walks at a breakneck pace through a Jeffersonville neighborhood, leaving a staffer and this reporter in the dust as he moves from door to door. "I'm just out spreading that good word," he tells people who open the door, explaining briefly who he is. If they're not there, he writes "Sorry to have missed you" in Sharpie on a campaign flyer.
Republicans hope that between Hollingsworth's efforts, Trump's coattails, and the overall Republican nature of the district, will spell victory. Even before the NRCC went on air this week, Republicans were outspending Democrats on the airwaves by about three to one, according to a source tracking ad buys.  And at his first door on this sunny Friday afternoon, he gets some good news. The man who opens the door is clad in shorts, with his Hawaiian shirt unbuttoned down to his rather large belly. "You're a little late," he tells Hollingsworth. "I already voted, and I voted for you."
— Alexis Levinson is National Review's senior political reporter.