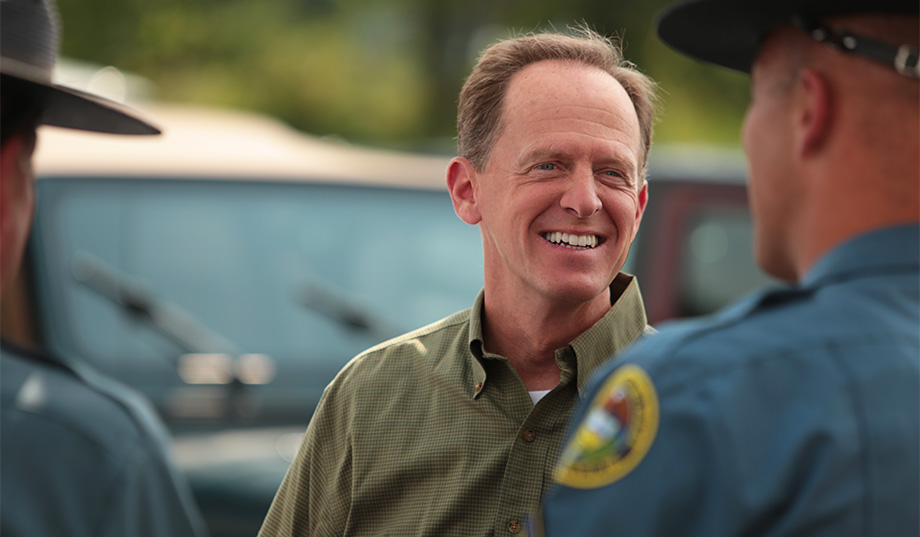 Many GOP Senate candidates spent the campaign running from Donald Trump. In the end, Trump helped them to victory.
Republican Senate candidates spent most of the election season running away from Donald Trump, fearful that supporting him would sink their campaigns and cost their party the Senate majority. Arizona's John McCain disavowed him. Ohio's Rob Portman rejected him. New Hampshire's Kelly Ayotte said she could not and would not "support a candidate who brags about degrading and assaulting women."
And yet it was in part Trump's shocking electoral-college victory against Hillary Clinton that helped Republicans hold the upper chamber against long odds. In the early hours of Wednesday morning, with Ayotte's race still too close to call, it looked as though Senate Republicans might lose just one seat in a year when the map was stacked against them. It was the second biggest surprise of the night, after Trump's win, and their victories in Florida, Ohio, North Carolina, Missouri, Indiana, Pennsylvania, and Wisconsin made Tuesday a depressing evening for Democrats, who will be consigned to minority status on Capitol Hill for several years, barring unforeseen developments.
In the end, while Republican Senate candidates had feared Trump would act as a weight on their electoral fortunes, their concerns were overwrought. The rural, working-class voters who turned out to support him helped boost them to victory in areas Republicans have struggled. But GOP Senate candidates ran ahead of Trump in urban areas from the St. Louis suburbs to Miami, Philadelphia, and Milwaukee, allowing them to run ahead of him in all but the most conservative states.
The Republican victory on Tuesday extended far and wide. It included renegades and moderates, new faces and old. Establishment insiders such as Missouri senator Roy Blunt and North Carolina senator Richard Burr, who ran lackluster campaigns and were outworked by their opponents, survived. In Indiana, Representative Todd Young helped the GOP hold onto retiring senator Dan Coats's seat after former senator Evan Bayh's surprise entry into the race had made it seem a sure thing for Democrats. Marco Rubio, who was clobbered by Trump in Florida's Republican primary earlier this year, won reelection to his seat as Trump carried the Sunshine State's critical 29 electoral votes.
In Pennsylvania, Senator Pat Toomey emerged victorious from one of the campaign season's tightest contests partly because some of those who four years ago backed Barack Obama gave their support to Republicans on Tuesday. In Luzerne County near Scranton, which is older, whiter, and poorer than the national average, Obama defeated Romney by five points in 2012. Trump won Luzerne by 20 points, and Toomey reaped the benefits there, finishing eight points ahead of his Democratic challenger, Katie McGinty.
Toomey's was the story of most Republicans this campaign season. He needed to carry voters such as those in Luzerne County while also winning enough of the moderate, Democratic-leaning voters in the Philadelphia area to carry the state. He touted his work on bipartisan gun-control legislation and advertised the praise he had garnered for it from Obama. And he got help from Clinton and McGinty, who underperformed Obama's 2012 campaign in the urban areas where they needed to rack up votes. While Obama won 85 percent of the vote in the majority African-American county of Philadelphia, Clinton and McGinty managed just 82.4 and 81.7 percent respectively. The drop-off proved decisive in their respective losses — and in Toomey's victory.
The Republican victory on Tuesday extended far and wide. It included renegades and moderates, new faces and old.
The same was true in Wisconsin, where Ron Johnson, written off for dead by the political cognoscenti months ago, won the most shocking down-ballot victory of the night. Trump defeated Clinton in Wisconsin, where Romney lost four years ago, by flipping several counties in the southwestern part of the state from blue to red. Among them was Grant County, which Obama carried by 14 points in 2012 but Trump carried by ten points this year. Johnson, a wealthy businessman with an everyman's touch, won there by five points while racking up far greater margins than Trump in suburban Milwaukee, a historically conservative area. Meanwhile, turnout in Milwaukee proper — a Democratic stronghold — plummeted 25 percent between 2012 and 2016.
The lone exception to the good news for Republicans came in Nevada, where Senate minority leader Harry Reid managed to put his hand-picked successor, former state attorney general Catherine Cortez Masto, over the top. The strength of Reid's turnout operation helped Cortez Masto defeat Republican congressman Joe Heck by a healthy three-point margin, with 81 percent of precincts reporting. In New Hampshire, Ayotte remained locked in a tight race against former Democratic governor Maggie Hassan late into the wee hours of Wednesday morning, but Republicans will maintain their majority in the upper chamber regardless of the result.
#related#Many of the candidates victorious on Tuesday were insurgents who came to office in the tea-party wave of 2010, which marked the first backlash against the Obama administration's liberal policies. What was once a movement that found expression by lifting ideological conservatives to office has become a full-fledged populist backlash that sent a reality television star to the White House. In the presidential primary, Rubio derided Trump as a "con artist"; Toomey has called him a "badly flawed candidate."
Back in Washington, the Republican Senate majority will now have to grapple with the transformation of the tea-party movement and the party that harnessed it, and the ideologues and the populists will have to find a way to work together.