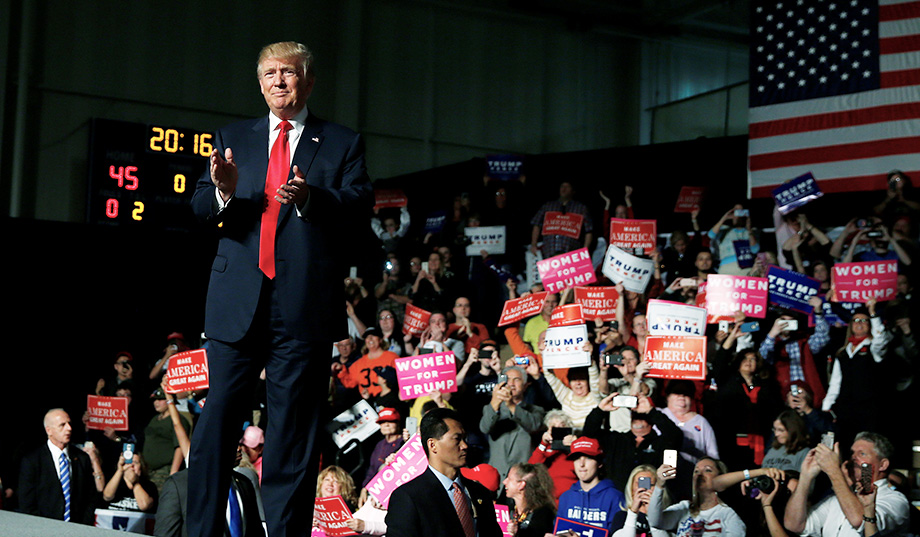 His protectionism was misguided, but voters felt he spoke to their pain.
Detroit — In 1993, House minority whip David Bonior, champion of blue-collar Macomb County north of Detroit, led the House Democratic charge against President Bill Clinton and his North American Free Trade Agreement (NAFTA). Twenty-three years later, Donald Trump has filled Bonior's shoes.
On Tuesday, the Republican presidential nominee rode a wave of opposition to NAFTA to a stunning upset victory in a state that had not voted for a Republican president since the Reagan-Bush elections of 1980–88.
Democratic Macomb, which Trump won with a historic turnout and double-digit margins, was a key indicator of both the Trump and the Reagan bipartisan appeal. But the similarities stop there. Today, Michigan is Exhibit A in how politics has changed in the Rust Belt since the 1980s.
Begin with The Gipper and The Donald.
Yes, in 1980 Reagan rode a wave of economic discontent in Michigan, but his solutions were expansive: Pro–free trade and pro-immigrant. By contrast Trump's vision is restrictionist, expressed in bellicose rhetoric about Muslin immigration and plans to make Mexico pay for a wall across our southern border.
"Reagan had a sunnier message than Trump," says Peter Brown, assistant director of the Quinnipiac University poll. In his book Minority Party (1990) he studied Macomb's "Reagan Democrats" and their alienation from the Democratic agenda. Much of that estrangement was cultural. Predominantly white Macomb Democrats resented liberal social policies such as forced busing, affirmative action, and welfare handouts.
"Bill Clinton brought them back home in 1992 by appealing to the middle," Brown continues, pointing to a run that continued through Barack Obama's presidency.
But, although he rescued Detroit's auto industry in 2009, Obama's policies have largely punished Middle America, as the party's power center moved from the Midwest to the coasts. The Democratic party is no longer led by industrial Democrats such as Michigan's John Dingell or Missouri's Dick Gephardt. It is now the party of California's Nancy Pelosi, Maryland's Steny Hoyer, and other rich, green elites.
Green collars trump blue.
Obama's policies have largely punished Middle America, as the party's power center moved from the Midwest to the coasts.
In his successful 2014 Senate race, Democrat Gary Peters of Michigan was rewarded with hefty campaign contributions from California billionaire environmentalist Tom Steyer after adopting a global-warming agenda that threatens the state's lifeblood, coal power. Steyer had promised the Democratic party $100 million in return for eliminating carbon-based industrial jobs.
These are the voters that Trump courted in West Virginia, Ohio, Pennsylvania, and Macomb County, drawing huge crowds. Trump took 75 of Michigan's 83 counties, with Clinton's vote isolated in urban areas such as metro Detroit and the state capital, Lansing. The working-class counties of Michigan's tenth congressional district — it includes Macomb and lawn after lawn planted with Trump-Pence signs — was a marked contrast to tonier, Democrat-leaning Oakland County northwest of Detroit.
Trump found their scapegoat in free trade. Which is ironic, because a look at the data suggests that NAFTA has been a boon to Michigan.
"Mexicans purchase more Michigan-made products than the citizens of every other country save Canada, and the demand continues to increase," writes James Hohman, assistant director of fiscal policy at the Mackinac Center, a Michigan free-market think tank. "Michigan exports to Mexico increased roughly five fold since 1999 (the earliest in the data source), growing from $2.4 billion to $11.1 billion in 2015. The country now accounts for 20 percent of all Michigan exports."
Many of those billions come from agriculture in the northern tenth district.
"Perception becomes reality," says veteran Michigan pollster Steve Mitchell of Mitchell Research & Communications. "If you're a factory worker and you're unemployed, Trump's appeal to bring manufacturing back is a powerful draw."
Trump's protectionist wrath extended to Ford Motor executives for moving small-car factories to Mexico, (A consumer of GM vehicles, Trump largely ignored the General's Mexican investments.) But Trump's blame is misplaced. Automakers' moves are good business practice to affordably make expensive electric cars forced on them by EPA regulation. The solution is to repeal the regs — not to punish Ford cars with import tariffs.
Trump's dangerous economic policies, not to mention his boorish behavior and lewd sexual comments, turned off many prominent Michigan Republicans. Republican House members Fred Upton (R., St. Joseph) and Justin Amash (R., Grand Rapids) as well as GOP governor Rick Snyder refused to endorse their party's presidential nominee. The state's leading conservative newspaper, the Detroit News, endorsed a non-Republican presidential candidate for the first time in 143 years.
#related#In Democratic circles, however, there was no shame. Not a single prominent state Democrat abandoned Hillary Clinton despite a litany of scandals including the Clinton Foundation's seamy pay-for-play revelations.
The liberal Detroit Free Press, which had won a Pulitzer Prize in 2009 for exposing Detroit mayor Kwame Kilpatrick's bribery schemes, enthusiastically endorsed Clinton despite similar offenses on a much bigger stage. "There's no question that the election here turned when Comey reopened the investigation into her e-mails," says pollster Mitchell.
Abandoned by party leaders and suspicious of Clinton's corruption, Michiganders turned to the outsider who seemed to feel their pain: Donald Trump. Thirty-six years after Ronald Reagan popularized the term, Reagan Democrats turned the Mitten State red for Trump.