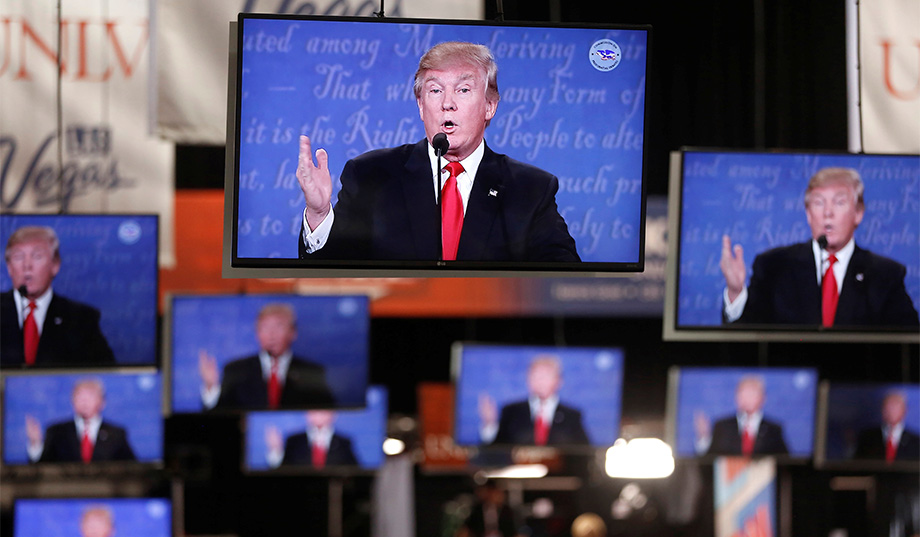 False stories on Facebook are worrisome, but the mainstream media's own distortion of the truth is worse.
Technology has changed culture. It has empowered new voices, but also permitted our political fights to invade many other worlds once exempt from partisan combat: celebrities, beauty pageants, and arguably even our churches, from the Right's point of view and the Left's.
All the places where we once gathered to celebrate the idea of a world outside of politics are increasingly split by the same hyper-partisanship that characterizes our political culture, which this week is traveling under the cover of what the Left calls a "fake news" crisis.
Even corporate culture, which needs to be reality-based to succeed, is increasingly pushing itself in a one-sided way into political combat with half its customers. The Chamber of Commerce declared war on conscience protections for gay-marriage dissenters in deep-red states. Atlanta-based Coca-Cola decided it had to deprive former U.S. solicitor general Paul Clement of his law partnership for the crime of defending the House of Representatives in DOMA litigation. The corporations that run sports entertainment decided to punish the state of North Carolina for its so-called bathroom bill, relocating events they had planned to hold in the state. ESPN is enthusiastically covering and debating those who refuse to stand for the national anthem.
Technology, by facilitating the spread of outrage, created the backlashes that led to all of these punitive actions. It has also enabled people's worst impulses to bully and shame, and unleashed formerly contained voices of open racism and anti-Semitism, as well as open "progressive" racism in universities and elsewhere.
RELATED: Report on Scourge of Fake News Turns Out to Be Faked
In the week since Donald Trump was elected, the Left has been quick to hype the crisis of "fake news" on Facebook, complaining that the social-media giant swung the election by allowing the spread of false pro-Trump stories. There is no doubt a kernel of truth to the charge — fake stories were shared on Facebook during the election, and that is worrisome — but insofar as it allows the mainstream media to avoid even a moment's introspection in the wake of Trump's victory, it is a convenient distraction. The much bigger problem is we no longer have a consensus, centrist view of what is true and not true: There is no mainstream media anymore.
What do I mean by that? Just take a look at the past week's worth of false media narratives:
1. The Trump administration is in disarray. The purge of Chris Christie, apparently for filling the transition team with business-as-usual lobbyists — or possibly as Jared Kushner's revenge on Christie for prosecuting his father — was, of course, news. But the idea that the Trump administration is behindhand in orderly transition is just fantasy, as David Axelrod acknowledged.
2. Trump is already showing signs of unsavory nepotism. Yes, there are laws against employing family members. But they do not apply to the president, and even if they did, they would not prohibit Trump from talking to Kushner, his children, or anyone else in his family about policy, strategy, or legislation.
3. Steve Bannon is a white nationalist like David Duke. Yes, Breitbart has championed the alt-right. But the evidence is not nearly as clear as the media have made it seem.
Surely, we can and must do better. But trusting the mainstream media to decide what is real and fake news, or asking Facebook and Twitter to sort it out for us, is not the answer.
Jonathan Rauch has written, I think rather persuasively, that the absence of authoritative institutions, including political institutions, is a new problem. The fake news "crisis" is emblematic of the cultural problem we have: There appears to be no mainstream any more. The center is not holding. We have few agreed-upon truths that unite us in this Internet age. We don't have agreement, above all, on who has the power to decide what is true and false and right and wrong.
That's what a culture war is, as James Davison Hunter taught us: a struggle over who has the power to name reality. And, all reports to the contrary, America's has not gone away; it's just metastasized.
— Maggie Gallagher is the author of four books on marriage and a longtime contributor to National Review.